Lackey pitches Angels to victory against Rangers
DOMINANT The Halos opened the season with a three-game series sweep of Texas and have won 36 of the past 51 games that the teams have played
John Lackey pitched into the ninth inning before departing after Sammy Sosa's 596th career homer and the Los Angeles Angels beat the Texas Rangers 6-3 on Friday night.
Lackey (5-3) allowed three runs -- all in the ninth -- and five hits. He struck out seven and walked one.
Michael Young broke up Lackey's bid for his sixth career shutout with an RBI double and Sosa added a two-run drive, his eighth of the season. Scot Shields replaced Lackey (5-3) and got the last two outs.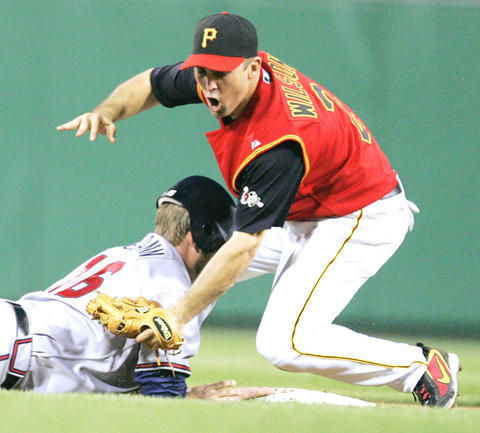 Pittsburgh Pirates shortstop Jack Wilson, right, fails to handle a pickoff throw as the Atlanta Braves' Brian McCann gets back safely in the sixth inning of baseball action in Pittsburgh on Friday.
PHOTO: AP
Former Ranger Gary Matthews Jr. had two RBIs for the Angels. Reggie Willits and Orlando Cabrera had two hits apiece.
The Angels opened the season with a three-game sweep of the Rangers. Los Angeles has won 36 of the last 51 meetings.
Los Angeles pushed across two runs in the third inning against Vicente Padilla (1-5). Cabrera singled in a run and Matthews hit a sacrifice fly.
Mariners 3, Yankees 0
At Seattle, Jarrod Washburn pitched eight scoreless innings against New York, five days after he was involved in a melee at Yankee Stadium.
Washburn (3-3) allowed six hits and struck out a season-high six and Kenji Johjima hit a two-run home run for Seattle.
In his previous start, Washburn hit Josh Phelps in the back with a pitch after Phelps bowled over catcher Johjima at home plate.
When Yankees reliever Scott Proctor retaliated later in the game, he and manager Joe Torre were ejected and eventually suspended.
J.J. Putz got three outs for his eighth save in eight chances.
In other Amercian League action on Friday it was:
* Athletics 8, Indians 2
* Orioles 6, Red Sox 3
* White Sox 2, Royals 1
* Blue Jays 5, Devil Rays 1
* Tigers 7, Twins 3
David Wright, Carlos Delgado and Damion Easley homered, helping the New York Mets to a 5-4 victory over Milwaukee on Friday night that snapped the Brewers' six-game winning streak.
Jorge Sosa (2-0) won his second straight start since coming back from the minors and beat Jeff Suppan (5-3), who pitched at Shea Stadium for the first time since helping the St. Louis Cardinals win Game 7 of last year's NL championship series.
New York took a 4-0 lead in the fourth, won for the seventh time in nine games and cooled off the hottest team in the majors. Milwaukee came to town with a big league-best 24-10 record and had won 10 of 11.
Wright led off with a home run into the left-field bleachers, Carlos Beltran beat out an infield single to first and Delgado hit an opposite-field homer to left. Delgado homered for the second straight game after hitting one in New York's first 32.
Geoff Jenkins, Prince Fielder and J.J. Hardy homered for the Brewers, whose seven-game lead in the NL Central was the franchise's largest since divisional play began in 1969.
Padres 7, Cardinals 0
At San Diego, Jake Peavy became the first pitcher in San Diego history to strike out at least 10 batters in four straight starts, holding St. Louis to three hits in seven scoreless innings.
Peavy was lights-out against the team that has beaten him twice in the postseason the last two seasons.
Russell Branyan hit a pair of two-run homers.
It was the first time the teams met since the Cardinals eliminated the Padres from last year's division series in four games. In 2005, the Cardinals swept the Padres out of the playoffs.
In other National League action on Friday it was:
* Phillies 7, Cubs 2
* Braves 4, Pirates 1
* Nationals 6, Marlins 0
* Diamondbacks 3, Astros 1
* Giants 8, Rockies 3
* Dodgers 2, Reds 0
Comments will be moderated. Keep comments relevant to the article. Remarks containing abusive and obscene language, personal attacks of any kind or promotion will be removed and the user banned. Final decision will be at the discretion of the Taipei Times.