Davis, Warriors remain golden at home
DIALING LONG DISTANCE Golden State drained an amazing 11 3-pointers in the the first half alone and finished with 15 for the game, tying a playoff record in the process
From the first 3-pointer to the last dramatic dunk, Baron Davis and his Warriors remained golden at home in the playoffs.
Davis had 32 points and nine assists, Jason Richardson scored 25 points and Golden State remained unbeaten in Oakland during the postseason with a 125-105 victory over the Jazz in Game 3 of their second-round series on Friday night, cutting Utah's lead to 2-1.
Richardson hit four of the Warriors' NBA record-tying 11 3-pointers in the first half and Al Harrington added 15 points as Golden State shrugged off two tough losses in Utah with yet another confident, free-flowing performance. The Warriors finished with 15 3-pointers while forcing 25 Utah turnovers.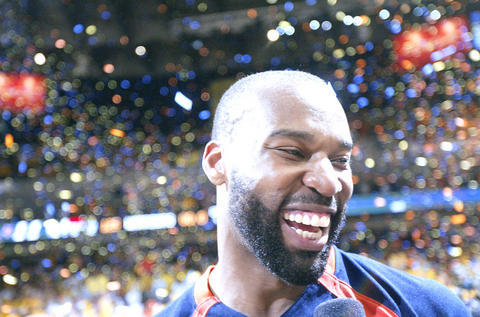 Golden State Warriors' Baron Davis smiles during an interview after the Warriors beat the Utah Jazz 125-105 in an NBA Western Conference second-round basketball playoff game on Friday in Oakland, California.
PHOTO: AP
Davis' brilliance added to a comfortable victory in the rocking arena where the Warriors beat top-seeded Dallas three times in the first round before the same noisy crowd.
Game 4 in the best-of-seven series is tonight in Oakland, with Game 5 back in Salt Lake City on Tuesday.
After Utah cut Golden State's 30-point lead in half during the fourth quarter, Davis closed the door, punctuating yet another memorable spring night with a vicious one-handed dunk into the mug of shot-blocking specialist Andrei Kirilenko with 2:48 left.
Carlos Boozer had 19 points and 11 rebounds for the Jazz, who landed gracelessly in California after riding high from Wednesday's emotional overtime victory in Game 2. Deron Williams added 14 points and six assists, but Golden State stretched its 21-point halftime lead to 30 midway through the third quarter before the Jazz finally responded.
The eighth-seeded Warriors have lost four of their five road playoff games, but they're 4-0 at home in the arena where they went 30-11 in the regular season.
Their playoff-starved fans rarely were quiet during Golden State's first home second-round playoff game since May 12, 1991.
Davis produced a personal highlight reel in the second half after Golden State faltered, mixing spinning passes and jumpers with the dunk that will live for decades in NBA highlight reels. Davis even got a technical foul after throwing it down, apparently for excessive celebration, but the screaming arena backed him up.
While Golden State's effort improved markedly from the opening tip, Utah regressed. The Jazz committed 16 turnovers before halftime while forcing just five by the Warriors, who got whatever shot they desired during most of their 70-point first half.
Derek Fisher, whose daughter's serious health problems forced his absence from the series until his dramatic return during Game 2, started for Utah but had nine points and no assists before fouling out.
Golden State coach Don Nelson also changed his starting lineup, inserting Harrington in place of Matt Barnes. The move didn't affect Utah's huge rebounding advantage in the series -- the Jazz outrebounded Golden State 44-32 in Game 3.
But Golden State's fans saw a better overall effort after their club struggled through the series' first two games in Utah. The Warriors twice fell behind by big margins, only to rally in the fourth quarter -- and then squander that work with mistakes, including three missed free throws and a turnover in the final 30 seconds of regulation in their Game 2 overtime loss.
But the crowd was still riding the high from the Warriors' domination of the Mavericks in Oakland. Last week's blowout win in Game 6 finished perhaps the biggest upset in NBA playoff history.
That energy was obvious early in Game 3 as the Warriors made eight of their first 12 shots, streaking to a 22-9 lead on Davis' 3-pointer. The Jazz gradually quieted the crowd with an 18-4 run.
Williams and Fisher both picked up three fouls in the first half, limiting Utah's defensive options against Davis. Golden State gradually built a healthy lead in the second quarter on its outside shooting, eventually tying the league record for 3-pointers in a playoff half.
Comments will be moderated. Keep comments relevant to the article. Remarks containing abusive and obscene language, personal attacks of any kind or promotion will be removed and the user banned. Final decision will be at the discretion of the Taipei Times.