Perez pitches Mets past Braves
PINPOINT CONTROL Even though New York's hurler gave up nine hits, he threw 20 consecutive strikes during one stretch from the first inning into the third
Oliver Perez struck out nine and walked none in an impressive bounce-back performance and Carlos Beltran had four hits to lead the New York Mets past the Atlanta Braves 7-2 on Saturday.
The Mets got big home runs from backups Ramon Castro and Damion Easley. Jose Reyes also homered off Chuck James (2-2) as New York's offense broke out after getting shut down on Friday night.
Beltran tripled, doubled and singled twice during a 4-for-5 day.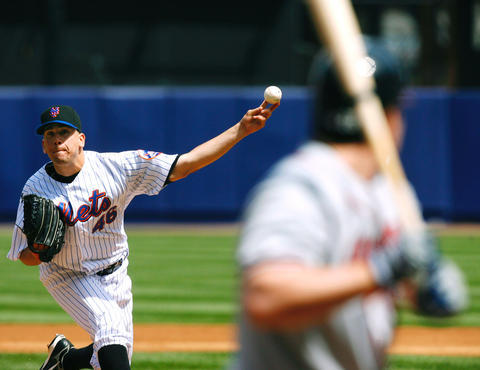 New York Mets starter Oliver Perez pitches to Atlanta Braves batter Jeff Francoeur in the second inning of their game in New York on Saturday. The Mets won 7-2.
PHOTO: REUTERS
Reyes got the Mets going from the leadoff spot. He finished with three hits, including a double, and scored twice to help New York improve to 2-3 against National League East rival Atlanta this year.
Perez (2-1) gave up two runs and nine hits in six innings, but it was his pinpoint control that was most astonishing.The left-hander threw 20 consecutive strikes during one stretch from the first into the third.
Cubs 6, Cardinals 0
At Chicago, Jason Marquis shut out his former team on seven hits over seven innings and Michael Barrett hit a three-run homer to lead Chicago over St. Louis.
Marquis (2-1) won 42 games in three seasons with the Cardinals. But he went 0-4 with a 7.25 ERA in five September starts last year.
Giants 1, Diamondbacks 0
At San Francisco, Barry Bonds hit his 739th career home run and Barry Zito put together his second straight scoreless outing to earn his first win at home in San Francisco's victory over Arizona.
Zito (2-2) followed up his six scoreless innings in Colorado on Monday with seven more against the Diamondbacks.
Phillies 4, Reds 1
At Cincinnati, Cole Hamels had a career-high 15 strikeouts in his first complete game and Philadelphia turned the first triple play in the major leagues this season.
Hamels (2-0) allowed five hits and walked two. His previous career best for strikeouts was 12, which he reached twice last season.
Marlins 9, Nationals 3
At Miami, Hanley Ramirez and Jason Wood homered to help Florida beat Washington and snap a six-game losing streak.
Anibal Sanchez (2-0) pitched five innings for the Marlins, giving up three runs and five hits. He walked three and struck out four.
Brewers 6, Astros 4
At Milwaukee, J.J. Hardy hit two homers and drove in three runs to help Milwaukee end Houston's five-game winning streak.
Chris Capuano (3-0) pitched a season-high six innings for the win, allowing four runs and four hits. He struck out six and walked six.
Padres 7, Rockies 3
At Denver, Clay Hensley pitched through a blister for his first victory this season and Marcus Giles had four hits, including two doubles, as San Diego beat Colorado.
Dodgers 7, Pirates 3
At Las Angeles, Russell Martin hit a grand slam in the bottom of the 10th inning to give Los Angeles a come-from-behind victory.
Martin sent a 1-2 pitch from Shawn Chacon into the Dodgers' bullpen against a two-man outfield.
The Chicago White Sox got to Detroit's bullpen again.
Jermaine Dye doubled in the go-ahead run in the 10th inning and Chicago beat the Tigers 7-5 on Saturday for its fourth straight win.
Twins 7, Royals 5
At Kansas City, Missouri, Mike Redmond had three RBIs to help Minnesota beat Kansas City.
The teams were tied at 5 before Nick Punto tripled in Alexi Casilla in the seventh inning.
Red Sox 7, Yankees 5
At Boston, David Ortiz homered, Alex Rodriguez didn't and Josh Beckett settled down after a rocky start to help Boston earn its second victory over New York.
Rodriguez was 2-for-4 for the Yankees with a double and an RBI.
Orioles 5, Blue Jays 2
At Baltimore, Adam Loewen combined with three relievers on a seven-hitter and Baltimore downed Totonto for its seventh win.
Miguel Tejada drove in two runs and Chris Gomez had two hits and scored twice for the Orioles.
Devil Rays 6, Indians 5
At St. Petersburg, Jae Seo-won for the first time since July and Ben Zobrist drove in two runs as Tampa Bay edged Cleveland.
Seo (1-1) gave up five runs and eight hits over six innings.
Rangers 7, Athletics 0
At Arlington, Texas, Matt Kata hit a three-run homer and Kameron Loe combined with four relievers on a shutout as Texas thrashed Oakland to snap a three-game losing skid.
Loe (1-0) allowed three singles, struck out five and walked one in five innings.
Angels 7, Mariners 6
At Anaheim, California, Bartolo Colon allowed one run in seven innings in his first big league outing in almost nine months, leading Los Angeles past Seattle.
Colon (1-0) threw 77 pitches, gave up seven hits and walked none in his first start for the Angels since July 27 last year.
Comments will be moderated. Keep comments relevant to the article. Remarks containing abusive and obscene language, personal attacks of any kind or promotion will be removed and the user banned. Final decision will be at the discretion of the Taipei Times.