Caribbean cricket calypso makes segue into the blues
WHERE'S THE PARTY? Critics are upset about everything from big business squashing the fun to the West Indies' lousy performances and Bob Woolmer's mysterious death
It should have put the calypso back in Caribbean cricket, celebrating the sport by bringing the game's biggest one-day tournament to countries that know how to throw a party.
Instead, they're depressed from Jamaica to Guyana and from Antigua to St. Kitts. They're fed up with everything from big business interests squashing the spontaneous fun to the lousy performances of the West Indies team and to the mysterious death of Pakistan's English coach Bob Woolmer hours after his team was eliminated in the qualifying round.
The Cricket World Cup, which still has more than three weeks to run, is playing out in grounds where the concrete is still drying, often three-quarters empty and in cities where the populations say they have been promised economic returns in return for sponsoring major building works for stadia and infrastructure.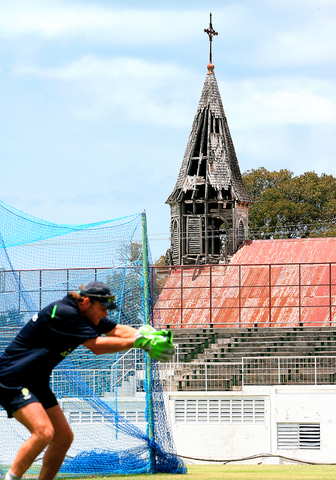 Australian wicketkeeper Adam Gilchrist trains in St. John's, Antigua, on Thursday. A derelict church steeple can be seen in the background. Australia plays its next World Cup Cricket Super Eight match tomorrow in Antigua against England.
PHOTO: AFP
Most critics have pointed the finger of blame at cricket's administrators.
"The International Cricket Council [ICC] is ... about making money, having rules, and siding with narrow commercial interests even at the expense of basic human decency, let alone local color. The game's bosses have wrecked their own party with their greed," respected cricket journalist and former Wisden Cricketers' Almanack editor Tim de Lisle wrote.
The ICC has not been willing to address the issues. Chief executive Malcolm Speed, touring media facilities at Guyana's new Providence Stadium, was asked about the problems, but replied: "Let's concentrate on watching the cricket shall we?"
?
Some local officials admit there have been problems, however, and Stephen Alleyne, head of the organizing committee in Barbados, which stages the final as well as four Super 8s games, said restrictions would be eased.
"We need to ensure that the environment is such that everybody in there, whether Barbadian, West Indian or from further afield, can get the chance to experience what it is like to be at a Caribbean test match, or in this case at a Kensington test match, and we are working with Cricket World Cup and the ICC as we speak to get that balance right," he said.
Ticket prices as high as US$100, in countries where that kind of money is far out of the reach of ordinary people, have caused outrage. Locals have also been annoyed by rules that mean they cannot walk to the cricket, instead having to take taxis and buses.
Once in the grounds, impromptu party stands that blare out dance music in between overs have been banned and replaced with organized and sanitized versions.
New grounds have been built in Jamaica, Antigua and Guyana to replace crumbling ones that may not have all mod cons but which have made West Indies cricket famous for years. The Bourda in central Georgetown is now a sad relic of its glorious past, while visitors to the gleaming new stadium face a long walk.
Former pace bowler Curtly Ambrose has said that he felt the ICC had removed the local flavor from the tournament.
In a region where cricket is under constant threat from other sports, fans have voted with their feet and stayed away in big numbers. The shock elimination of cricket giants India and Pakistan was a blow to organizers.
Thousands of cricket lovers from the two countries had been expected to fill hotel rooms throughout the region.
Now, home owners who said they redecorated their houses to let them to cricket tourists are complaining they have thrown away the money.
The performance of the West Indies team has added to the general depression.
At their best, Caribbean cricketers set the world on fire, but those days seem to have gone. Now the team appears to be a squabbling travesty of its one-time greatness, split down national lines.
The public has sensed the mood and has not even packed stadiums for West Indies matches. Just over half the tickets were sold for West Indies' match against the mighty Australians last week.
Windies captain Brian Lara was mystified.
"I don't know what to put my finger upon as the problem," Lara said. "We just focus on the cricket and hope people do come out."
Comments will be moderated. Keep comments relevant to the article. Remarks containing abusive and obscene language, personal attacks of any kind or promotion will be removed and the user banned. Final decision will be at the discretion of the Taipei Times.