Lenton swims to 100m record
Australian Libby Lenton swam the first leg of a mixed relay in a world-record time for the 100m freestyle yesterday at the Duel in the Pool featuring the best swimmers from the US and Australia.
Lenton, swimming against Michael Phelps in the opening leg of the 400m relay, finished in 52.99 seconds to break German Britta Steffen's mark of 53.30 by nearly a third of a second.
Steffen set her mark last August at the European championships in Budapest.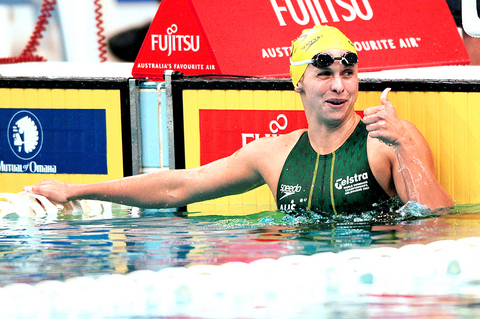 Australia's Libby Lenton gives the thumbs-up after the womens 100m freestyle event in the Duel in the Pool at the Sydney Olympic Aquatic Center on Tuesday. Lenton broke the world record with a 52.99.
PHOTO: EPA
Lenton won five gold medals for Australia at the world championships, which ended on Sunday in Melbourne, while Phelps picked up seven golds.
There was speculation initially that Lenton's swim would not count because of the unusual nature of her competing against Phelps and that he could be seen to be pacing the Australian.
But Swimming Australia chief executive Glenn Tasker said the swim would stand as a world record.
"It was a fair race, and FINA [swimming's Federation Internationale de Natation] said it will count," Tasker said.
Lenton said she engaged in some pre-race banter with Phelps.
"I was trash talking ... asking what he has got and asking him if he was going to bring it tonight," Lenton joked. "I think deep down he was really scared of me.
"Before the race he said good luck," she said. "He is a good competitor to race against and I will remember that for the rest of my life, that I raced against Michael Phelps."
Phelps swam a respectable 48.72 seconds over his 100m.
The US swimmers beat Australia 181.5 to 129.5 in points in the event at the 2000 Sydney Olympic pool.
It was the third straight time the US team has won the competition.
Comments will be moderated. Keep comments relevant to the article. Remarks containing abusive and obscene language, personal attacks of any kind or promotion will be removed and the user banned. Final decision will be at the discretion of the Taipei Times.