Juve's match-fixing penalty a waste of time
With Juve's tour of some of the smaller stadiums in Italy nearly complete, it's becoming increasingly clear that the punishments meted out for the country's match-fixing scandal were basically meaningless.
Juventus did have to forfeit the last two of its record 29 Serie A titles and play this season in the second division for its part in a scheme to appoint favorable referees to its games. And all five teams involved in the scandal had to start the season with negative points.
But the sanctions weren't severe enough to inflict much harm on any of them.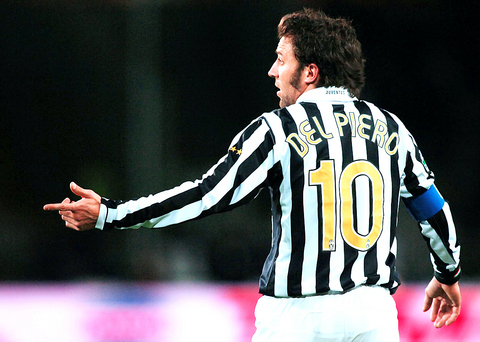 Juventus' Alessandro Del Piero gestures during their Italian Serie B match against Triestina in Turin, Italy, on Monday.
PHOTO: AP
Initially, the authorities reacted to the scandal with the best intentions, but constant reassessments and reductions left only Juventus relegated to the Serie B, where it has been on a sort of dual welcome-farewell tour. It has been playing in smaller Italian cities like Trieste and Rimini where many of the local team's supporters are Juventus fans anyway.
Two other teams -- Fiorentina and Lazio -- were also supposed to play in the second division this season, but they were saved by the politicking that later lessened the penalties for everyone involved.
It would have meant more if they were also dropped because at least the three demoted teams would have been able to fight among themselves for the Serie B title -- and assured promotion.
PHOTO: AP
Instead, Juventus is playing to sellout crowds all over the country with nary an opponent that would be capable of seriously challenging for a Serie A title.
That's not really punishment. That's more like a season-long break from the grind of playing against the best teams in the league week after week.
Juventus did lose Fabio Cannavaro, Gianluca Zambrotta and Lilian Thuram to the Spanish league, but the "Old Lady" was lucky to keep Italy internationals Gianluigi Buffon and Alessandro Del Piero, as well as former Czech Republic striker Pavel Nedved.
And even without the standout defensive unit that led it to the top of the standings at the end of the last two seasons, Juventus has been good enough this season to overcome its nine-point penalty and take over first place in the Serie B.
If the penalty had remained at the original 30 points, however, things would be much more interesting. Instead of leading the league by six points with about two months to go, Juventus would be trailing Genoa by 15 and well out of the promotion race.
Comments will be moderated. Keep comments relevant to the article. Remarks containing abusive and obscene language, personal attacks of any kind or promotion will be removed and the user banned. Final decision will be at the discretion of the Taipei Times.