Phelps, US show Chinese the way
Led by Michael Phelps' seven gold medals, the US dominated the world swimming championships. The US won a leading 36 medals, including 20 golds -- equaling their best showing in 29 years.
If the world's other swimmers want to catch up, they've got some work to do before next year's Beijing Games, especially the Chinese.
"We haven't seen anything from China yet," said Jon Urbanchek, special assistant to US men's head coach Bob Bowman. "Hopefully, they're not keeping anyone to surprise us."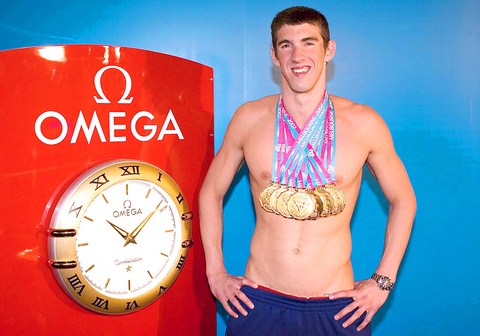 Michael Phelps of the US is pictured with his seven gold medals at the Susie O'Neill pool at the FINA Swimming World Championships in Melbourne, Australia, on Sunday.
PHOTO: EPA
As the host country next year, the Chinese will be eager to top the medal count, and swimming offers a huge cache of gold, silver and bronze.
But they can't be very encouraged by their showing in Melbourne.
For the first time in recent years, China brought a full team of more than 40 swimmers to a major international competition. The Chinese were represented in 13 of the 40 finals, and won two medals.
"There's a big difference between us and the others," freestyler Yang Yu said. "Our gap is very big. They all swam very fast, and it felt like we were moving in the same spot."
Next year in Beijing, the Olympic finals will be held in the morning to appease US broadcaster NBC, which will televise them live in US prime time.
That could be a problem for at least one Chinese swimmer.
"I feel tired racing in the morning," freestyler Pang Jiaying said. "I would swim a lot better if I swam at night."
Wu Peng earned the silver behind Phelps in the 200m butterfly. The Chinese women took the bronze in the 400 medley relay.
"When you have the rest of the world improving so quickly, it can make us look like we haven't got any improvements when we maintain our standards," breaststroker Qui Hi said.
She said China's coaches tried something new before worlds by having the swimmers train at altitude.
"The whole experiment didn't work," she said.
Qui wants a different approach leading up to Beijing.
"I really hope that someone could come and work with us and train us up to improve our physiques, styles and psychology," said. "I don't want any new experiments but rather a thorough preparation."
No one was more prepared than Phelps, whose seven-gold haul was worth US$210,000 in bonus money from USA Swimming. He picked up extra cash from FINA, the sport's governing body, too.
US swimmers accounted for 12 of 15 records set over eight days in the temporary pool at Rod Laver Arena. Five of those belonged to Phelps.
"That was the greatest performance of all time," US head coach Mark Schubert said.
Phelps never got a chance to swim for an eighth gold after his US teammates were disqualified in the 400 medley relay preliminaries on the final day.
Ian Crocker, who had been in position to derail Phelps in the 100m fly before losing, dove in too early on an exchange, causing the disqualification.
"It definitely wasn't intentional," Phelps said. "Everything can't go perfect."
Comments will be moderated. Keep comments relevant to the article. Remarks containing abusive and obscene language, personal attacks of any kind or promotion will be removed and the user banned. Final decision will be at the discretion of the Taipei Times.