Phil Mickelson may now be hottest player in golf
For all the fuss over Tiger Woods taking another week off, perhaps the Nissan Open should consider the possibility that it still might have the hottest player in golf -- Phil Mickelson -- at Riviera.
True, one victory by Mickelson still leaves him six short of the US PGA Tour winning streak Woods is riding.
And despite a five-shot victory at Pebble Beach, some perspective is in order.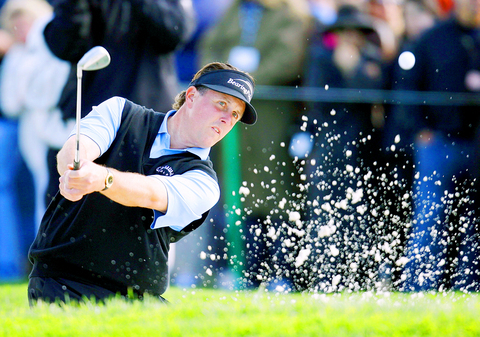 US golfer Phil Mickelson blasts out of a sand trap on the sixth hole during the final round of the AT&T Pebble Beach National Pro-Am tournament in Pebble Beach, California, on Sunday.
PHOTO: EPA
Mickelson usually wins at least once before leaving his home on the west coast of the US, and this was the 11th time in 15 seasons that he won before the tour reached Florida.
The only serious competition he faced on Sunday came from Kevin Sutherland, ranked No. 256 in the world last week, and rookie John Mallinger, ranked No. 454.
But there was something about Mickelson's game that indicated he was ready to step back into the ring.
In years past when his game has slipped a notch, Mickelson has devoted time to scoring shots -- specifically, those 50m and closer -- and sharpening his putting stroke by staying on the practice green until he made 100 straight putts from 1m.
But after the debacle at the US Open -- not just the double bogey on the 18th hole, but hitting only two fairways in the final round -- he was consumed by becoming a better driver off the tee.
Mickelson hit 81 percent of his fairways in two rounds at Pebble Beach and one each at Poppy Hills and Spyglass. US PGA Tour statistics show him missing only one fairway in his final round of 66, although he said he also missed the fairway at No. 9 by 0.3m.
Don't get the idea Fred Funk, a guy who picks out stripes left by the lawn mower, has anything to fear.
"I will never lead the stat in driving accuracy. Let's not overdo this," Mickelson said.
"But if I could improve 20 or 25 percent in my accuracy, that's going to make a big difference in my scores," he said.
His score at Pebble Beach was 20-under 268, tying the tournament record set by Mark O'Meara in 1997 when he won by one shot. Mickelson won by five, matching the largest margin of victory at Pebble.
Sutherland is good friends with Mickelson and sees him plenty. And he was impressed.
"He drove it for the most part on a string, right down the middle of the fairway," Sutherland said.
"If he is driving the ball like that, there's not a single player in the world that is not going to have a really hard time beating him," he said.
Mickelson is so confident about the longest club in his bag than he used it on the short fourth hole, which plays uphill with Stillwater Cove on the right and bunkers on the left.
That's where he tried his latest shot, a low draw, and it twice set him up with the perfect angle into the green for a short wedge.
This is the first time he can remember hitting a tee shot and not being overly concerned when he looked to see where it was headed.
Comments will be moderated. Keep comments relevant to the article. Remarks containing abusive and obscene language, personal attacks of any kind or promotion will be removed and the user banned. Final decision will be at the discretion of the Taipei Times.