Malisse defeats Blake in Florida
MODEST MALISSE The Belgian was very humble about his victory, saying that he probably would have lost to James Blake if the final hadn't been delayed by rain
Xavier Malisse rallied after a rain postponement to defeat US top seed James Blake 5-7, 6-4, 6-4 in Florida on Monday in the final of the US$416,000 ATP Delray Beach Championship.
Malisse took his second crown of the year after opening the season with a victory at Chennai and won his second title in three years here after losing in last year's final. He has two other runner-up finishes at Delray as well.
"The court is almost the perfect speed for me," Malisse said. "I feel like I can get to every ball here when I'm fit. Also, you have that confidence because you've played a lot of times well here. There's just a level of comfort and confidence for me at this tournament."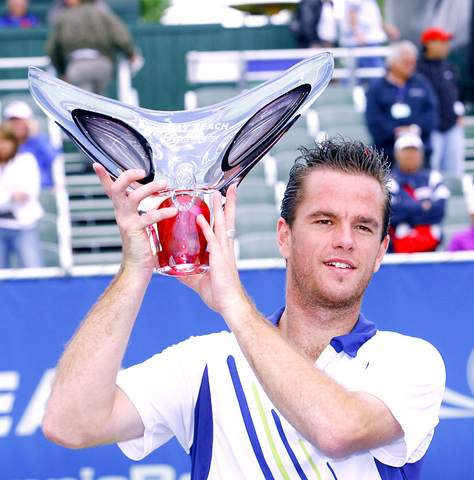 Xavier Malisse holds the trophy after defeating James Blake in the Delray Beach International Tennis Championships in Delray Beach, Florida, on Monday.
PHOTO: AP
The third seed from Belgium captured the US$61,850 top prize by taking his first victory in three tries against Blake, whose only loss in 12 prior matches this year was to Fernando Gonzalez in the Australian Open fourth round.
Sixth-ranked Blake led 7-5, 6-3 when organizers halted play on Sunday in a steady downpour.
"If we would have played yesterday, I probably would have lost," he said. "The wind slowed down his ball. The wind helped me a little bit today."
When play resumed on Monday, 31st-ranked Malisse broke Blake in the initial game before serving out the second set. He also broke the American in the third game of the final set.
"Tough conditions, but the same for both of us," Blake said. "Xavier just did better with it. Wind is the biggest equalizer in tennis. He did a better job of adjusting. He deserved to win today for sure."
Blake, 27, was denied in his bid for a second title of the season, having won last month at Sydney, and the 10th of his career. He would have been the first top-seeded champion in the Delray event's 15-year history.
Malisse, 26, took advantage of the ATP Tour's new round-robin format being used at select events this season. He lost a match in the round-robin phase but advanced out of the three-player group based on sets won.
Malisse's victory was the 200th of his career. Blake notched his 200th triumph earlier this week.
Comments will be moderated. Keep comments relevant to the article. Remarks containing abusive and obscene language, personal attacks of any kind or promotion will be removed and the user banned. Final decision will be at the discretion of the Taipei Times.