Sampras to make a return to tennis in Boston tourney
The last time Pete Sampras played competitive tennis in Boston, his doubles team notched the only victory for the US in the Davis Cup quarterfinals against Australia in 1999.
The winner of a record 14 Grand Slam singles titles will return in three months for his first tournament since 2002 when he participates in the Outback Champions Series at Boston University from May 2 to May 6.
He wants to see how he feels there before committing to any of the other five tournaments in the series for players older than 30.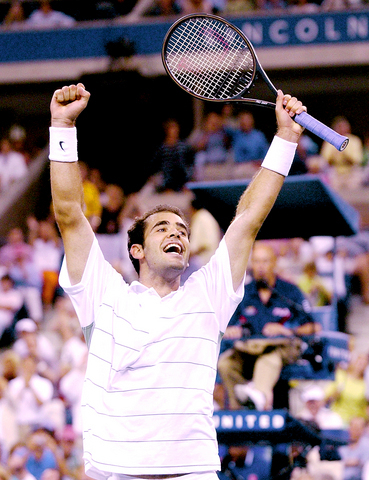 Pete Sampras celebrates his 6-3, 6-4, 5-7, 6-4 win over Andre Agassi in the men's final at the US Open in New York in 2002. Sampras will return to competitive tennis in the Outback Champions Series at Boston University on May 2.
PHOTO: AP
"I just want to see how it goes," Sampras said in a telephone interview on Monday.
"I don't want to commit to a bunch of them, just see how I enjoy the week, the playing. I didn't want to commit to something I wasn't 100 percent sure about," he said.
His participation in the event was announced a week ago.
Boston is the second stop on the tour and Sampras prefers the hard court that it will be played on to other surfaces in the series.
He said he enjoyed the city when he played in the Davis Cup, where he teamed with Alex O'Brien for a five-set victory. Australia won the quarterfinal 4-1 and beat France in the final.
The 35-year-old Sampras retired after winning the US Open in September 2002 with a victory over Andre Agassi.
At first, he didn't miss the grueling routine of tournament tennis and practices, he said.
"Initially, you enjoy it, you decompress and it's nice not having to worry about tennis," he said.
"The stress of trying to win the majors was gone. It was fun. I did some things I didn't get a chance to do," he said.
"After a couple of years of that you kind of wake up as the mornings go on feeling you need to do a little bit more and feel more fulfilled," he said. "Getting up in the morning to play golf is fun, but you miss a little bit of the structured life you had."
One reason he's returning is his relationship with series co-founder Jim Courier, who also will be in the eight-man field in Boston along with John McEnroe.
Total prize money in the tournament is US$142,000.
To qualify for the series, now in its second full year, a player must have reached a Grand Slam singles final, been ranked in the top five or played singles on a Davis Cup championship team.
Comments will be moderated. Keep comments relevant to the article. Remarks containing abusive and obscene language, personal attacks of any kind or promotion will be removed and the user banned. Final decision will be at the discretion of the Taipei Times.