Chassis sharing sparks controversy in Formula One
Where there's Formula One, there's trouble and this season is about to start with a new rift in the paddock.
The latest split revolves around the Super Aguri and Toro Rosso teams who intend to use chassis this year supplied by Honda and Red Bull respectively.
"If everyone did that, we would no longer have a championship of 10 teams with two cars, but five teams with four cars," argued BMW Sauber boss, Mario Theissen.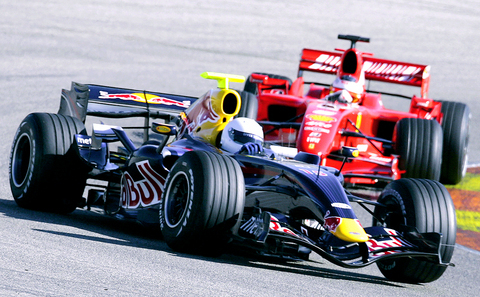 Red Bull's Mark Webber leads Ferrari's Kimi Raikkonen during a test session at the Ricardo Tormo race track in Cheste, Spain, on Friday.
PHOTO: AFP
The dispute has become so serious that both the Williams and Spyker teams are ready to complain to the FIA, the sport's governing body.
Williams argue that the new Toro Rosso car is just a modified Red Bull fitted with a Ferrari rather than a Renault engine, and the new Super Aguri is a copy of last year's Honda.
"I am adamantly opposed to chassis sharing and we at Williams do not believe it is legal under the current rules," team boss Frank Williams told the Guardian.
?
"We are what you might call a traditionalist racing team which believes that we are out there competing for two world championships, one for the best driver in the world and one for the constructor who builds the best car in the world," he said. "As far as I'm concerned it is absolutely in the regulations in black and white that every team must make its own chassis."
Red Bull, however, insist, they are doing nothing wrong.
"Red Bull and Toro Rosso are two teams and two completely different companies," team principal Christian Horner said. "They run one against the other and will not establish a common strategy."
Super Aguri, who are already legally powered by Honda, will this year use Honda's RA106 chassis from last year.
Toro Rosso, which came into being after the demise of Minardi in 2005, is backed by Austrian drinks company Red Bull, which already gives its name to a team.
They may appear distinct entities -- Red Bull are based at Milton Keynes in England while Toro Rosso can be found at Faenza in Italy -- but, in practice, many argue, they look like a family.
Same name: Red Bull and Toro Rosso differ courtesy only due to English and Italian translations; same founder: Dietrich Mateschitz who created the energy drinks empire; same motor home and a shared media service.
Comments will be moderated. Keep comments relevant to the article. Remarks containing abusive and obscene language, personal attacks of any kind or promotion will be removed and the user banned. Final decision will be at the discretion of the Taipei Times.