Australia forecasts smaller medal haul in Beijing
Eighteen months out from the Beijing Olympics and Australia is projecting a dip in medals from their heady fourth place at the last Olympics in 2004.
The sports-obsessed Australia, a country of just under 21 million, has jostled with the sporting superpowers -- the US, Russia and China -- finishing fourth in the medals at the last two Olympic Games.
But even though the Australian Olympic Committee (AOC) has earmarked around A$33 million (US$25 million) in funding for the Beijing Games, officials are forecasting fewer medals.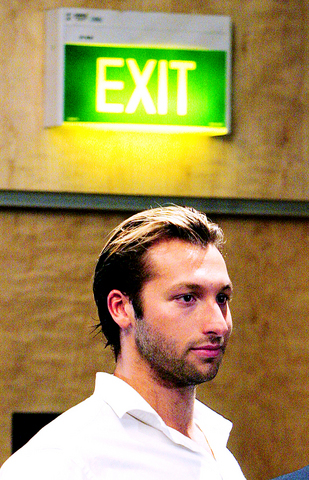 Ian Thorpe arrives at a press conference in Sydney, Australia, on Nov. 21 last year where he announced his retirement from competitive swimming.
PHOTO: AP
Based on statistics based on Olympic benchmark events and world rankings, the AOC is tipping an outcome of 42 medals at Beijing, down on its 49 in Athens, and the likelihood of being knocked out of fourth place by resurgent Germany.
The AOC base their conclusions on a number of factors, partly acknowledging last year's retirement of swimming superstar Ian Thorpe and his four medals at Athens, but also the fall-off in the men's swimming team and potential loss of medals in cycling.
Based on last year's rankings, the AOC's crystal ball has the US leading the overall tally with 108 medals at next year's Olympics, from Russia (98), China (85), Germany (60) and Australia (42).
Australia is still expecting to come away from China with 17 gold medals, the same haul achieved at Athens, but not enough to hold off Germany.
AOC President John Coates says for Australian athletes to stay fourth among the medals they have to meet a rising German challenge.
"The challenges are very great for us to maintain our position," Coates said. "For the fourth place, it's going to be very hard to beat Germany."
But even to claim fifth place will have its difficulties with Coates expecting strong performances from Japan, France, Great Britain and Italy.
Based on the AOC analysis, Japan is heading for a total of 39 medals, Italy 33, Great Britain 31 and France 27.
"Japan continues to improve and Great Britain can be expected to further improve with the significant extra government funding being provided across all sports in Britain as they prepare for the London Games in 2012," Coates said.
Coates is encouraged by positive results last year for Australia in team sports.
Australia won gold at the women's basketball world championships and women's water polo world cup, silver in the men's and women's field hockey World Cup and bronze in the women's softball.
Comments will be moderated. Keep comments relevant to the article. Remarks containing abusive and obscene language, personal attacks of any kind or promotion will be removed and the user banned. Final decision will be at the discretion of the Taipei Times.