Canadiens end Pittsburgh win streak
Sheldon Souray scored at 2:01 into overtime and the Montreal Cana-diens ended Pittsburgh's six-game winning streak with a 4-3 victory over the Penguins in the NHL on Sunday.
Tomas Plekanec scored twice in regulation before setting up Souray's winner on a 2-on-1 break. Souray, who was ejected from Montreal's 5-4 shootout loss in Pittsburgh on Wednesday for fighting with Colby Arm-strong, one-timed Plekanec's pass, driving a shot past Marc-Andre Fleury into the right side of the net.
Sidney Crosby assisted on power-play goals by Jordan Staal and Ryan Whitney.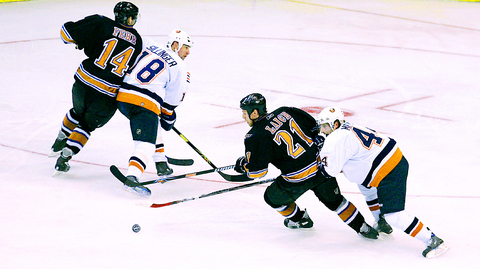 The New York Islanders' Freddy Meyer, right, competes for the puck with the Washington Capitals' Brooks Laich, No. 21, as the Islanders' Mike Sillinger, No. 18, and the Capitals' Eric Fehr guard each other during the second period of their NHL hockey game in Washington on Sunday.
PHOTO: AP
The 19-year-old superstar leads the NHL with 59 assists and 84 points.
The Penguins' winning streak was their longest since they won six in a row in January 2002.
Capitals 2, Islanders 1, SO
At Washington, Alexander Semin scored the lone goal in a shootout and Washington ended a three-game losing streak.
Washington's Alex Ovechkin, who leads the NHL with 33 goals, was held scoreless on two shots.
Ovechkin scored one goal in regulation and none through the first two periods. He also misfired in the shootout.
Ovechkin has at least a point in 43 of the Capitals' 54 games.
Olie Kolzig had 31 saves for the Capitals and was flawless in the shootout, stopping New York's Miroslav Satan, Viktor Kozlov and Jason Blake.
Washington was winless in five shootouts before Sunday.
Mike Sillinger scored the lone goal for the Islanders and Rick DiPietro stopped 30 shots.
Comments will be moderated. Keep comments relevant to the article. Remarks containing abusive and obscene language, personal attacks of any kind or promotion will be removed and the user banned. Final decision will be at the discretion of the Taipei Times.