Holmqvist blanks Hurricanes in his first NHL shutout
Johan Holmqvist made 31 saves in his first NHL shutout, and the Tampa Bay Lightning extended their franchise-record, road-winning streak to seven by beating the Carolina Hurricanes 4-0 on Thursday.
Ryan Craig and Doug Janik scored four minutes apart in the second period, and Vincent Lecavalier and Martin St. Louis each scored their 32nd goal early in the third.
Holmqvist won for the eighth time in 10 starts for the Lightning, whose previous six road games were all decided by one goal.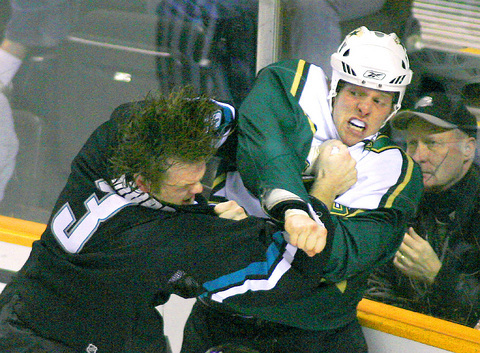 The San Jose Sharks' Douglas Murry, left, of Sweden and the Dallas Stars' Krys Barch fight in the second period of their NHL game in San Jose, California, on Thursday.
PHOTO: AP
Tampa Bay overcame a 31-20 shot disadvantage to beat the Hurricanes for the second time in 13 days.
Sabres 3, Bruins 1
At Boston, Chris Drury scored twice and Martin Biron made 33 saves to lead Buffalo over Boston.
The Carolina Hurricanes' Craig Adams, center, tries to get past the Tampa Bay Lightning's Ryan Craig, 34, Dan Boyle, 22, and Filip Kuba, 71, on his way to goalie Johan Holmqvist, right, during the second period on Thursday in Raleigh, North Carolina.
PHOTO: AP
Biron, starting in place of All-Star goalie Ryan Miller for the second straight game, beat Boston for the second time in three days.
He had 25 saves in Buffalo's 7-1 home win on Tuesday, helping the Sabres snap a three-game losing streak.
Biron has won five straight starts against Boston, and the Sabres are 5-0-1 against the Bruins this season.
After allowing an early goal to Marco Sturm, Biron was perfect. He stopped 14 shots in the second period and 12 more in the third.
Daniel Briere had two assists, and Jason Pominville added a goal for the Sabres, who lead the Eastern Conference with 74 points despite going 6-7-1 last month. It was Buffalo's worst month since December 2003.
Stars 4, Sharks 2
At San Jose, California, Joel Lundqvist and Stu Barnes scored early goals, and Dallas played sterling defense in its second road victory over San Jose in three days.
Krys Barch scored his first NHL goal in the third period after sitting out most of the second for fighting, and Jere Lehtinen also scored as the Stars swept their miniseries with the Sharks to pull within three points of second-place San Jose in the Pacific Division race.
Islanders 5, Thrashers 2
At Atlanta, Jason Blake scored the go-ahead goal midway through the third period and Miroslav Satan had a goal and two assists to help New York beat Atlanta.
After blowing a 3-0 lead in the third period on Wednesday and losing to Detroit in overtime, the Islanders couldn't hold a 2-1 advantage as Jim Slater's wrister beat goalie Mike Dunham on the stick side with 10:23 remaining.
Blake bailed out New York with a breakaway goal 2:19 later, his fourth tally in five games.
Devils 6, Flyers 5, OT
At Philadelphia, Brad Lukowich scored with 49.5 seconds left in overtime and New Jersey extended Philadelphia's franchise-worst, home-losing streak to 12 games.
Panthers 6, Capitals 3
At Sunrise, Florida, Jozef Stumpel and Martin Gelinas each scored two goals, lifting Florida over Washington.
Penguins 5, Canadiens 4, SO
At Pittsburgh, Evgeni Malkin won a shootout by deftly faking out David Aebischer as Pittsburgh earned its fifth consecutive victory after squandering a two-goal lead late in the third period.
Coyotes 3, Predators 2
At Glendale, Arizona, Yanic Perreault broke a third-period tie with 5:29 left, lifting Phoenix over Nashville.
Wild 5, Avalanche 3
At Denver, Mikko Koivu and Marian Gaborik each scored twice to help Minnesota beat Colorado.
Blackhawks 3, Kings 2, OT
At Los Angeles, Lasse Kukkonen scored 57 seconds into overtime and Chicago also had goals from Martin Havlat and Jeff Hamilton to beat Los Angeles in a matchup of the Western Conference's worst teams.
Comments will be moderated. Keep comments relevant to the article. Remarks containing abusive and obscene language, personal attacks of any kind or promotion will be removed and the user banned. Final decision will be at the discretion of the Taipei Times.