Knicks down Kobe-less Lakers
STREAK CONTINUES Missing their most reliable point scorer through a one-match suspension meant the Lakers did not have the firepower to get past New York
Playing without the suspended Kobe Bryant, the Los Angeles Lakers' late rally fell short in their season-high third straight loss, 99-94 to the New York Knicks on Tuesday.
Eddy Curry had 27 points and nine rebounds and Stephon Marbury scored 22 points for the Knicks, who led most of the game but never pulled away. David Lee grabbed 13 rebounds and Jamal Crawford added 17 points.
Bryant was penalized one game without pay earlier on Tuesday for hitting San Antonio's Manu Ginobili in the face late in the Lakers' overtime loss to the Spurs on Sunday. Without Bryant's 28.4 points per game, the Lakers shot only 43.5 percent and lost for the fourth time in five games.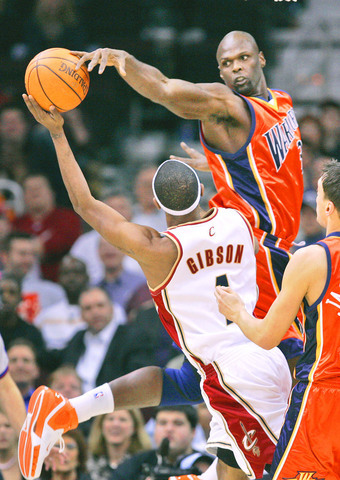 The Golden State Warriors' Adonal Foyle, center, from St. Vincent and the Grenadines, blocks a shot by the Cleveland Cavaliers' Daniel Gibson, left, in the fourth quarter of their NBA game on Tuesday.
PHOTO: AP
Lamar Odom had 25 points, nine rebounds and six assists for the Lakers. Vladimir Radmanovic added 18 points and nine boards and Smush Parker scored 14 points.
Wizards 104, Pistons 99
At Washington, Gilbert Arenas had 36 points, 11 assists and seven rebounds in a Washington victory over Detroit, tempered by a knee injury to Antawn Jamison.
The win kept the Wizards ahead of the Pistons atop the Eastern Conference and gave the teams a split of the four-game season series. However, Washington left the court anxious for news about Jamison, who sprained his left knee after colliding with teammate DeShawn Stevenson under the basket during a fast break with 6:29 to play in the first quarter.
Stevenson, picking up the slack for Jamison, scored 15 points on 7-for-8 shooting. Caron Butler finished with 13 points.
Chauncey Billups scored 24 points, Prince had 19 points, and Richard Hamilton and Rasheed Wallace finished with 15 apiece for the Pistons.
Heat 110, Bucks 80
At Miami, Dwyane Wade scored 28 points and Miami downed Milwaukee to snap a three-game losing streak.
Wade played only three quarters and shot 12 of 17 from the field, and Michael Doleac had his first double-double of the season with 11 points and 11 rebounds for Miami.
Charlie Villanueva scored 17 points to lead the Bucks, who have lost six of seven.
The Heat, playing without injured starters Shaquille O'Neal and Jason Williams, never trailed after Wade's 10 points keyed a 17-4 run to build a 25-12 lead with 4:23 remaining in the first quarter.
Pacers 103, Celtics 96
At Indianapolis, Jamaal Tinsley scored a season-high 28 points as Indiana handed Boston its 12th straight loss.
Jermaine O'Neal added 25 points and eight rebounds for the Pacers, who won for the fourth time in five games.
Al Jefferson led the Celtics with 15 points and 17 rebounds. It was his 20th double-double of the season.
Indiana, the worst shooting team in the league, shot a season-high 53.6 percent from the field.
The Celtics are two losses short of breaking the franchise record for consecutive losses.
Cavaliers 124, Warriors 97
At Cleveland, Sasha Pavlovic scored a career-high 24 points filling in for the injured LeBron James and Cleveland rolled over Golden State without its superstar.
James missed his second game in a less than a week with a sprained right big toe, an injury that isn't going to improve without rest. Cleveland's medical staff advised James to take night off and there's a chance he could miss a few more games.
Donyell Marshall added 15 points, Zydrunas Ilgauskas 14 with 10 rebounds and Cleveland snapped a three-game losing streak at home while getting eight players in double figures for the first time since April 22, 1994.
Baron Davis scored 21 points to lead the Warriors. Al Harrington added 13 points and Andris Biedrins 12.
Mavericks 122, SuperSonics 102
At Dallas, Austin Croshere had a career-high 34 points and seven rebounds as Dallas stretched its winning streak at home to 14 games.
The Mavericks are two wins shy of the franchise record for consecutive home wins, set last season.
Jason Terry's 19 points, Greg Buckner's season-best 17 and Devin Harris' 16 helped the Mavericks set a season high for points and beat the Sonics for the ninth straight time.
Ray Allen had 35 points, 19 in the first half, for Seattle, which tied a single-season club record with its 13th consecutive road defeat. Nick Collison and Earl Watson both had 15 points for the Sonics.
Dallas was without Josh Howard, who missed the game for the birth of his first child.
Comments will be moderated. Keep comments relevant to the article. Remarks containing abusive and obscene language, personal attacks of any kind or promotion will be removed and the user banned. Final decision will be at the discretion of the Taipei Times.