Michael Walchhofer wins at last for Austria
Austria's 13-race winless streak is over.
Michael Walchhofer won a World Cup downhill by 0.01 seconds on Thursday for the first victory by an Austrian man since Benjamin Raich took the season-opening slalom.
"We were under pressure, so this was an important victory," Walchhofer said. "Before some of the other races I was not nervous. Today, I was more nervous and that was good for me. All the Austrians were waiting for a victory in downhill."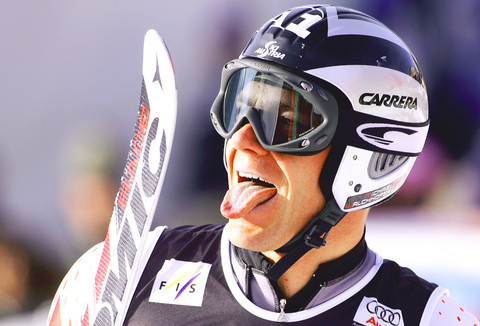 Austria's Michael Walchhofer celebrates after winning the men's World Cup Alpine skiing downhill race in Bormio, Italy, on Thursday.
PHOTO: AFP
Walchhofer, the silver medalist in downhill at the Turin Olympics, skied the 3km Stelvio course in 1 minute, 51.90 seconds for his first podium finish of the season.
Didier Cuche of Switzerland was second by the slimmest of margins, while Walchhofer's teammate, Mario Scheiber, was third, 0.14 back.
Andrej Jerman of Slovenia finished fourth to equal his best career result. Bode Miller of the US failed to finish.
Walchhofer won the World Cup downhill title in the past two seasons. This was the 10th World Cup victory of his career and seventh in downhill.
Defending overall World Cup champion Benjamin Raich said there was no specific explanation for Austria's winless streak.
"We know that we are strong but skiing is not easy," Raich said. "Sometimes it's going better, sometimes not so good. You have to accept it."
Walchhofer attributed the problems to the opposition.
"A lot of other skiers have been doing better in all disciplines. We've been trying our best," Walchhofer said.
Cuche retained his lead atop the downhill standings with 285 points, followed by Marco Buechel with 212 and Walchhofer with 186.
Walchhofer said his goal this season is to win a third straight downhill title.
"Now I'm back in the hunt," he said. "It was just a matter of confidence."
Cuche has now finished second in the last three downhills.
"Obviously, to lose a race by one-hundredth is difficult, but I'm still pleased with this result," Cuche said, adding that he'd lost 0.20 seconds with an error at the start.
"I've finished second 14 times in my career. I hope I have a faster start tomorrow," he said.
Aksel Lund Svindal of Norway placed 14th and retained his lead atop the overall standings with 539 points. Cuche moved into a tie for second with Miller, with 490 points each.
"Dark and icy downhills is not my favorite, it's not the things I'm best at, so I have to be happy," Svindal said, adding he considered Cuche and Miller "the two strongest for the overall."
Miller failed to finish a downhill for the first time this season after going off course near the top of the run. He appeared to lose his edge as he negotiated a turn, fell down and got right back up. He was not injured.
Miller won the downhill and super-G on this course at last year's World Championships, while his former teammate, Daron Rahlves, took the World Cup downhill at this site last season.
On Thursday, Walchhofer used a pair of skis that once belonged to either Miller or Rahlves.
"I'm not really sure which race, but I know these skis have won races before," Walchhofer said.
Comments will be moderated. Keep comments relevant to the article. Remarks containing abusive and obscene language, personal attacks of any kind or promotion will be removed and the user banned. Final decision will be at the discretion of the Taipei Times.