Kozlov, Hossa lead Atlanta to victory over Pittsburgh
Slava Kozlov and Marian Hossa scored in a shootout for the second straight game to give the Atlanta Thrashers a 4-3 win over the Pittsburgh Penguins on Thursday night.
Sidney Crosby, the NHL's leading scorer, forced overtime with 15.3 seconds remaining with a tap-in from the near right side. In the shootout, Atlanta goaltender Kari Lehtonen first stopped Erik Christensen before holding off Crosby's attempt to beat him.
Crosby's extended his scoring streak to 10 games with his 17th goal. The second-year star, a former No. 1 overall draft pick, has seven goals and 15 assists during the streak.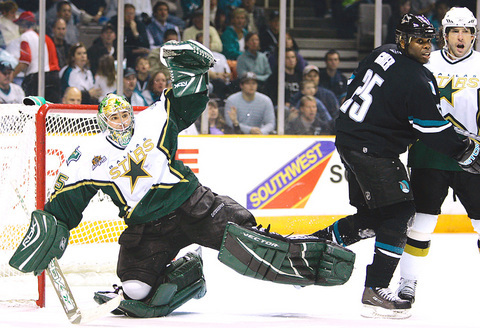 Dallas Stars goalie Marty Turco, left, blocks a shot as the San Jose Sharks' Mike Grier, No. 25, and the Stars' Darryl Sydor watch in the second period of an NHL hockey game on Thursday.
PHOTO: AP
Bruins 2, Canucks 0
At Boston, Tim Thomas made 39 saves for his second NHL shutout and Marc Savard had two assists as Coston blanked Vancouver.
Patrice Bergeron and Glen Murray each scored power-play goals for the Bruins, who won their second straight and third in four games despite being outshot 39-19 overall and 14-0 in the third period.
Canadiens 4, Flyers 2
At Montreal, Mike Johnson scored Montreal's league-leading 10th short-handed goal and the Canadiens beat Philadelphia to extend their season-high winning streak to five games.
Guillaume Latendresse, Craig Rivet and Chris Higgins also scored for Montreal. Canadiens goalie David Aebischer, who made a pad save on R.J. Umberger's penalty shot in the first period, stopped 26 shots.
Lightning 4, Senators 2
At Ottawa, Ruslan Fedotenko, Paul Ranger and Vincent Lecavalier scored third-period goals to help Tampa Bay rally past Ottawa.
Martin St. Louis also scored for the Lightning.
Sabres 7, Predators 2
At Nashville, Tennessee, Jason Pominville had two goals and an assist and Maxim Afinogenov and Ales Kotalik each scored twice to help Buffalo snap a two-game skid.
The Sabres scored two quick goals in the first five minutes and sealed the victory with three in the second, including the last two by Afinogenov. Derek Roy had three assists.
Panthers 3, Rangers 2
At Sunrise, Florida, Rostislav Olesz capped Florida's three-goal rally midway through the third period against New York.
Chris Gratton and Nathan Horton also scored for Florida, which won after trailing in the third for the first time in 16 games this season. The victory also gave the Panthers their first three-game winning streak of the season.
Blues 5, Kings 2
At St. Louis, Lee Stempniak had a goal and an assist as St. Louis jumped out to a three-goal lead over St. Louis.
The win was the second straight for the Blues after losing 11 in a row. St. Louis has won back-to-back games in regulation for the first time this season.
It also was the first win for St. Louis in eight home games (1-6-1).
Oilers 3, Coyotes 2
At Glendale, Arizona, Petr Sykora scored with 1:14 remaining for Edmonton.
Jarret Stoll and Ales Hemsky also scored for the Oilers, who snapped a two-game losing streak and won for just the second time in six games (2-4-0).
Yanic Perrault and Owen Nolan scored for the Coyotes, who have lost five of their past six (1-4-1).
Stars 3, Sharks 0
At San Jose, California, Marty Turco made 20 saves during a hectic third period for Dallas en route to his fourth shutout of the season.
Jeff Halpern, Jussi Jokinen and Brenden Morrow scored goals as Dallas improved to 12-2 against the Pacific Division.
Comments will be moderated. Keep comments relevant to the article. Remarks containing abusive and obscene language, personal attacks of any kind or promotion will be removed and the user banned. Final decision will be at the discretion of the Taipei Times.