Asian Games: Japan dents medal drives by China and Uzbekistan
Japan's win in the men's double lightweight sculls yesterday helped dent early double gold medal successes by China and Uzbekistan in rowing events at the Asian Games.
Hideki Omoto and Takahiro Suda of Japan sped down the seaside West Bay Lagoon course in three minutes, 19.29 seconds over the 1,000 meters, just ahead of the 3:19.92 posted by silver medal winners Thailand. India was third for the bronze.
"We wanted to go from the start with full power and try to keep the speed," Suda said. "I saw the Thai team coming closer at 750 meters and we called on each other to go faster."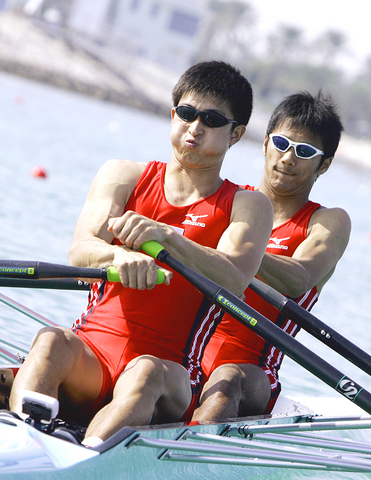 Japan's Takehiro Kubo and Yoshimichi Nishimura compete in the men's double sculls rowing competition during the 15th Asian Games at the West Bay Lagoon in Doha yesterday.
PHOTO: AFP
Uzbekistan won gold in the men's double sculls -- Vladimir Chernenko and Ruslan Naurzaliyev doing the honors -- and Zarrina Ganieva and Sevara Ganiyeva took gold in the women's lightweight double sculls.
China, meanwhile won the women's double sculls with Li Qin and Tian Liang and the women's fours, boosting their runaway gold medal count to 65 early on the fifth day of competition.
Kazakhstan's 10-meter running target mixed team's gold at the Lusail shooting complex in the desert north of Doha was the only non-Chinese shooting win of the day.
Chinese shooters took three other events, including Gan Lin in the 10m running target mixed and Wang Chengyi in the women's three-position 50m rifle.
Elsewhere, Yuka Watanabe had 26 points and Noriko Sakakibara added 25 to lead Japan to a 99-67 win over Lebanon in women's basketball.
Japan led by one point at halftime but ran away with the game in the second half, outscoring Lebanon 22-14 in the third quarter and 32-9 in the fourth.
Japan's Yuka Oga said the game would give her team confidence in its next match tomorrow against gold medal favorites China.
"China is so big, but our style is so fast," Oga said.
"Over 40 minutes we should run the fast-break and get the open three-point shot, which is the Japanese style. Then we can win," Oga added.
Thailand won the day's opening baseball game, beating winless Philippines 8-1, but both teams finished at the bottom of the six-team standings, Thailand at 1-4 and the Philippines 0-5.
South Korea played China later yesterday, with the winner getting the bronze medal. Japan and Taiwan play for gold today.
Comments will be moderated. Keep comments relevant to the article. Remarks containing abusive and obscene language, personal attacks of any kind or promotion will be removed and the user banned. Final decision will be at the discretion of the Taipei Times.