Paris winner Davydenko looking ahead to Shanghai
Nikolay Davydenko stormed to a fifth trophy of a record-setting season on Sunday at the Paris Masters and tuned up for an assault next week in Shanghai at the ATP's season-ending spectacular.
The Russian crushed Dominik Hrbaty 6-1, 6-2, 6-2 to pull level on five titles this season along with Rafael Nadal and James Blake, also both Shanghai-bound for the eight-man wrap-up event.
"Amazing," was the Russian's response to his victory in less than 90 minutes.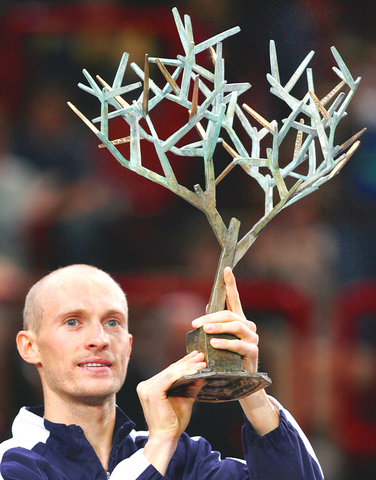 Russia's Nikolay Davydenko holds the trophy after winning the final of the Paris Tennis Masters at the Paris Bercy stadium on Sunday.
PHOTO: AP
"The semi-final was OK, but when you have a first Masters title in your career, people care, it's completely different. You are feeling something. This is a very important win for me," he said.
Davydenko, who plays most weeks of the season, showed no signs of fatigue with a month left to go in his year as he rolled to the biggest success of his career.
The 25-year-old is also likely to play in Russia's Davis Cup final early next month in Moscow against Argentina.
Davydenko won the Moscow title a fortnight ago, beating Marat Safin. He also claimed trophies at at Poertschach, Austria, in May as well as Sopot, Poland and New Haven in August prior to the US Open.
He heads to China for the year-ender after qualifying this week.
"I'm thinking about Shanghai now, this tournament is over for me," he said. "I have good confidence. I want to play me best there after reaching the semi-finals a year ago."
Davydenko pounced from the start of the best-of-five-set contest against Hrbary, lifting the first set in 21 minutes and owned a two-set lead after an hour on court.
Hrbaty saved a match point before going down with six breaks of serve and failure to break Davydenko on seven opportunities.
The Russian's win was his fourth in five matches against Hrbaty and second this season in their series after the Australian Open.
"Hrbaty's serve was not so good today," Davydenko said. "I played well from the baseline and was able to break him."
"Occasionally I lost concentration on some easy points, but I played well," he added.
Hrbaty barely knew what hit him in the rout.
"It would have been tough for Federer to beat him today, he made so few mistakes. The better serve you hit, the better return you get. This was his tournament," Hrbaty said.
Davydenko was playing in his first Masters Series final in 34 tries. He improved to 68 match wins this season, second only to Roger Federer on 87.
Hrbaty was competing in his first final since May, 2004, in Casablanca. He won the last of his six titles in February of that year in Marseille.
It was the second time in as many editions that a low-key player won the Paris event; Czech Tomas Berdych took the honors over Ivan Ljubicic last year.
French second seed Marion Bartoli won her third title of the season by crushing Russia's Olga Poutchkova 6-0, 6-0 in the final of the US$175,000 Bell Challenge in Quebec City on Sunday.
Bartoli's earlier tournament triumphs this year came in January at Auckland and last month in Tokyo. She was a semi-finalist in Quebec City last year, but retired in the second set of her match due to dizziness.
Eighth seed Poutchkova advanced to the final by defeating Bartoli's compatriot Severine Bremond in the semi-finals.
Comments will be moderated. Keep comments relevant to the article. Remarks containing abusive and obscene language, personal attacks of any kind or promotion will be removed and the user banned. Final decision will be at the discretion of the Taipei Times.