Lin En-yu sweeps the CPBL awards
TROPHY 'TASTIC The Macoto Cobras' pitcher, who will ply his trade with the Rakuten Eagles in Japan next season, said farewell to the CPBL in style
Lin "Little Chick" En-yu needed some help carrying the hardware home by the end of the night after picking up five trophies and a hefty NT$410,000 check at the Chinese Professional Baseball League's awards ceremony on Saturday night.
The gala event, held at Taipei's Sanchong City Sports Complex to recognize the achievements of the league's top players, turned into a one-man show as Lin racked up five individual distinctions in the same season for the second straight year: most wins (17), most strikeouts (209), lowest earned run average (1.73), top-ranked player by position (pitcher) and most impressive of all, the coveted league's Most Valuable Player honor.
The 24-year-old Macoto Cobras ace -- who was signed by the Rakuten Eagles of Japan's Nippon Professional Baseball League last week -- beat out Sinon Bulls slugger and this year's home-run champion (24) Chang "Prince of the Forest" Tai-shan and top RBI man Chen Chin-fong of the La New Bears by a close margin to become only the third player to win back-to-back MVP honors.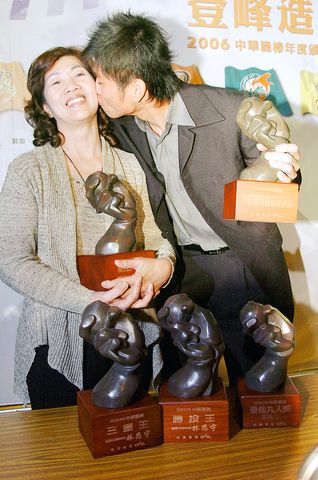 Lin En-yu gives his mother a kiss on the cheek at the Chinese Professional Baseball League's awards ceremony on Saturday night. Lin won five trophies and pocketed a NT$410,000 check.
PHOTO: LIU HSIN-DE, TAIPEI TIMES
"I guess having the lowest ERA is the most important to me, because it most directly helps the team in winning games," Lin said after the ceremony, underplaying his awesome achievement in shattering the previous single-season strikeout record of 203 with 209 for the year.
By winning the ERA title, the strikeout title and the title for most victories in the season. Lin also became only the second player to win the pitchers' "triple crown," something last accomplished by Song Jau-jee of the 2002 Chinatrust Whales.
Lin could easily have won at least three more games this year for a 20-win season had his team backed him up, as two of the eight losses he suffered were 1-0 shutouts and he allowed only one earned run over six-plus innings of play in two others.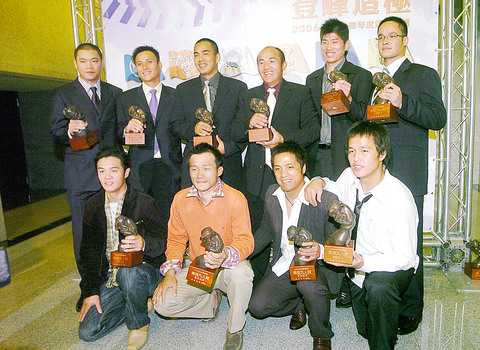 The top players in the Chinese Professional Baseball League (CPBL) pose for a group photograph during the annual CPBL awards on Saturday night.
PHOTO: LIU HSIN-DE, TAIPEI TIMES
However, Lin had only praise for his teammates.
"I'd like to thank the coaches and my teammates for helping make all this possible," Lin said.
Also receiving some well deserved recognition was Lee Ming-jin of the Cobras, who registered 18 holds over a record-setting 62 game appearances to lead all relief pitchers in the league in this newly established category.
Rounding out the individual honors in the pitching category was Sinon closer Kuo Yong-chih, who with 17 saves beat out President Lions ace Tseng Yi-cheng who also recorded 17 saves, but in 43 games compared with Kuo's 39.
On the offensive side, the big winners on the night were Chang "The Prince" Tai-shan, whose 24 homers and 130 hits were second to none in an incredible year and Chen Chin-fong, whose 81 RBIs and 20 stolen bases represented a double threat to the opposing team to make the former major-leaguer one of the most feared hitters in the CPBL.
Chang was just short of being this year's batting champ as his .3485 batting average was .5 lower than Brother Elephants rookie Chen Guan-ren's .3490 mark. Chen also walked away with this year's Rookie of the Year honor.
Sinon speedster Yu Hsing-ming was the top base stealer of the year with 27 stolen bases, easily beating out second-place finisher Bears RBI man Chen Chin-fong's 20.
As expected, Whales starter Tseng Jau-hao snatched the Most Improved Player honor for his remarkable 12-win year, a dramatic turnaround from his combined 6-8 record in 2004 and last year.
Last but not least was the Manager of the Year honor, which went to the Bears' Hong Yi-chung for doing an amazing job in turning the bottom-dwelling team of 2004 into this year's Taiwan Series champs.
The top-ranked players by position were: Cobras pitcher Lin En-yu, Whales catcher Wang Hsin-min, Bears first baseman Pan Chung-wei, Lions second baseman Yang Seng (second straight year), Bulls third baseman Chang Tai-shan, Bears shortstop Lin Chih-sheng, Lions outfielders Liu Fu-hao and Kuo Dai-chi, Bulls outfielder Yu Hsien-ming, and Bears designated hitter Chen Chin-fong.
The Golden Glove winners by position for this year were: Lions pitcher Pan "Du Du" Wei-luen, Bears catcher Chen Fong-min (second straight time), Bears first baseman Pan Chung-wei, Elephants second baseman Fong Sheng-shien, Bears third baseman Shih Chih-wei, Whales shortstop Cheng Chang-ming (third year in a row), Lions outfielder Liu Fu-hao, Bears outfielder Tsai Jien-wei and Bulls outfielder Chang Jien-ming.
Comments will be moderated. Keep comments relevant to the article. Remarks containing abusive and obscene language, personal attacks of any kind or promotion will be removed and the user banned. Final decision will be at the discretion of the Taipei Times.