Patriots trounce Vikings to clinch fourth straight win
New England quarterback Tom Brady passed for a season-high 372 yards (340m) and four touchdowns as the Patriots cruised to their fourth straight win, a 31-7 win over Minnesota on Monday.
Brady extended his perfect record indoors, improving to 10-0 in domes and 19-1 on artificial turf as the Patriots moved to 6-1, their second-best start since Bill Belichick became coach of the National Football League club in 2000.
"Actually," said center Dan Koppen, "it was a pretty simple gameplan. We wanted to play the game on our terms. And I think we did that."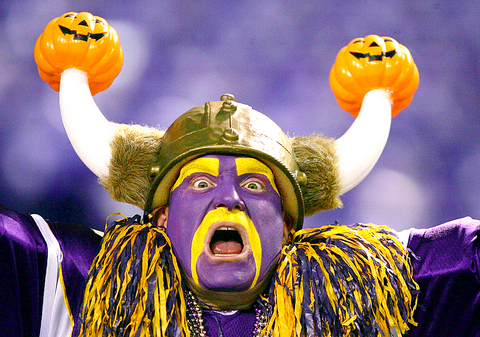 A Vikings fan supplements his Viking costume with a pair of jack-o'-lanterns for Halloween before the game between the New England Patriots and the Minnesota Vikings on Monday at the Metrodome in Minneapolis, Minnesota.
PHOTO: AFP
With the loss of his top two wideouts -- Deion Branch and David Givens -- from last season, Brady and the Patriots have relied on the tandem of running backs Corey Dillon and rookie Laurence Maroney to carry the offense early in the season.
Not so on Monday night. New England attempted only six running plays in the opening half while Brady carved up Minnesota's defense, completing 17 passes to eight different receivers in building a 17-0 lead at the break.
"I just didn't feel like we would be able to run the ball against that type of scheme," said Patriots coach Bill Belichick, who spent a large portion of last week praising the Vikings' run defense, which was allowing just 70.8 yards per game.
"[Pass] protection was a challenge, but I thought those guys up front held up well and we made some plays in the passing game," he said.
The Vikings (4-3) allowed more total yards in the first half alone than they had permitted per game (277.8) through their first six contests.
Reche Caldwell and Doug Gabriel, both in their first seasons with New England, had big games along with tight end Ben Watson.
Caldwell and Watson each had seven catches and a touchdown and Gabriel had five receptions for 83 yards.
Mewelde Moore provided a brief spark for the Vikings when he returned a punt 71 yards for a touchdown to slice the deficit to 17-7 with just 10:36 remaining on the clock in the third period.
Maroney, who starred at the University of Minnesota, returned the ensuing kickoff 77 yards to the 21.
Three plays later, Brady hooked up Troy Brown in the end zone from seven yards out to hike the advantage to 24-7 with 9:03 left.
Minnesota's offensive futility was best exemplified early in the fourth quarter. Brooks Bollinger replaced Brad Johnson at quarterback and was sacked on three consecutive plays.
Johnson was 20-of 33 for 185 yards and three interceptions.
Comments will be moderated. Keep comments relevant to the article. Remarks containing abusive and obscene language, personal attacks of any kind or promotion will be removed and the user banned. Final decision will be at the discretion of the Taipei Times.