Schumacher in spotlight at Italian GP
No matter who wins tomorrow's Italian Grand Prix, the post-race talk will center on Michael Schumacher's future in Formula One.
"We don't know if he will retire or not but it's been great to race with him," Felipe Massa, Schumacher's Ferrari teammate, said on Thursday.
Schumacher, whose contract with Ferrari expires at the end of the season, is expected to announce his retirement when the Italian team names its drivers for next year after the Monza race.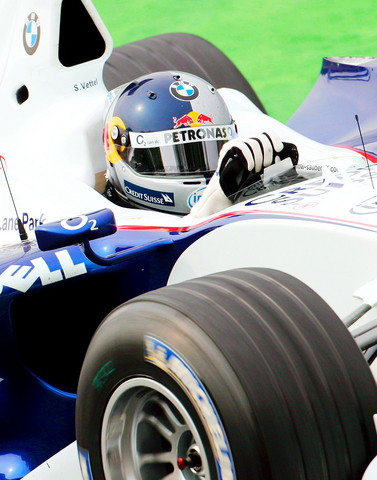 German Formula One test driver Sebastian Vettel of the BMW Sauber team steers his car during the first training session at the race track in Monza, Italy, yesterday. The Formula One Grand Prix of Italy will take place tomorrow.
PHOTO: EPA
"All I can do is ask everyone to understand that I don't want to touch on that subject until next Sunday," Schumacher said on his Web site.
Whatever Schumacher decides, Massa considers the seven-time F1 champion the best in the business.
"He is definitely the most complete driver in Formula One in my opinion," Massa said.
Schumacher has won 89 Grand Prix races in his 15-year career and finished in the top three 152 times, more than any other driver in the history of the series.
Defending champion and Renault driver Fernando Alonso leads this season's standings with 108 points, followed by Schumacher with 96 and Massa with 62.
Schumacher believes he can still win his eighth title.
"It's not impossible," said Schumacher. "I think we still have every reason to dream of winning both [driver and constructor] titles."
In the team championship, Renault leads Ferrari by only two points.
Tomorrow's Grand Prix will be Schumacher's 247th F1 race and the last Grand Prix in Europe this season. After races in China and Japan, the season ends in Brazil on Oct. 22.
"We're pretty confident we can be very competitive in this race," said Massa, who won his first F1 race in Istanbul two weeks ago.
"The last five or six races have gone really well. Hopefully we can show the same performance on Sunday," he said.
Massa and Schumacher have shared the podium four times in the last five races, with Schumacher winning three and Massa once.
Renault driver Giancarlo Fisichella finished third at Monza last year.
"I think we have a pretty good chance [this year]. ... Obviously the target is to get on the podium again but the aim is to win the race," Fisichella said.
Comments will be moderated. Keep comments relevant to the article. Remarks containing abusive and obscene language, personal attacks of any kind or promotion will be removed and the user banned. Final decision will be at the discretion of the Taipei Times.