Barry Bonds ejected in shouting match
BASEBALL Angry fans threw beer bottles and other garbage onto the field as the infuriated Giants slugger was sent off after a heated argument with the plate umpire
National LeagueBarry Bonds homered for the first time in two weeks, then lost his cool two innings later.
Bonds hit his 723rd career home run with a solo shot to center in the seventh inning of the San Francisco Giants' wild 5-2 loss to Colorado on Friday, connecting for his first homer since July 20 against San Diego -- a span of 26 at-bats.
Yet just when things appeared bright for the embattled San Francisco slugger, he got into it in the ninth with plate umpire Ron Kulpa over a called second strike.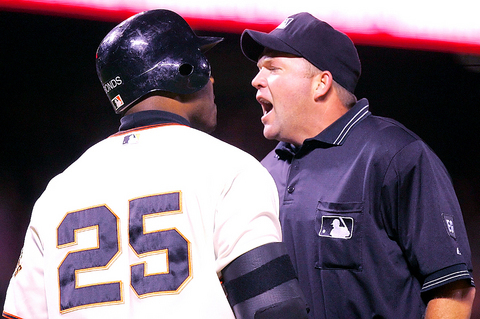 The San Francisco Giants' Barry Bonds, left, argues over a called strike with home plate umpire Ron Kulpa during the ninth inning in San Francisco on Friday.
PHOTO: AP
Kulpa immediately ejected the arguing Bonds, who began yelling at the umpire from close range.
"There were two unprofessional people out there at that moment," Bonds said. "He was very unprofessional and so was I. What happens on the field stays on the field and that's all I have to say about it."
Bonds returned to the dugout, sat down and crossed his arms as fans responded by throwing garbage, including beer bottles, onto the field from all directions. The Rockies quickly retreated into their dugout to avoid being hit while fans chanted "Barry! Barry!"
"I don't care about that," Bonds said of the fans' actions. "We're trying to win games, that's all. It happened, it happened. It's over with. Let's go get ready for tomorrow."
Security came onto the field and so did a large cleanup crew, causing an 11-minute delay. Fans also threw things at the umpires as they were escorted off the field after San Francisco's 10th loss in 11 games.
"Barry didn't like strike two. He thought it was down and I told him it was not down," Kulpa said.
"It was a good pitch and I'd been calling that pitch all night. We talked about the pitch, Barry and I. It was getting heated. I warned him, and then he crossed the line and said something he shouldn't have said. After I warned him twice, and that point he was ejected," he said.
"I gave Barry a lot of rope in that situation. It was a big part of the ballgame. I gave him every opportunity to stay in the ballgame, and he crossed the line. When you cross the line, I have a job to do," Kulpa said.
Bonds, who sat out of games on Tuesday and Wednesday with swelling in his troublesome right knee before Thursday's off day, sent a 2-1 pitch from Jeff Francis (9-9) over the wall in center in the seventh for his 15th home run of the year to move within 32 of tying home run king Hank Aaron's record of 755.
The 42-year-old Bonds hit his first homer off Francis, who became the 429th pitcher to surrender a home run to the seven-time NL MVP.
Bonds also hit his 715th homer May 28 against Colorado to pass Babe Ruth and move into second place on the career list behind Aaron.
Bonds' homer gave him 1,377 extra-base hits to tie him with Stan Musial for second all-time behind Aaron's 1,477.
Giants manager Felipe Alou, who acknowledged after the game that Bonds had a bigger strike zone this season, hadn't ever seen San Francisco's fans act this way -- and he played for the Giants nearly five decades ago. He also has noticed that Bonds is different this season. The superstar is batting .241 and has 46 RBIs.
"Barry is swinging at some pitches he never swings at," Alou said. "I'm also seeing Barry argue balls and strikes -- something he very seldom did before."
Bonds insists his diminished productivity this year didn't influence what happened.
"No, not at all," he said. "It had nothing to do with that."
Yorvit Torrealba, traded by the Giants last season, hit a three-run homer and also scored on a balk for the Rockies. He was catching at the time Bonds got tossed.
"For me, I thought it was a good pitch," Torrealba said. "I went down to get it. One thing for sure, you don't see Barry get thrown out of a game."
Alou spoke to Kulpa, who told the manager Bonds' language merited being thrown out of the game.
"The umpire told me some of the words and I won't say them here," Alou said.
"I said, `You don't eject a player of that stature, going for a record [without good reason].' He also told me he gave Barry a chance," Alou said.
American League
David Ortiz had his 25th two-homer game and Curt Schilling threw seven solid innings as the Boston Red Sox beat the Tampa Bay Devil Rays 3-2 on Friday.
Ortiz's second homer of the game, his American League-leading 39th this season, was a solo shot in the eighth inning off Seth McClung (3-11) that gave the Red Sox a 3-2 lead. He also hit a solo homer in the fourth.
Schilling (14-4) gave up two runs and nine hits, walked two and struck out four. He became the major leagues' second 14-game winner, joining Detroit rookie Justin Verlander. Jonathan Papelbon pitched the ninth for his 30th save in 33 opportunities.
Damon Hollins and Carl Crawford homered for Tampa Bay.
Yankees 5, Orioles 4
At Baltimore, Jorge Posada homered off Chris Ray to break a ninth-inning tie, and New York rallied for its fifth straight victory.
Baltimore's Ray (1-4) retired Jason Giambi before Posada hit his 14th homer, a solo shot that soared well above the 7.5m high scoreboard in right. Three of Ray's four losses have come against the Yankees.
Mariano Rivera worked the ninth for his 27th save. By finishing his 114th game over two seasons, Rivera guarantees his US$10.5 million option for next year.
Tigers 7, Indians 6
At Detroit, Craig Monroe hit a two-out, two-run homer in the eighth inning to lift Detroit over Cleveland.
The Indians led 6-4 after seven innings but the Tigers pushed across three in the eighth. Placido Polanco and Ivan Rodriguez singled off Rafael Betancourt with no outs to begin the rally.
Magglio Ordonez then lined a pitch to right-center that looked like a game-tying extra-base hit, but Shin-Soo Choo raced into the gap to make a diving catch. Polanco tagged and went to third.
Comments will be moderated. Keep comments relevant to the article. Remarks containing abusive and obscene language, personal attacks of any kind or promotion will be removed and the user banned. Final decision will be at the discretion of the Taipei Times.