Andre Agassi thrives in LA heat
NOT DONE YET The 36-year-old Las Vegas native showed that he still has something left in the tank when he beat Xavier Malisse in scorching heat at the Countrywide Classic
Battle-hardened Andre Agassi withstood 44oC temperatures on court as he turned up the heat for a 7-6 (12-10), 6-0 win over melting Belgian Xavier Malisse at the Countrywide Classic on Monday.
The 36-year-old Agassi is defending the 60th title of his career, which he won here last year, as he plays in the last few months of his career.
The fifth seed sweated into the second round in one hour, 20 minutes with eight aces and four breaks of Malisse.
Andre Agassi of the US returns a shot to Xavier Malisse of Belgium at the Countrywide Classic in Los Angeles, Calofornia, on Monday.
PHOTO: EPA
Agassi's upbringing in the desert of Las Vegas and his commitment to fitness -- which has included running up sand dunes in the hottest part of the day for years -- came to the fore in the win over the European.
The US tennis icon announced after a third-round loss at Wimbledon to Rafael Nadal last month that he would end his career at the US Open which begins on Aug. 28.
The eight-time Grand Slam champion is competing in LA for the 11th time, with pleasant memories of a tournament he has won four times.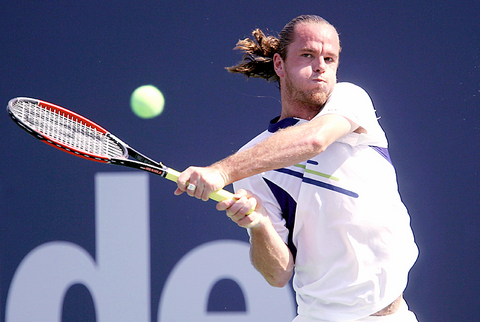 Xavier Malisse of Belgium watches a shot go across the net to Andre Agassi of the US during the Countrywide Classic on Monday at the Los Angeles Tennis Center in Westwood, California.
PHOTO: AFP
Agassi improved to 35-6 at the university campus venue and now stands 6-0 against Malisse, a semi-finalist last weekend in Indianapolis. The veteran said that his fitness held up better than that of his opponent, eight years his junior and 20 ranking spots lower on 38th.
"I was too tired, I couldn't do much. I couldn't get my breath," said Malisse, who began to fade late in the first set.
"I had played last Saturday and I only had a 30-minute hit here," he said.
Agassi won the first set lasting nearly an hour after a marathon tiebreaker, which Agassi won on his fourth opportunity after saving three Malisse set points.
The second set was a mere formality as the wilting Belgian faded away.
"The first set could have gone either way. I could tell he came off his game in the second set," Agassi said.
"There was a big swing [of momentum] after the first set. But it was great to be out there, feeling healthy and making a guy play well if he wanted to beat you," he said.
Two more seeds joined Agassi in the second round, with number 3 Fernando Gonzalez of Chile leading the way 7-6 (7-5), 7-6 (7-5) over last year's finalist Gilles Muller of Luxembourg.
California-based Russian eighth seed Dmitry Tursunov advanced over Thai Danai Udomchoke 7-6 (7-5), 7-6 (7-4).
Albert Portas eliminated second-seeded and fellow Spaniard Juan Carlos Ferrero on Monday, prevailing 7-6 (4) 6-7 (5), 7-5 on the opening day of the Croatia Open.
Portas was only 56 percent on his first serve but had 15 aces and finally triumphed after two hours and 48 minutes.
Two-time runner-up Filippo Volandri ended a four-match losing streak when France's Marc Gicquel retired with a wrist injury after losing the first set 6-1.
Volandri hadn't won since the French Open first round. He was a finalist in Umag in 2003 and 2004, and the Italian lost to last year's champion Guillermo Coria in the semifinal, where he and Coria could meet again this week.
Czech Lukas Dlouhy, seeded No. 1 in the doubles, ousted seventh-seeded Julien Benneteau of France 2-6, 6-3, 6-2.
Benneteau led 6-2, 2-1 with a break but called in a doctor because of an unspecified problem with his eyes. He continued playing, but lost concentration and rhythm. Dlouhy improved his career singles record on tour to 9-25.
Marin Cilic, 17, won the matchup of rising teenagers when he topped 18-year-old Evgeny Korolev 6-7 (5), 6-4, 6-3 with the only break in the final set, for 3-1.
Cilic, given a wild card with his 209th ranking, reached the Gstaad semifinals two weeks ago. Korolev, 115th, has two quarterfinals performances this season.
Jiri Vanek of the Czech Republic beat qualifier Santiago Ventura of Spain 7-5, 6-4; Simon Greul of Germany downed Alessio Di Mauro of Italy 7-5, 7-6 (5); and Jan Hernych of the Czech Republic defeated Italy's Flavio Cipolla 6-2, 6-1.
Tatiana Golovin earned her first WTA victory since March, beating beat Alona Bondarenko 7-5, 6-2 in the first round of the Bank of the West Classic on Monday.
The 18-year-old Golovin injured her ankle in March at Indian Wells against Maria Sharapova, retiring at 6-3, 6-7 (5), 4-3 in the semifinal.
"I'm starting to feel better now," Golovin said. "I haven't had a lot of matches on hardcourt so I'm taking it little by little and trying to regain my confidence."
The 32nd-ranked Golovin sustained ligament damage and a bone bruise at Indian Wells.
"I had to start from zero again," she said.
"My left leg lost everything from not doing anything. It still gets sore after matches but the doctor said it would be sore for another two months," Golovin said.
She tried coming back for both the French Open and Wimbledon, losing in the first round each time. She played Fed Cup for France and then lost her only match on hardcourt at Cincinnati last week.
Sybille Bammer beat Marion Bartoli, 6-3, 5-7, 6-4, in another first round match.
Comments will be moderated. Keep comments relevant to the article. Remarks containing abusive and obscene language, personal attacks of any kind or promotion will be removed and the user banned. Final decision will be at the discretion of the Taipei Times.