World Cup: There's always priceless tickets for the VIP crowd
It has become a familiar and depressing scene. As a World Cup game nears kick-off, desperate fans become ever more willing to shell out huge amounts of money for tickets from touts.
Meanwhile, not far away but separated carefully behind steel and glass, pop stars mingle with politicians and writers rub shoulders with media bigwigs in the hospitality areas. They savor fine wines and take their pick of hors d'oeuvres before being ushered to padded seats with perfect views.
As the newly penniless ordinary fan waits for the game to begin he or she can indulge in spotting the stars, almost always there thanks to the largesse of some sponsor or corporation.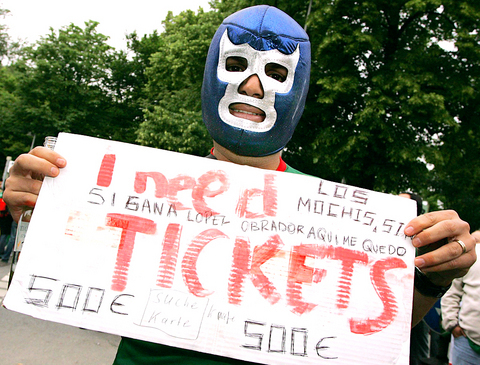 A Mexico supporter holds a placard asking for match tickets prior to the Group D match between Mexico and Angola in Hanover on 16 June.
PHOTO: EPA
The England cricket captain, Andrew Flintoff, and fast bowler Steve Harmison were at England's opening game as guests of the BBC.
The leader of the UK's Conservative party, David Cameron, enjoyed the game against Sweden earlier this week courtesy of a TV station. British finance minister Gordon Brown was hobnobbing in the comfy seats at the same game as the guest of his German opposite number, Peer Steinbrueck.
And who was that erudite-looking chap at the Brazil-Croatia game? It was none other than Salman Rushdie, watching the match -- in the cup holder's colors -- together with a Brazilian publisher. Rushdie is big in Brazil after speaking at the country's equivalent of the Hay festival last year.
Media executives are not missing out either. The editor of the Sun tabloid, Rebekah Wade, was just one of many who has been at the tournament. But there is also a plethora of chief executives, star salesmen, marketing gurus and advertising whizkids who have got hold of the laminated passes which allow access to hospitality suites.
FIFA hopes that World Cup 2006 will be remembered for its sparkling soccer. Some fans are seeing it as the tournament when corporate hospitality took over.
Kevin Miles, the international coordinator of the Football Supporters' Federation, said: "Every real fan resents the idea that money, power or celebrity helps someone to jump the queue over ordinary people. The ticket fiasco is the big story of this World Cup and must be addressed."
Out of the 3 million tickets for the World Cup, about one-third ended up with sponsors and corporate hospitality. FIFA's 15 "partners" and six suppliers received almost half a million tickets, while hospitality hoovered up another 350,000.
Once the soccer associations and FIFA have taken a generous share, much of which goes to officials and to politicians, there is less than 10 percent for England fans.
The UK minister for consular affairs, Lord Triesman, traveled to Germany to see how England fans were being looked after, but also found time to see the Sweden game with a FIFA ticket. Geoff Hoon, UK minister for Europe, will also attend the Ecuador game.
Members of the Westminster parliamentary soccer team were criticized after asking for, and receiving, 23 match tickets from McDonald's, a FIFA partner. British Liberal Democrat Member of Parliament John Leech gave up his ticket after a tabloid exposed the team. Others went regardless. He said: "There aren't enough tickets for genuine fans. It is something that needs looking at again."
But the corporations believe having famous people in hospitality areas is good for the image. Andrea Rinnerberger, in charge of World Cup matters for the communications giant Avaya, another FIFA partner, was excited to have Sir Bobby Charlton at an event.
Not all business leaders welcome the beanfest. Will Weider, chief information officer at Affinity Health System, was yesterday to be found at his desk in Wisconsin. He caused a stir when he published a letter from Avaya inviting him to the World Cup in Germany.
He declined, arguing on his blog: "I don't understand how any CIO can ethically accept some of the junkets that we are offered."
Many of those partying in Germany would simply think that this has left more for them.
Comments will be moderated. Keep comments relevant to the article. Remarks containing abusive and obscene language, personal attacks of any kind or promotion will be removed and the user banned. Final decision will be at the discretion of the Taipei Times.