Heyward lived hard and died young
Craig Heyward, the powerful fullback known as Ironhead, who played 11 seasons in the National Football League despite battling binges of food and drink, died Saturday. He was 39.
The cause was brain cancer, Blair Armstrong, who coached Heyward's son, Cameron, at a high school in Atlanta, told The Associated Press. He said Heyward died at a hospice, but he did not know where it was located.
When he could keep his weight under control on his 5-foot-11 frame, Heyward was a punishing blocker and rusher. He ran for 4,310 career yards.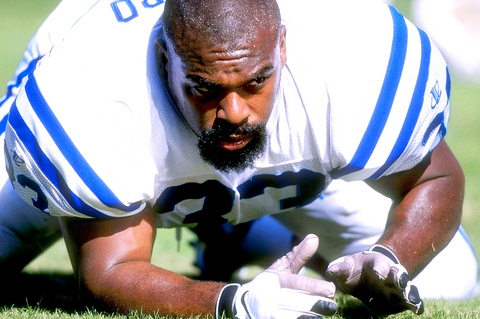 Former Indianapolis Colts running back Craig Heyward during pre-game warmups at 3 Com Park in San Francisco before a game against the 49ers on Oct. 18, 1988. Heyward died 27 May 2006 in Atlanta on Saturday at the age of 39 from a brain tumor.
PHOTO: AP
An all-American at the University of Pittsburgh, Heyward was chosen by the New Orleans Saints in the first round of the 1988 NFL draft. He played for the Saints (1988-1992), the Chicago Bears (1993), the Atlanta Falcons (1994-1996), the St. Louis Rams (1997) and the Indianapolis Colts (1998).
His best season was in 1995, when he ran for 1,083 yards.
When Heyward was with the Saints, Jim Finks, the team's president and general manager, called him the best blocking back in the league. But his off-season weight ballooned from 250 pounds to as high as 340, and coaches gave up on him because of his lack of control off the field.
He told Rick Reilly of Sports Illustrated: "I was an idiot. I was all about getting drunk. Man, we'd go out there and drink a case of beer and a couple of bottles of tequila. We'd be out there wilding. Then, at the end of the night, I'd go to one of those all-night places and have four or five of those big Polish sausage sandwiches.
"Get home at 4 or 5 in the morning and still have to be at practice at 8am. I'd be at practice still drunk. I didn't care. I wanted to be the big man.
"For a lot of years, I made my bed hard, and it was tough to sleep in it."
Heyward, a native of Passaic, New Jersey, gained his nickname from street football games. He would lower his head into tacklers' stomachs, and one opponent said it hurt so much that Heyward's head had to be made of iron. Once, Heyward said, a youngster clubbed him over his size 8 3/4 head with a billiard cue. The cue broke in half.
From ages 10 to 12, Heyward lived in a training school for wayward boys. He became an all-state player at Passaic High School before starring at Pittsburgh. Later, his charm burst through in television commercials, but his life remained a struggle.
Heyward had surgery in 1998 for a brain tumor that was pressing on his optic nerve. Surgeons could not remove all of it, and Armstrong said Heyward had lost his hearing and sight.
A listing of his survivors was not immediately available.
"You bet I've made mistakes," Heyward once said. "Part of it is immaturity. Part of it is pride. I figured I knew what was best for me."
Suspended Miami Dolphins running back Ricky Williams has signed a one-year contract to play for the Toronto Argonauts in the 2006 season, the Canadian Football League said on Sunday.
Williams, 29, was suspended by the National Football League for the 2006 season after a fourth positive drug test. He missed the first four games of the 2005 season after his third positive test.
"It is really uplifting to be in this kind of environment," Williams said. "I'm happy to be here in Toronto, having a chance to further my career on the football field."
Williams will receive a relatively modest US$250,000 for his season with the Argonauts, who had openly courted him since the suspension was announced.
That deal still makes Williams, who owes the Dolphins US$8.6 million for breaching his contract when he retired in 2004, the highest paid running back in the league.
Williams rushed for 743 yards and averaged more than four yards per carry with the Dolphins last season. When in the lineup he has been one of the premier running backs in the NFL, but his career has been marred by failed drug tests and a short-lived retirement.
Comments will be moderated. Keep comments relevant to the article. Remarks containing abusive and obscene language, personal attacks of any kind or promotion will be removed and the user banned. Final decision will be at the discretion of the Taipei Times.