South Korea embraces Pittsburgh's Hines Ward
Half-Korean Super Bowl MVP Hines Ward reached out yesterday to a country that has suddenly embraced him as a hero, expressing pride in his Korean roots although he shunned that side of his heritage after facing prejudice as a child.
"I'm proud to be a Korean, and that's something that when I was little as a kid I used to be ashamed of," Ward told a sea of journalists packed into a conference room at the central Seoul hotel where he was staying in a complimentary suite normally reserved for world leaders.
Ward was virtually unknown here before the Super Bowl, where American football isn't widely followed.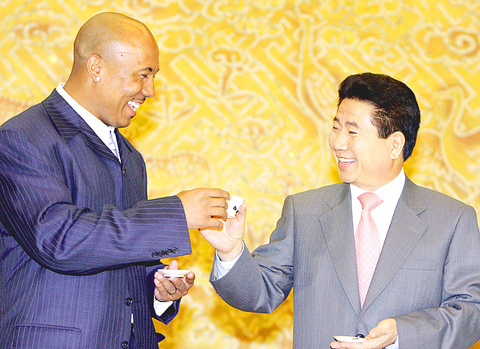 Pittsburgh Steelers wide receiver Hines Ward, left, talks over tea with South Korean President Roh Moo-hyun at the Presidential Blue House in Seoul yesterday.
PHOTO: AFP
But since the Pittsburgh Steelers' February victory and Ward's MVP award, he has become a media phenomenon in South Korea -- also drawing attention to the discrimination faced here by children of mixed parentage. Ward was born in Seoul to a Korean mother, and his father was an African-American soldier.
"The Korean community has supported my mother and I for the first time in my life," Ward said at the news conference, which drew breathless live coverage by several TV channels. "Now I don't have a problem with people teasing me or what not because that's who I am ... I get the best of both worlds -- African-American and the Korean customs."
Ward was having lunch later Tuesday with President Roh Moo-hyun. During his 10-day trip, he will also be granted honorary citizenship by the city of Seoul and be greeted at a reception hosted by the US Embassy.
He will also meet with children of mixed backgrounds, and said he has plans to work with a foundation that supports them and also set up an organization of his own here.
"I'm very happy to be here. For me to come back where it all started ... it was something that the first time in my life I'm nervous about," Ward said. "I'm very intrigued with the Korean heritage. It's something that I missed out for 30 years of my life."
In a nod sure to be appreciated here, Ward also praised Korean food -- saying he had eaten galbi, or barbecued rib meat, along with kimchi for his first dinner after arriving in the country Monday.
Ward's family returned to the US when he was a baby and his parents soon divorced, and the trip is his first time here as an adult.
His mother, Kim Young-hee, was initially ruled unfit to keep her son but he ran away to live with her in second grade. She worked three jobs to support him, a story that has drawn sympathy from hard-working Koreans.
Ward's mother has also commented on the discrimination Ward faced as a child when she tried to involve him in Korean groups, where he was treated differently due to his mixed roots.
The star receiver was repeatedly asked Tuesday about the ostracism faced by children like him, and acknowledged his mother had "tried to hide some things about the Korean culture from me."
"I had to overcome a lot being teased a lot by American kids about my being 50 percent Korean, being 50 percent African-American," he said.
Mixed marriages are growing in South Korea, but mostly among rural men who face a shortage of eligible women in villages and seek brides in nearby Asian countries. Children of mixed backgrounds still suffer discrimination here -- particularly those with an African-American parent, who are often being raised by a single mother, according to Pearl S. Buck International Korea, a group that supports mixed-heritage youth.
Ward said his mother taught him that race wasn't important -- even though she typically had wanted him to marry a Korean woman. He called for understanding among people of all backgrounds when asked what he would tell Korean parents whose children want to marry foreigners.
"This world is not one race, we all live in a melting pot," Ward said. "You can learn a lot from someone else's culture and if two people love each other, then love has no color."
Comments will be moderated. Keep comments relevant to the article. Remarks containing abusive and obscene language, personal attacks of any kind or promotion will be removed and the user banned. Final decision will be at the discretion of the Taipei Times.