Canada heaps woe upon wow
OLYMPICS Wednesday started on a high note for Canada, but ended with old rival Russia smashing the men's hockey team. Coach Wayne Gretzky couldn't bear to watch
First, wow. Then, woe. Canada started its day of extremes on a high on Wednesday with Olympic gold medals for Cindy Klassen in the speedskating and Chandra Crawford in the women's 1.1km cross-country sprint.
It ended on a low when Wayne Gretzky and Co were bumped out in a 2-0 hockey quarterfinal loss to old rival Russia.
Gretzky, who helped guide Canada to its first men's hockey gold in 50 years at Salt Lake City four years ago, couldn't even watch the final minute.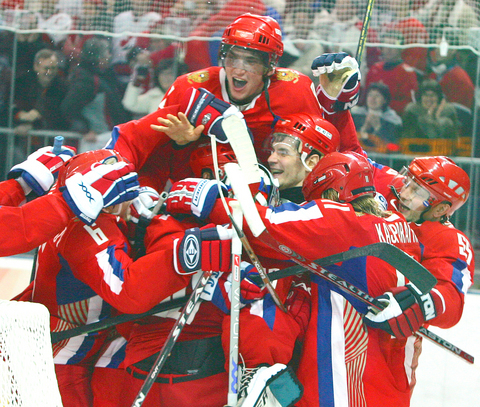 Members of the Russian men's ice-hockey team, including Alexander Ovechkin, top, celebrate defeating Canada 2-0 in their quarterfinal match in Turin, Italy, on Wednesday.
PHOTO: AP
"I'll take all, deservedly so, the responsibility for not winning," said Gretzky, who arrived in Turin amid a sports gambling scandal involving his wife and NHL club assistant coach. "That's the position I'm in and the responsibility I have."
Sweden picked up two gold medals when Anja Paerson finally added an Olympic title -- in the slalom -- to her two overall World Cup crowns and four world championships. And with Bjoern Lind taking gold in the men's 1.3km cross-country sprint, Sweden matched its best Winter Olympic haul of 10 medals, which it last reached 50 years ago.
Making her victory that much sweeter: Paerson's win pushed her nemesis Janica Kostelic out of the medals, ending the Croatian's streak of winning gold or silver in six consecutive Olympic races.
Kostelic was fourth, behind Austrian skiers Nicole Hosp and Marlies Schild.
It was Kostelic who exposed Paerson's inner struggles after she took silver in the Super-G for a record sixth Alpine medal at the Winter Games and Paerson finished 12th.
"I love to ski and not take it so seriously like Anja," Kostelic said then. "She needs to relax and enjoy her skiing."
"What [Kostelic] said was true -- I needed to relax -- but I had to do it in my way," Paerson said on Wednesday. "I was in a bad place at the Olympics."
After four world championship gold medals and 32 World Cup race wins, her Olympic triumph prompted a congratulatory call from Sweden's King Carl XVI Gustaf.
Kostelic joined in.
"She deserves the gold medal," Kostelic said. "She's won everything now."
With one more race on the Alpine schedule, today's giant slalom, Paerson has a chance to tie Kostelic's career mark for Olympic medals. Kostelic has said she's "90 percent" sure she'll skip the giant slalom.
At the Lingotto oval, Klassen became the most decorated Canadian woman at a single Olympics when she led Kristina Groves in a Canadian 1-2 finish in the women's 1,500, adding gold to a bronze and two silvers she won earlier in Turin.
"Gold is great," Klassen said. "Having two Canadians on the podium is awesome."
Ireen Wust of the Netherlands, the 3,000 gold medalist, took bronze, pushing pre-race favorite and defending champion Anni Friesinger out of the medals.
Crawford claimed Wednesday's first gold in the women's sprint, winning in 2 minutes, 12.3 seconds.
Switzerland's band of brothers dominated snowboarding's parallel giant slalom.
Defending champion Philipp Schoch defeated older brother Simon over the two-run final to keep gold and silver in the family.
"We talked about it at the top and said, `OK, we'll give full power and go straight and the better will win,'" said Philipp Schoch, who became the only person ever two win two Olympic snowboarding golds. "Today, I'm better. Sorry brother."
Evelyne Leu gave the Swiss another gold, winning the women's freestyle aerials with a risky final maneuver.
She landed a triple backflip with three twists on her second of two jumps in the final to take the title ahead of China's Li Nina and defending champion Alisa Camplin of Australia. Camplin was back four months after a knee reconstruction.
In Wednesday's last medal event, South Korea's women won the 3,000 short-track relay -- their country's fourth short-track gold of the games. Canada took silver and Italy bronze after third-placed China was disqualified for an illegal move.
Elsewhere, disgraced Austrian cross-country coach Walter Mayer admitted that he fled the Winter Olympics in panic and attempted to kill himself when he crashed into a police car in Austria earlier this week.
Despite the hovering doping scandal, Austria remained second on the medal standings with eight golds and 19 overall. Neighboring Germany stayed on top with nine golds, eight silvers and five bronzes.
The US was third with seven golds and 18 total -- although its chances of another appearance in a hockey final ended in a 4-3 defeat to Finland.
In other hockey quarterfinals, Sweden overpowered Switzerland 6-2 and world champion Czech Republic beat Slovakia 3-1 in a grudge derby.
The Canadians beat the US 11-5 to advance to the curling final against Finland today.
In the women's tournament, Sweden was to play Switzerland for the gold yesterday, while Canada and Norway were to play off for bronze.
Comments will be moderated. Keep comments relevant to the article. Remarks containing abusive and obscene language, personal attacks of any kind or promotion will be removed and the user banned. Final decision will be at the discretion of the Taipei Times.