Steelers have history, but Seahawks have experience
The tradition-rich Pittsburgh Steelers face the upstart Seattle Seahawks in the Super Bowl on Sunday.
It should be one of the better ones.
History is on Pittsburgh's side: The Steelers have four titles, all won during the six seasons from 1974-1979 behind Terry Bradshaw, Franco Harris, Mean Joe Greene and a bunch of other NFL Hall of Famers.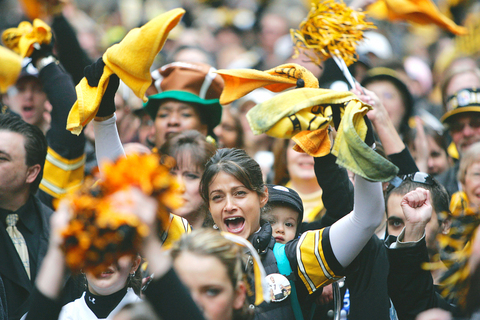 Pittsburgh Steelers fans attend a pep rally in downtown Pittsburgh on Thursday. The Steelers are playing the Seattle Seahawks in the Super Bowl in Detroit, Michigan, on Sunday. Oddsmakers favor the Steelers by 3 points for the game in Detroit, Michigan.
PHOTO: AP
Seattle, on the other hand, hadn't won a playoff game in 21 years until this season and is in the Super Bowl for the first time in its 30-year history.
Everything the Seahawks have going for them -- and it's a lot -- happened this season: Seattle entered the playoffs as the NFC's top-seeded team, scored more points than any other team in the regular season, and did it with running back Shaun Alexander, who won the league MVP honors.
The Steelers, meanwhile, were the last seed in the AFC, the first sixth-seed to make it to the big game and only the second team ever to get there by winning three games on the road.
And despite all of Pittsburgh's Super Bowl experience as a franchise, only one Steeler has been there -- little-used cornerback Willie Williams, a starter on the 1996 team which lost to the Dallas Cowboys. Seattle has five who have been there with other teams: Wide receiver Joe Jurevicius; center Robbie Tobeck; defensive end Grant Wistrom; defensive tackle Chuck Darby; and punter Tom Rouen.
Even so, the oddsmakers favor the Steelers by 3 points for the game at Ford Field. Those odds seem to be more incentive for the Seahawks, who think of themselves as underappreciated.
"Frankly, we get sick of hearing it," All-Pro guard Steve Hutchinson says when told a top-seeded team is an underdog to a sixth seed. "You'd think we'd earned respect. All we can do is keep winning."
Seattle's 34-14 victory over Carolina in the NFC title game two weeks ago was part of a 14-game run in which the only loss was the regular-season finale, when the Seahawks rested their starters for most of the game in Green Bay.
Pittsburgh's 34-17 win in Denver for the AFC championship was its seventh victory in a row -- the Steelers consider every one of them a playoff game after a 7-5 start because they needed every one of their six straight wins to end the regular season just to make it into the playoffs.
Pittsburgh quarterback Ben Roethlisberger, who had five interceptions in two playoff games as a rookie last season, has only one in three postseason games this year.
"It has been like night and day," says Roethlisberger, who will be the second-youngest quarterback at 23 to start a Super Bowl after Dan Marino in 1985.
His play against Seattle's defense looks like the key matchup. He's found five different players in the end zone in the postseason, and completed 68 percent of his passes for seven touchdowns. Expect the Steelers to continue to throw the ball to set up what is one of the purest rushing attacks in the NFL.
Seattle's Matt Hasselbeck, who in his first playoff game two years ago in Green Bay threw an interception that was returned for a game-winning touchdown in overtime, also has blossomed. He's completed 67 percent of his throws with three touchdowns and no interceptions in two playoff wins. He almost single-handedly took over the win over Washington after Alexander left with a concussion.
The running back matchup features Pittsburgh speedster Willie Parker and Jerome Bettis, the power back, against Alexander, who has shown no lingering ill effects from the concussion. The league MVP is a potential free agent after the Super Bowl, and could command a signing bonus of US$20 million.
Bettis will get to play his first Super Bowl in his hometown, and then is expected to retire, a fitting conclusion to a 13-year career for the man who is fifth on the NFL's career rushing list.
Pittsburgh has the incentive to win one for their full back. Detroit embraced the prodigal son by presenting him with a key to the city and declaring this "Jerome Bettis Week."
"I think it's been my work ethic. I've just been a hard worker, a guy that's always trying to be positive and put a positive swing on things sometimes even in the darkest moments," Bettis says. "My game is a blue-collar game. Three yards and a cloud of dust and get up and do it again. I think people relate to that."
Asked what he thinks of Troy Polamalu's wild, cascading hair, Seattle Seahawks quarterback Matt Hasselbeck took off his baseball cap and swiped a hand over his balding head.
"I'm jealous," he said. "I'm really jealous."
Envy. Admiration. Disdain. Polomalu, the Pittsburgh Steelers safety, has received a lot of Super Bowl notice for his unbridled hair style.
And everyone but Polamalu seems to have an opinion about it.
"He didn't cut it, did he?" said NBA Detroit Pistons center Ben Wallace, who loves to tease his own hair to distinctive heights. "Good. I like that hair. I'm rolling with him."
Players in all sports have forged an identity with their 'dos.
Dennis Rodman took NBA coiffures into uncharted territory by dyeing his hair every imaginable hue -- a fashion statement few would emulate. And running back Ricky Williams forced the NFL to clarify its rule on tackling -- yes, it's OK to pull someone down by their dreadlocks.
Not that anyone would try it with Polamalu, a Pro Bowl defender who does the tackling instead of the other way around. He said no one has yanked on his hair during a game.
"If I have the ball, I'm sure they could and they'd have the right to," he said. "But if I have the ball, that's a good thing."
The American Samoan decided to let it grow about four years ago, and hasn't touched it since. No one else has, either.
His coaches aren't about to tell him to pick up a scissors, either.
"I'm not sure how much that hair weighs," Steelers defensive coordinator Dick LeBeau said, laughing. "As long as it doesn't slow him down, I don't care. He can grow it another foot if he can get another interception."
Regardless of how the Super Bowl turns out, Polamalu has no barber in his future.
"I don't know when I'll cut it again," he said.
Comments will be moderated. Keep comments relevant to the article. Remarks containing abusive and obscene language, personal attacks of any kind or promotion will be removed and the user banned. Final decision will be at the discretion of the Taipei Times.