Jackets win in shootout
NATIONAL HOCKEY LEAGUE Adam Foote scored in the final minute of regulation to force overtime as fans saw the first sudden death in the league's new format
Trevor Letowski scored in the fifth sudden-death shootout round -- the NHL's longest tiebreaker this season -- to give Martin Prusek and the Columbus Blue Jackets a 2-1 victory over the Minnesota Wild on Friday.
Adam Foote scored in the final minute of regulation to force overtime -- his second pivotal, late goal in as many games.
Columbus had four quality shots in the overtime, extending their franchise record to 53 shots for the game. The Blue Jackets also put a record 24 shots on goal in the third period, with Minnesota goaltender Dwayne Roloson stopping 23.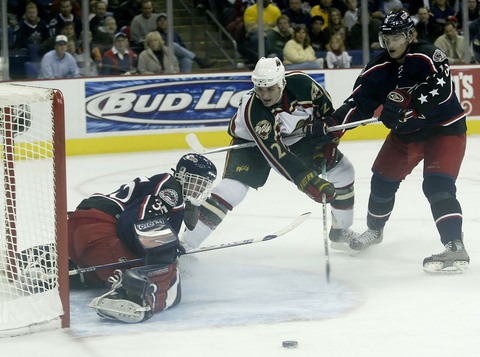 Martin Prusek, left, of the Blue Jackets makes a save as teammate Nikolai Zherdev, right, defends against Kyle Wanvig of the Wild during the third period in Columbus, Ohio, on Friday. Columbus defeated Minnesota 2-1 in overtime after a shootout climaxed in a sudden-death goal by Trevor Letowski.
PHOTO: AP
In the three-skater shootout, Todd White gave the Wild the upper hand only to have Mark Hartigan, called up from Syracuse of the AHL last week, score on the Blue Jackets' final chance. That forced the first sudden death in the NHL's brand new tiebreaker format.
Pierre-Marc Bouchard gave Minnesota a 1-0 lead at 5:15 of the second period.
Hurricanes 8, Flyers 6
At Raleigh, North Carolina, Matt Cullen beat Antero Niittymaki from the right side late in the third period and Eric Staal had a hat trick as Carolina rallied again.
Devils 3, Sabres 2
At East Rutherford, New Jersey, Sergei Brylin scored the winning goal on the power play with 5:23 remaining and New Jersey backup Scott Clemmensen made 25 saves.
Scott Gomez and Eric Rasmussen also scored for the Devils, who snapped a two-game losing streak.
Oilers 5, Stars 3
At Dallas, Radek Dvorak scored the tiebreaking goal at 8:12 of the third period, helping Edmonton snap a seven-game losing streak.
Dallas had capitalized on a two-man advantage when Brenden Morrow scored his third goal of the season at 5:14 of the third period to tie it at 3. But Dvorak scored to pave the way for the Oilers' first win since Oct. 10.
Raffi Torres added a power-play goal at 16:36, his seventh of the season, to stretch Edmonton's lead to 5-3.
The Oilers advanced to a 3-2 lead at 16:43 of the second period on Ryan Smyth's goal.
Dallas rallied to tie it at 2 when Bill Guerin scored at 8:22 of the second period and Mike Modano struck 30 seconds later.
Sharks 5, Kings 4
At Los Angeles, Jonathan Cheechoo swept the puck in during a goal-mouth scramble with 3.7 seconds left and Patrick Marleau had a goal and two assists to lead San Jose.
Cheechoo, Mark Smith and rookie Milan Michalek each had a goal and an assist for the Sharks, who scored on their first shot against both of Los Angeles' rookie goaltenders, Mathieu Garon and Jason LaBarbera.
Kings defenseman Lubomir Visnovsky had a goal and two assists. Craig Conroy and Dustin Brown each had a goal and an assist for Los Angeles.
Mighty Ducks 6, Blues 4
At Anaheim, California, Teemu Selanne scored two goals, including one of Anaheim's three power-play tallies, and the Mighty Ducks rallied from an early deficit.
Selanne gave the Ducks breathing room with his second of the night and eighth of the season, beating goaltender Reinhard Divis on a breakaway with 9:04 remaining to give Anaheim a two-goal pad.
Comments will be moderated. Keep comments relevant to the article. Remarks containing abusive and obscene language, personal attacks of any kind or promotion will be removed and the user banned. Final decision will be at the discretion of the Taipei Times.