Brett Favre shows he still has the magic
BUT NOT ENOUGH Despite four touchdown passes from the 15-year veteran, the Green Bay Packers got off to their worst start in 17 years, losing 0-4 to the Carolina Panthers
Brett Favre showed he still has some Monday night magic -- just not enough to prevent the Green Bay Packers from getting off to their worst start in 17 years.
Favre threw four touchdown passes but couldn't overcome two early turnovers that the Carolina Panthers used to build a big lead and then held on for a 32-29 victory. The Packers fell to 0-4 for the first time since 1988.
Rallying Green Bay from a 19-point third-quarter deficit, Favre threw two touchdown passes and for two 2-point conversions in the fourth quarter and had the Packers in position to possibly win the game on their final drive.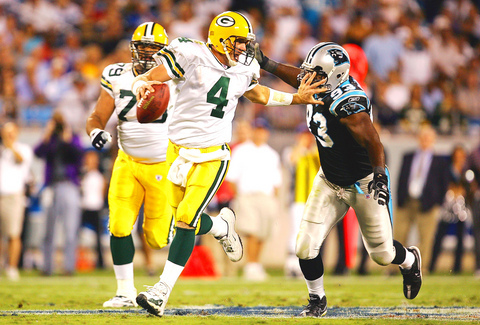 Brett Favre of the Green Bay Packers stiff-arms Michael Rucker of the Carolina Panthers on Monday at the Bank of America Stadium in Charlotte, North Carolina.
PHOTO: AFP
But with running back Ahman Green on the sidelines with an injured knee and no timeouts left, Favre had to do it all on his own when Green Bay got the ball back with 1:58 to play. He completed two passes before Carolina (2-2) stopped the Packers on a fourth-and-2.
Favre threw the ball to Donald Driver past the first down line but Chris Gamble knocked the ball out of his hands and it fell incomplete.
Favre, a 15-year veteran and future Hall of Famer who is possibly playing his final season, stood alone at the 44-yard line. Soon, Carolina tight end Kris Mangum, a fellow Mississippian, walked over and patted the dejected Favre on the helmet. Mike Wahle, the left guard who spent seven seasons protecting Favre before signing with Carolina, embraced him.
The Panthers let out a sigh of relief after nearly giving one away.
Jake Delhomme threw two touchdown passes and Stephen Davis ran for two more as the Panthers built an early lead and put themeselves in position to ride out an easy win.
Perhaps that's just where Favre wanted them.
"I was just praying for our defense to get a stop," Delhomme said. "He was awesome tonight. I'm just honored to be on the same field with him."
Trailing 26-7 midway through the third quarter, Favre turned it up a level. He led by example on an 80-yard scoring drive, sprinting up the middle for a 12-yard gain on third-and-8 then finishing it off with a 26-yard TD pass to Driver.
Farve finished 28-of-47 for 303 yards and four touchdowns. It was his 19th game of four or more touchdown passes, second to Dan Marino's record 21.
The pass to Driver was Favre's 50th touchdown pass on Monday Night Football, second only to Marino's 74, and it cut Carolina's lead to 26-13. The Panthers pushed it to 32-13 on Davis' second score of the game, a 1-yard run with 14:44 to play that gave them what seemed to be an insurmountable lead.
But after a Packers punt, Delhomme fumbled the ball away when his arm was hit by Kabeer Gbaja-Biamila. Green Bay recovered and Favre made the Panthers pay for it one play later with a 16-yard scoring strike to Donald Lee.
His finest work, though, came on the Packers' next drive. Favre was 8-of-12 on a 90-yard drive, hitting Antonio Chatman on a 4-yard touchdown in the back of the end zone.
Favre threw the 2-point conversion to Robert Ferguson to make it 32-29 with 3:07 to play.
The Panthers were suddenly hapless on offense, going three-and-out to give the ball back to Favre for one final chance.
Comments will be moderated. Keep comments relevant to the article. Remarks containing abusive and obscene language, personal attacks of any kind or promotion will be removed and the user banned. Final decision will be at the discretion of the Taipei Times.