Gibbs gets Skins on track
In his first season back in the NFL, Joe Gibbs failed in 2004 to silence the doubters who wondered if he could be the same coach who won three Super Bowls with the Washington Redskins during his tenure from 1981 to 1992.
Gibbs has the Redskins off to a 2-0 start this season, making them one of only seven teams in the NFL that are still undefeated. And they have breathed life into their rivalry with the Dallas Cowboys.
Washington-Dallas is once again a spectacle, as the teams showed in Monday night's 14-13 victory for the Redskins at Texas Stadium. With Washington on the brink of being shut out, quarterback Mark Brunell threw two long touchdown passes to Santana Moss in the final minutes for the surprise victory.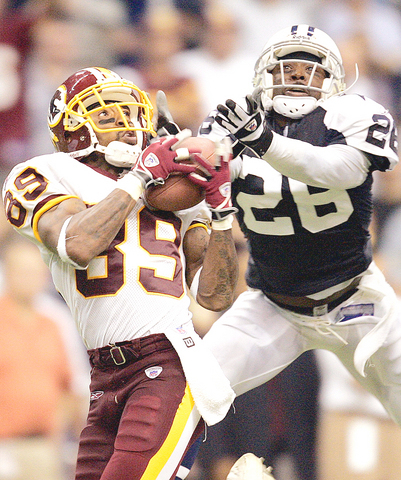 Santana Moss, left, of the Redskins pulls in a touchdown pass in front of Aaron Glenn of the Cowboys in Irving, Texas, Monday. Washington defeated Dallas 14-13.
PHOTO: AP
The Cowboys had won four straight and 14 of 15 over the Redskins before Monday night. Washington had not won at Texas Stadium since the 1995 season.
Gibbs said he enjoyed this one almost as much as his championships.
"I said after the game, that as far as competitive, athletic wins and having great thrills, this ranks right there with them," he said Tuesday during a news conference at Redskins Park in Ashburn, Va. "I think it was so much emotion and everything wrapped into it, where the team was, all the things that have taken place. For that to be Monday night and to know it was the Dallas Cowboys, all the things that happened to us last year, so I think you roll that into one, it was very emotional."
The Redskins lost to the Cowboys twice last season, when they finished with a 6-10 record in Gibbs' first season back as coach after devoting the years since his departure to building a championship race team in Nascar. It was hardly an affirmation that Gibbs was still able to win in the NFL.
Included in last season's games was the Redskins' 13-10 loss on a touchdown pass with 30 seconds left on Dec. 26 at Texas Stadium, one of the last indignities of a trying year.
On Monday, the Redskins were less than four minutes away from losing to the Cowboys for the fifth time in a row. With the Cowboys shutting out the Redskins and Washington down to a fourth-and-15 from the Dallas 39-yard line, Brunell shook off three quarters of struggle and tossed a touchdown pass to Moss with 3 minutes 46 seconds remaining.
That closed the Cowboys' lead to 13-7, with enough time for another shot at the end zone. The winning score came just over a minute later, after Dallas punted. Brunell found Moss behind the secondary and he never broke stride in completing the catch and run for a 70-yard reception with 2:35 to go.
Suddenly, the Redskins had pulled out a victory before a stunned Texas Stadium crowd.
"Those two throws, absolutely you couldn't throw them any better than that," Gibbs said.
Brunell, who struggled last year in his first season with the Redskins, replaced Patrick Ramsey as the starting quarterback last week. He had a crucial scramble and a 20-yard completion to James Thrash on a fourth-and-2 earlier in the drive that led to the 39-yard touchdown to Moss.
"It looked like the Mark Brunell of old," Moss told reporters after the game. Moss, who joined the Redskins in the off-season after playing his first four seasons with the Jets, finished with five receptions for 159 yards.
It was enough to almost forget that the Redskins had gone more than seven quarters without a touchdown this season. John Hall kicked three field goals in their 9-7 victory against Chicago to open the season.
Gibbs says he knows that the team is not suddenly fixed and on its way. But he also knows that a victory like that can inspire a team.
"Certainly I would hope that this victory would be one that the guys say, `Hey look, we're never out of something,'" Gibbs said. "We're going to keep fighting no matter what. I hope we can kind of build on that and correct the things that we did poorly."
Comments will be moderated. Keep comments relevant to the article. Remarks containing abusive and obscene language, personal attacks of any kind or promotion will be removed and the user banned. Final decision will be at the discretion of the Taipei Times.