Bonds appears and disappears
Beckett -- the Irish playwright Samuel, that is, not the Marlins pitcher Josh -- was not known as a baseball fan. But he would have appreciated the predicament of the San Francisco Giants and their fans this week, as they waited for Barry Bonds to return to the lineup.
Bonds, the seven-time National League most valuable player who is threatening to eclipse Hank Aaron's record for career home runs, played in what the Giants called a simulated game at SBC Park on Thursday afternoon, though it was not much more than a few rounds of batting practice against live pitching. He even sent a fastball from a young right-hander named Kevin Correia into the right-field bleachers. But when the real game against the Chicago Cubs began a few hours later, he was back where he has been all season: on the disabled list.
Although speculation remained that he would be activated for the rest of the Cubs series this weekend, the mystery remained Beckett-like. No one seemed to know when to expect Bonds or what to expect when he arrived.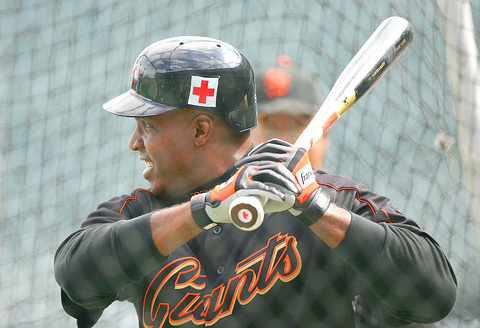 Barry Bonds of the Giants, wearing a Hurricane Katrina red cross, takes batting practice before a game against the Cubs at SBC Park in San Francisco, California, Thursday.
PHOTO: AFP
But just as no one knew when to expect Godot to appear or what to expect when he did, the Giants seem to be equally flummoxed, the hopeful and hapless Vladimirs and Estragons of baseball.
"It seems inevitable that he's coming back," center fielder Randy Winn said Wednesday in Los Angeles as the Giants completed a three-game series with the Dodgers. "But it's a wait-and-see situation."
After Thursday's workout, it still is. Felipe Alou, the Giants' manager, shrugged and said he could not learn anything from watching the workout. Asked what conclusions could be drawn from Bonds' batting practice, Laurence M. Baer, the Giants' chief operating officer, said, "I'd say that at some point he's going to come back and play baseball for us."
Bonds spoke briefly after the teams took batting practice, and he confirmed that uncertainty remained the only certainty. He said he felt good. He said it was tough not playing because "there's nothing more gratifying than being out there."
But asked when he was going to play, he said, "I don't know yet." Asked if it was realistic that he would play over the weekend, he said, "It's not unrealistic."
Bonds' return has been perpetually imminent since Monday, when he joined the Giants for batting practice in Los Angeles. Without him, the Giants lost two of three to the Dodgers, and they were 12 games under .500 entering Thursday's game. Even so, they have won eight of their previous 11, a spree that gives them a belated and unlikely shot at the National League West title. The San Diego Padres entered play Thursday with a six-game lead in the division, but they have six more games against the Giants.
Thus Bonds' return has implications beyond the resumption of his stalking of the home run crown. With 703 homers, he trails Babe Ruth by 11 and Aaron by 52. And though Bonds said earlier this week that the standings would not influence his decision to return, the sudden pennant-race pressure on the Giants is making him loom even larger. Can he be the savior of the Giants' season?
The question has once again begun attracting a growing swarm of reporters who have been tormenting him like flies around a horse. Bonds, 41, has been alternately accommodating and curt. He is used to keeping members of the news media at bay. "If I had all the time back that I spent waiting for Barry this year, I'd take a nice long vacation," Barry Bloom, a national reporter for mlb.com, said.
Thursday's midafternoon workout drew dozens of reporters, photographers and camera operators. They documented Bonds' every move, from his dancelike stretching to his three-quarter-speed tours around the bases, to his rounds in the batting cage against Correia, whose first four pitches to Bonds were balls, prompting jokes among the reporters about an intentional walk.
Correia smiled when he came off the mound after giving up a long fly that landed in the right-field bleachers. "I probably won't get a chance to face him in a game," he said. "So if I'm going to give one up to him, I got to do it now."
Comments will be moderated. Keep comments relevant to the article. Remarks containing abusive and obscene language, personal attacks of any kind or promotion will be removed and the user banned. Final decision will be at the discretion of the Taipei Times.