NCAA mascot rule stings Florida St.
Florida State University president T.K. Wetherell called the NCAA's look at American Indian mascots a "non-issue" a week ago.
But after the NCAA made it an issue by banning such "hostile and abusive" symbols from its postseason events Friday, Wetherell reacted with fury.
"Florida State University is stunned at the complete lack of appreciation for cultural diversity shown by the National Collegiate Athletic Association's Executive Committee," he said in a blistering statement. "That the NCAA would now label our close bond with the Seminole people as culturally `hostile and abusive' is both outrageous and insulting."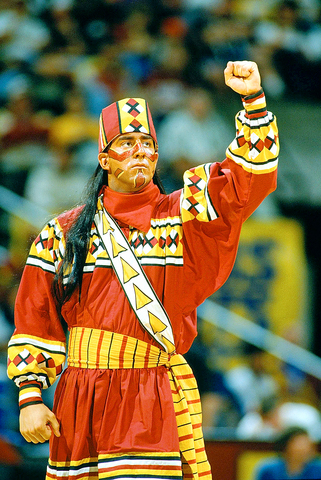 This undated photo shows Florida State mascot Chief Osceola at a basketball game in Tallahassee, Florida. The NCAA on Friday banned the use of Native American mascots by sports teams during its postseason tournaments.
PHOTO: AP
For FSU and 17 other schools, including Illinois and Utah, the NCAA's action has far-reaching implications on and off the field.
The Executive Committee approved four policies to "send a message very strongly that we do not think these kinds of mascots are appropriate for NCAA championships," said Walter Harrison, chairman of the group of mostly college presidents that governs the NCAA.
The policies are:
An institution with "hostile and abusive, racial, ethnic, national origin mascots" will be banned from hosting any NCAA tournament game effective Feb. 1.
If such an institution had previously been predetermined to host, it must take "reasonable steps to cover up" any of those references.
Student-athletes can't have uniforms or paraphernalia with those images at NCAA championship events. Cheerleader, dance team and band member uniforms and paraphernalia with such references can't be worn at NCAA championship events. This won't be effective until Aug. 1, 2008.
None of the measures would affect FSU football.
In Division I-A, the NCAA doesn't run league championship games or bowl games. But Harrison said during Friday's teleconference announcing the policies, adopted Thursday night, that he hopes the Bowl Championship Series, the most lucrative and highest profile postseason football games, would follow the NCAA's lead.
Bob Burda, a BCS spokesman, said he is unaware of that item being up for discussion.
Even if his school's signature sport is unfazed, at least for now, Wetherell said his understanding of the rules infers FSU should be ashamed of its treatment of the Seminole name and symbols. He said he finds that especially distressing given the Seminole Tribe of Florida recently endorsed and supported the school.
"National surveys have shown in recent years that an overwhelming majority of Native Americans are not offended by the use of Native American names and symbols," Wetherell said. "In making its decision, the Executive Committee has been swayed by a strident minority of activists who claim to speak for all Native Americans. It is unconscionable that the Seminole Tribe of Florida has been ignored."
Max B. Osceola Jr., a member of the Seminole Tribe of Florida's Tribal Council, which unanimously adopted a resolution on June 17 supporting the school, was similarly indignant.
"Here's another example of non-Indians telling Indians what's good for them," he said. "No one from the NCAA came to our tribe to ask us directly. ... These are people who never lived a day on the reservation who are now saying how we should or should not use our name."
Charlotte Westerhaus, the NCAA's vice president for diversity and inclusion, said the organization was "very aware" of the Seminole Tribe of Florida's stance, but said there are other Seminole tribes who aren't supportive or appreciative.
Osceola said he respects the views of the Seminoles in Oklahoma and is aware that American Indians elsewhere take offense at nicknames such as Redskins or Savages (used by Southeastern Oklahoma State). But his tribe and their counterparts in Oklahoma have their own leadership and government. He said FSU has been respectful and receptive to any of his tribe's concerns.
"Florida State has come to us and asked, `Are we doing this right?'" he said.
FSU keeps the tribe involved in numerous campus activities, including homecoming and commencement. School officials go to Seminole reservations to recruit students and Wetherell established scholarships for those students that cover 80 percent of their tuition costs. Four new Seminole students are expected to enroll for classes this fall, joining four others already in school. But the NCAA, cautious not to intrude upon an institution's autonomy, views the matter more globally.
What occurs at an individual campus is one thing.
What occurs at NCAA championship events, "which are very public forums," Westerhaus said, is another.
Since 1994, many schools have changed their nicknames or mascots, including Marquette, St. John's and Miami, Ohio. In the past few years, the American Indian mascot issue has been fueled by the US Commission on Civil Rights stating that schools shouldn't perpetuate misrepresentations of any culture or people, as well as the NCAA's moratorium on allowing South Carolina or Mississippi to host predetermined NCAA championship events in response to displays of the Confederate battle flag in those states.
In November 2004, 33 NCAA schools were asked to submit a self-evaluation regarding their use of American Indian mascots and imagery. The Minority Opportunities and Interests Committee then passed along recommendations that were discussed Wednesday and Thursday in Indianapolis.
"We obviously find that these hostile or abusive mascots or nicknames are troubling to us as presidents of educational institutions," said Harrison, president of the University of Hartford.
Now, it's FSU fans who are troubled.
"Everybody has put this on the back burner because this hasn't been an issue," said Marshel O'Shields, a member of the Pinellas Seminole Boosters board of directors. "I see it causing big problems with changing nicknames or changing marketing."
FSU's brand is one of the most recognizable in college sports, but it's too early to say how that could be affected. The name doesn't have to change nor does the merchandise, although the NCAA has suggested institutions review their publications and delete any hostile or abusive depictions.
Nevertheless, under the policy, Florida State will not be able to host events such as the NCAA regional baseball tournament it frequently hosts. The Executive Committee also suggested schools follow the lead of Iowa and Wisconsin and not schedule games against schools with Native American nicknames.
"I intend to pursue all legal avenues to ensure that this unacceptable decision is overturned and that this university will forever be associated with the `unconquered' spirit of the Seminole Tribe of Florida," Wetherell said.
While the Confederate battle flag offers a precedent for the NCAA's defense in a lawsuit, the NCAA hasn't yet defined what makes a particular nickname or symbol "hostile and abusive."
Publication Notes
Native American mascots
* Alcorn St. University (Braves)
*Central Michigan University (Chippewas)
* Catawba College (Indians)
* Florida St. (Seminoles)
* Midwestern St. (Indians)
* University of Utah (Utes)
* Indiana University-Pennsylvania (Indians)
* Carthage College (Redmen)
* Bradley University (Braves)
* Arkansas St. (Indians)
* Chowan College (Braves)
* University of Illinois (Illini)
* University of Louisiana-Monroe (Indians)
* McMurry University (Indians)
* Mississippi College (Choctaws)
* Newberry College (Indians)
* University of North Dakota (Fighting Sioux)
* Southeastern Oklahoma State University (Savages)
Comments will be moderated. Keep comments relevant to the article. Remarks containing abusive and obscene language, personal attacks of any kind or promotion will be removed and the user banned. Final decision will be at the discretion of the Taipei Times.