Garcia keeps lead at Quail Hollow
Sergio Garcia endured a blustery Wachovia Championship by playing bogey-free on the back nine for a 1-under 71 and a two-shot lead over Vijay Singh, defending champion Joey Sindelar and D.J. Trahan on Friday.
"You make bogey, you've just got to realize ... it's going to happen," Garcia said. "You've just got to try to keep it up. You try as hard as possible to have fun."
The biggest thrill was his position, at 7-under 137, his first 36-hole lead in nearly four years on the US PGA Tour.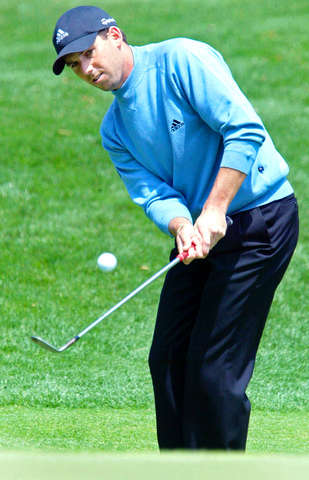 Sergio Garcia of Spain chips onto the 16th green during the second round of the Wachovia Championship at Quail Hollow Club in Charlotte, North Carolina on Friday.
PHOTO: AP
The wind calmed over the final two hours at Quail Hollow, and the scoring average dropped a half-shot to 74.6. The course was so fast that the field hit less than 50 percent of the fairways.
Jim Furyk was 4 over through his first eight holes and trying not to fret.
"The bad news is you gave away a lot of shots," Furyk said after recovering for a 72. "But it's a hard course, and I'm sure a lot of other guys did, too. The goods news is I'm only four shots back with 36 holes to play."
Masters runner-up Chris DiMarco, Greg Owen, and Trahan each posted a 67, the lowest round of a tough day, although all of them came in the afternoon when the wind died.
The cut was at 4 over, and there 15 players within five shots of the lead. That included Woods, who has made 11 birdies the first two rounds, but has sprinkled in enough bogeys to leave him with plenty of work to catch up.
"If he's here, he's trouble. It's as simple as that," Sindelar said. "Same way with Vijay, defined entirely differently. Tiger is explosive ... where Vijay is just relentless."
Phil Mickelson hit into the water on the par-3 17th and finished double bogey-bogey for a 73 that left him seven shots behind.
All of them are chasing Garcia, who has been hitting the ball pure over the first two days at Quail Hollow.
"If you're hitting the ball well and you're driving the ball well like I am, you're going to get some birdie chances," Garcia said. "If you manage to keep going on those tough holes and make pars, you're going to post a decent round that's not going to take you out of the tournament."
Singh and Scott Verplank each had a 69 in the toughest conditions. Verplank, Brett Quigley (69) and Richard Johnson (72) were at 4-under 140, while Owen, DiMarco, Furyk and Jeff Sluman (70) were among those at 141.
Woods, who had a share of the lead early in the second round, made three bogeys over his last seven holes for a 72 and was five shots out of the lead at 2-under 142.
Singh took the lead for the first time by playing a perfect shot off the slope to 5 feet on No. 12, only to give it back by getting fooled by the wind and missing the par-3 13th green by 20 yards. Still, he was in great shape heading into the weekend.
"At times you think it's calm," Singh said. "You're going to be making contact with the ball and the wind comes up. The ball can go anywhere. This is the worst kind of wind, where it's up-and-down, up-and-down. There's no one consistent type of wind. It's blowing steady, and then all of a sudden, there's nothing there."
Woods started with a short birdie putt, nearly making an ace on the par-3 second and rolling in a 15-foot birdie putt on No. 4 that he barely tapped. But it fell apart quickly with a 2-iron that came up well short on the 262-yard sixth, a par 3, a three-putt for par on the seventh and a drive that landed in the pine straw, between two rocks, that led to a bogey on the ninth.
Some good shots turned out poorly, too.
At 4 under par, he hit sand wedge behind the hole on the 14th, only to see it spin by the cup toward the edge of the green, then down the slope and into the water.
"I hit a good shot," he said. "That's the thing that's funny. It landed right of the hole and ended up in the water."
Comments will be moderated. Keep comments relevant to the article. Remarks containing abusive and obscene language, personal attacks of any kind or promotion will be removed and the user banned. Final decision will be at the discretion of the Taipei Times.