Longhorns gouge Wolverines with FG
COLLEGE FOOTBALL Texas quarterback Vince Young led the Longhorns past a determined Michigan squad, who got in the record books for passing and rushing
Dusty Mangum kicked a 37-yard field goal as time expired and No. 6 Texas, behind quarterback Vince Young, edged No. 13 Michigan 38-37 Saturday in the first matchup of two of US college football's elite programs. \nThe Longhorns proved they did indeed belong in the Rose Bowl. The Longhorns (11-1) earned their trip West when they leapfrogged fourth-ranked California in the final Bowl Championship Series standings, helped by coach Mack Brown's public pleas. \nAnd with flashbulbs popping throughout the Rose Bowl, Mangum sent a wobbly kick through the uprights as the final two seconds ticked off and the Longhorns rushed the field. \nYoung ran for 192 yards and four touchdowns while passing for 180 yards and another score. He led the final drive to Mangum's kick, giving Brown his biggest win in seven years at Texas. \nFreshman quarterback Chad Henne was 18-of-34 for 227 yards for the Wolverines (9-3) and tied a Rose Bowl record with four touchdown passes, three to All-American wide receiver Braylon Edwards. \nEdwards finished with 10 receptions for 109 yards and teammate Steve Breaston set a Rose Bowl record with 315 yards total between his catches and kick returns, breaking the mark of 276 set by O.J. Simpson back in 1969. \nGarrett Rivas kicked three field goals, the last a 42-yarder that squeezed just inside the right upright with 3:04 left to give Michigan a 37-35 lead. \nFiesta Bowl \nNo. 5 Utah 35, \nNo. 19 Pittsburgh 7 \nIn Tempe, Arizona, Alex Smith completed 29 of 37 passes for 328 yards and four touchdowns, and No. 5 Utah dominated 19th-ranked Pittsburgh in the Fiesta Bowl. \nParis Warren caught 15 passes -- breaking the Fiesta record of 11 set by Miami's Kellen Winslow in 2003 -- for 198 yards. Smith's 78 percent completion rate was also a Fiesta Bowl mark. \nUtah (12-0) scored touchdowns on five of its first seven possessions, including all three in the third quarter, and the defense was just as impressive. The Utes sacked Pitt's Tyler Palko nine times, a Fiesta Bowl record. \nCoach Urban Meyer punctuated two memorable years in Salt Lake City with the Utes' first unbeaten, untied season since 1930. He leaves for Florida after making Utah the first team from outside the six BCS conferences to force its way into a Bowl Championship Series game. \nPitt (8-4) was overmatched in its final game under coach Walt Harris, who is leaving for Stanford after eight seasons with the Panthers. Pittsburgh was the unwanted team among the eight BCS squads. The Panthers automatically qualified for one of the four elite games as Big East champions, even though they were only 21st in the BCS rankings. \nCapital One Bowl \nIowa 30, LSU 25 \nIn Orlando, Florida, just when it looked as though coach Nick Saban would go out a winner at LSU, the Iowa Hawkeyes came up with a miracle finish. \nDrew Tate threw a 56-yard touchdown pass to Warren Holloway on the final play. The score capped a wild fourth quarter and spoiled a comeback by the Tigers, who overcame a 12-point deficit with 8 1/2 minutes left. \nSaban, who will become the coach of the NFL's Miami Dolphins next week, threw up his arms in frustration and then watched as the entire Iowa team mobbed Holloway in the end zone. \nLSU freshman JaMarcus Russell came off the bench to spark the rally by throwing two touchdown passes. When he hit Skyler Green for a 3-yard score, the Tigers led 25-24 with 46 seconds to go. \nAfter Tate completed two passes, a penalty pushed Iowa back to its 44 with 14 seconds left. Tate wound up and threw long to an open Holloway, who caught the pass in stride at the 10 and dashed to the end zone as time expired. \nIowa (10-2) won its eighth game in a row to reach double digits in victories for the third consecutive year under coach Kirk Ferentz. \nAside from their fourth-quarter rally, the Tigers (9-3) struggled on offense and special teams one week after Saban announced his resignation. He finished 48-16 in five years with the Tigers, leading them to a bowl game every season and to the BCS national championship in 2003. \nGator Bowl \nNo. 17 Florida State 30, \nWest Virginia 18 \nIn Jacksonville, Florida, Florida State overcame mistake after mistake to avoid an unprecedented third straight bowl loss. Coach Bobby Bowden, facing his former school for the first time since the 1982 Gator Bowl, moved within one bowl win of Joe Paterno's NCAA record of 19 at Penn State. \nLeon Washington ran for 195 yards and Chris Rix crafted two long second-half touchdown drives. Rix played poorly for much of his final game of an up-and-down career. Bowden's first four-year starter at quarterback fumbled three times and threw two interceptions, one of which led to a touchdown. \nBut Bowden stuck with Rix and he eventually gave the Seminoles (9-3) a spark. \nRix completed five straight passes during a 90-yard drive, capped by his 14-yard touchdown pass to Craphonso Thorpe late in the third quarter. Thorpe leaped for the ball over Dee McCann in the right corner of the end zone for a 23-15 lead. It was only Rix's third TD pass of the season. \nQuarterback Rasheed Marshall and West Virginia's platoon of running backs shredded the nation's top run defense for 238 yards. Kay-Jay Harris carried 25 times for 134 yards and scored twice. But the Mountaineers (8-4) failed to find the end zone three times after advancing inside the 20-yard line. \nWest Virginia has lost 11 of its last 12 bowls games and is 0-5 in the Gator. \nCotton Bowl \nNo. 15 Tennessee 38, \nNo. 22 Texas A&M 7 \nIn Dallas, Rick Clausen looked nothing like the third-string quarterback he was most of the season, leading No. 15 Tennessee to five touchdowns in just 2 1/2 quarters, and the defense had its way with No. 22 Texas A&M in a 38-7 victory in the Cotton Bowl on Saturday. \nThe Volunteers (10-3) had lost four of their last five bowl games, the last two by a combined 40 points. After never leading in either of those games, they made things different just seven plays into this one when Clausen's short pass to C.J. Fayton turned into a 57-yard touchdown. \nTennessee wound up with the most lopsided victory in its 45-game bowl history. The Vols came within 5:13 of their first bowl shutout since the last time they played the Aggies, way back in the 1957 Gator Bowl. \nThe rout was as much a result of the Volunteers playing perfectly as it was the Aggies self-destructing. For instance, A&M (7-5) lost only one fumble in its first seven games, but gave away four this time. Three came in the first half, helping Tennessee stretch its quick 7-0 lead to 21-0 early in the second quarter, forcing the Aggies out of their game plan. \nClausen was 18-of-27 for 222 yards with three touchdowns, no interceptions and no sacks. The Vols set another school bowl record with 32 first downs. The Aggies have lost five straight Cotton Bowls, while the Volunteers improved to 3-3 in this game. \nOutback Bowl \nNo. 8 Georgia 24, \nNo. 16 Wisconsin 21 \nIn Tampa, Florida, David Greene, the winningest quarterback in NCAA history, enjoyed one last victory in the Outback Bowl. \nGreene threw for 264 yards and two touchdowns in his last game for the Bulldogs (10-2), continuing his assault on the Southeastern Conference record book and adding victory No. 42 to his NCAA mark. \nThe senior from Snellville, Georgia, has started every game since Mark Richt took over as Georgia's coach in 2001. He surpassed Peyton Manning's SEC and NCAA mark for career wins (39) this season and finished 17-1 against nonconference opponents. \nGreene completed 19 of 38 passes, but was also intercepted twice after only throwing two during the regular season. Wisconsin's Andy Crooks returned the second pick 11 yards for a touchdown, and John Stocco's 2-point conversion pass to Jonathan Orr cut Georgia's lead to three points with 4:13 to go. \nThe Bulldogs didn't give the Badgers (9-3) a chance to get closer, driving to the Wisconsin 5 before taking a knee on successive plays to run out the clock. Thomas Brown gained 49 of his 111 yards rushing on the final drive. \nThe Bulldogs improved to 42-10 in four years under Richt, the second-best run for a Georgia senior class behind the 43-4-1 record compiled while winning a national championship and three straight SEC titles in the early 1980s. The victory gave Georgia at least 10 wins for the third straight season, one shy of the school record set from 1980-1983.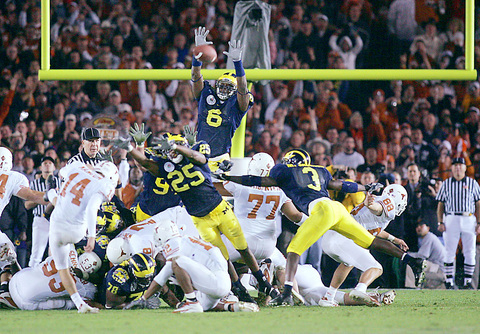 Texas placekicker Dusty Mangum (14) kicks the winning field goal as Michigan Ernest Shazor (25), Prescott Burgess (6) and Marlin Jackson (3) try to block during the final seconds of the Longhorns' 38-37 win at the 91st Rose Bowl in Pasadena, California on Saturday. The Wolverines' freshman QB Chad Henne tied a Rose Bowl record with four TD passes.
PHOTO: EPA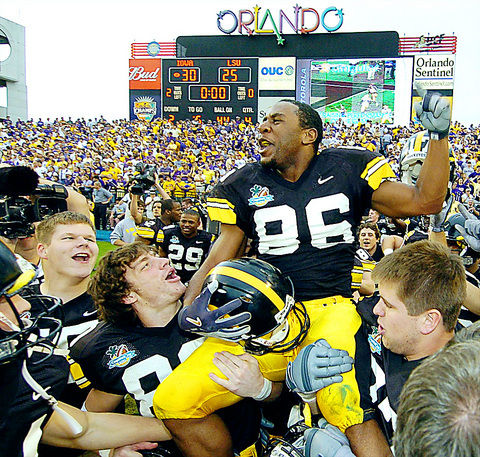 Iowa receiver Warren Holloway is carried off the field on the shoulders of his teammates after scoring on a 56-yard pass on the final play to give Iowa a 30-25 win in the Capital One Bowl over Louisiana State in Orlando, Florida on Saturday.
PHOTO: AP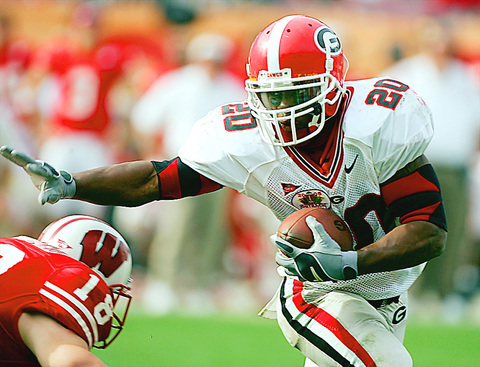 Georgia tailback Thomas Brown, right, runs upfield against Jim Leonhard, left, of Wisconsin during the second half of the Outback Bowl at Raymond James Stadium in Tampa, Florida on Saturday. The Bulldogs beat the Badgers 24-21.
PHOTO: AFP
Comments will be moderated. Keep comments relevant to the article. Remarks containing abusive and obscene language, personal attacks of any kind or promotion will be removed and the user banned. Final decision will be at the discretion of the Taipei Times.