LeBron rests after injury
AMERICAN BASKETBALL The Cleveland Cavaliers star fractured his left cheekbone and got a mild concussion after he was accidentally elbowed by Dikembe Mutombo
LeBron James will wear a mask to protect a broken bone in his face, but Cleveland Cavaliers coach Paul Silas said Thursday he hopes the reigning NBA Rookie of the Year won't miss any games. \nJames fractured his left cheekbone and got a mild concussion after he was accidentally elbowed by Houston center Dikembe Mutombo in the second quarter of the Rockets' 98-87 victory Wednesday. \nJames, who told Silas that he briefly lost consciousness after being hit, will be fitted with the protective mask once the swelling in his face goes down. The coach was relieved the injury wasn't more serious and thinks Cleveland's leading scorer will be back Monday at Charlotte. \n"I am so happy. That's the best present I could have received," Silas said. "Your worst fear is that he's going to be out a long time. If they had to operate, he could have been out four to five weeks." \nJames, who turned 20 Thursday, was at home resting. \nHe was moving across the lane on defense when he ran into Mutombo, whose sharp elbows have dropped more than a few NBA players over the years. \nJames immediately fell to the floor, covered his eyes and kicked his feet in obvious pain while lying face down as play continued. When Houston scored, the officials stopped the action, and Cleveland's medical staff rushed out to help James, who had to be helped off the court as he held a towel against his head. \nAs he walked into the Cavs' locker room with a hooded sweat-shirt pulled over his head, James looked like a beaten boxer. Mutombo felt bad about what happened. \n"I never saw him," Mutombo said. "The next thing I know -- Boom! He was laying on the floor. I hope it's not too bad." \nJames was coming off a 40-point performance in a win at Atlanta on Tuesday. He's averaging 25.2 points but had a career-low three points -- all on free throws -- with three rebounds and five assists before getting hurt Wednesday. \nRay Allen scored 20 points and Rashard Lee added 17 as the Seattle SuperSonics overcame the ejections of Jerome James and Danny Fortson to beat the Atlanta Hawks 94-79. \nThe Sonics improved to 21-6, including 10-3 on the road. \nOfficial Bob Delaney ejected James after giving the center his first technical foul with 7:14 left in the third quarter. James, called for an offensive foul, appeared to use an expletive as he looked down at Delaney. \nWith 6:33 remaining in the fourth quarter, Fortson complained about contact on Seattle's offensive end and was tossed by Delaney. \nThe Hawks, who dropped to an Eastern Conference-worst 5-23, have lost eight of nine. Antoine Walker led Atlanta with 19 points and 11 rebounds. \nSeattle coach Nate McMillan called a timeout soon after James' ejection when the Hawks drew within 13 on Walker's tip-in. Allen responded with a 3-pointer from the right wing that began a 15-5 run that included a bank shot over Walker on a fast break. \nAllen put the Sonics ahead to stay with a 3-pointer at the 4:32 mark of the first quarter. Reserve Nick Collison pulled down 11 rebounds for Seattle. \nPacers 96, Nets 83 \nIn East Rutherford, New Jersey, Jermaine O'Neal scored 31 points to lead the Indiana Pacers to a 96-83 win over the New Jersey Nets, just hours after a judge ruled that he didn't have to serve the final 10 games of a suspension. \nJeff Foster added 16 points and a season-high 16 rebounds as the Pacers won their third straight game, matching their longest streak since the Nov. 19 brawl in Detroit that led to multiple suspensions. \nO'Neal got a 25-game suspension, but an arbitrator reduced it to 15 games last week allowing him to return to action. US District Judge George B. Daniels upheld that decision in New York about three hours before the Pacers and Nets took the court. \nO'Neal spoiled Vince Carter's debut as a Net in New Jersey. Carter had 25 points to lead the Nets. Richard Jefferson and Rodney Buford added 20 apiece. Jason Kidd had 11 rebounds, 10 assists and four points. \nHeat 89, Pistons 78 \nIn Auburn Hills, Michigan, Dwyane Wade had 31 points, 10 assists and 10 rebounds to lead Miami past Detroit. \nWade's first NBA triple-double helped extend the Heat's franchise-record winning streak to 13 games. Miami, which last lost on Dec. 4, won 14 games in a month for the first time. \nShaquille O'Neal, playing with a sore back and ribs, had 21 points for the Heat. \nThe Pistons led for much of the game before falling apart in the fourth quarter, making just 3 of 22 shots. Detroit's Richard Hamilton scored 21 points and Rasheed Wallace had 13, but they shot a combined 2-of-13 in the fourth quarter. \nSpurs 114, Trail Blazers 80 \nIn Portland, Oregon, Tim Duncan had 19 points and nine rebounds and Tony Parker added 18 points to lead San Antonio. \nParker, coming off a season-high 29 points against Phoenix, scored 15 points in the first half as the Spurs won their fourth straight and seventh in eight games. \nDarius Miles had 17 points for the Blazers in their most lopsided loss of the season. \nThe Blazers had no answer for Duncan inside, especially after center Theo Ratliff left the game with a sore shoulder. Portland was outrebounded 49-39 and outscored 62-42 in the paint. \nYao Ming is more than 60,000 votes ahead of Shaquille O'Neal in the race to finish No. 1 overall in NBA All-Star game balloting. \nThrough two rounds of voting, Yao -- the center for the Western Conference's Houston Rockets -- has 1,373,458. O'Neal, traded from the Los Angeles Lakers to the Miami Heat in the offseason, tops the Eastern Conference with 1,311,762 as of Thursday. \nYao's lead among centers in the West is seemingly insurmountable: Sacramento's Brad Miller is second with 197,784 votes. \nFans can vote through Jan. 23, and All-Star starters will be announced Feb. 3. The game is Feb. 20 in Denver. \nMinnesota's Kevin Garnett, the reigning league MVP, is third overall, leading West forwards with 1,142,804 votes, followed by San Antonio's Tim Duncan (886,547). \nYao's teammate Tracy McGrady (1,065,230) is the top guard in the West, trailed by the Los Angeles Lakers' Kobe Bryant (1,005,050). \nIn the East, New Jersey's Vince Carter (938,817) and Orlando's Grant Hill (848,061) lead the forwards, while Cleveland's LeBron James (843,363) and Philadelphia's Allen Iverson (825,179) top the guards. \njudge upholds ruling \nA federal judge ruled Thursday that Indiana All-Star Jermaine O'Neal does not have to serve the final 10 games of his suspension for fighting with fans at the end of the Pacers-Pistons game last month. \nThe ruling makes permanent the temporary decision US District Judge George B. Daniels made last week, which allowed O'Neal to return to action even though he had not served all of the 25-game suspension imposed by NBA commissioner David Stern. \nThe league went to court after an arbitrator said O'Neal's penalty should be cut to 15 games. \nLuther Head scored a game-high 18 points to lead top-ranked Illinois over Northwestern State, 69-51, in the Las Vegas Holiday Classic at Valley High School. \nJames Augustine added 12 points for the Fighting Illini (13-0), who are off to their best start since the 1988-1989 season when the school began the season with 17 straight wins under coach Lou Henson. \nClifton Lee, Jermaine Spencer and Jermaine Wallace each netted seven points off the bench for the Demons (5-7), who dropped their fifth straight game on the heels of a five-game win streak. This was Northwestern State's first-ever game against a top-ranked team. \nNo. 4 N Carolina 107, \nCleveland St. 64 \nIn Chapel Hill, North Carolina, Sean May led a balanced attack with 16 points as North Carolina routed Cleveland State, 107-64, in non-conference action at the Smith Center. \nRaymond Felton, Melvin Scott and Jawad Williams each netted 13 points for North Carolina (11-1), which has won 11 straight after a season-opening loss to Santa Clara back on Nov. 19. Marvin Williams added 14 and Rashad McCants chipped in with 12 points for the Tar Heels, who shot 57 percent from the floor in the win. \nOmari Westley paced Cleveland State (3-5) with 18 points. Modibo Niakate and Patrick Tatham each scored 10 points for the Bulldogs, who have dropped five in a row after starting the season with three straight wins. \nNo. 5 Wake Forest 98, \nNorth Carolina A&T 76 \nIn Winston-Salem, North Carolina, Justin Gray finished with a game-high 23 points to lead No. 5 Wake Forest to an easy 98-76 win over North Carolina A&T at Lawrence Joel Coliseum. \nEric Williams added 19 points and Chris Paul contributed 10 for the Demon Deacons (11-1), who have won six straight games and will begin ACC play on Jan. 2 at Virginia. Gray, who scored 21 of the points in the first half, went 6-for-9 from the floor, including 5-for-7 from behind the 3-point arc, in the game. \nSean Booker netted 18 points and Demetrius Guions scored 14 for the Aggies (1-11), who have dropped seven straight contests. \nNo. 7 Syracuse 80, Hofstra 75 \nIn Syracuse, New York, Hakim Warrick scored a game-high 29 points, Terrence Roberts added 20 with nine rebounds, and No. 7 Syracuse survived a scare to defeat previously-unbeaten Hofstra 80-75 at the Carrier Dome. \nGerry McNamara collected 17 points and six assists for the Orange (13-1), who have won six straight since suffering their only loss of the season to Oklahoma State on Dec. 7. \nAntoine Agudio scored 17 points to lead Hofstra. Carlos Rivera added 16 points and Loren Stokes had 15 for the Pride (9-1), who entered play as just one of 11 undefeated teams remaining in the country. \nNo. 11 Connecticut 123, Quinnipiac 71 \nIn Hartford, Connecticut, Josh Boone scored a career-high 22 points, Charlie Villanueva added 17 and 11th-ranked Connecticut pasted Quinnipiac, 123-71, at the Hartford Civic Center. \nRudy Gay netted 15 while Rashad Anderson and Antonio Kellogg each chipped in 12 for the Huskies (8-1), who shot 57 percent from the floor en route to their fourth straight win. Boone has now scored at least 20 points for the fourth consecutive contest. He also grabbed 10 rebounds, enabling him to record his seventh double-double of the season, and the fourth in a row. \nRob Monroe paced the Bulldogs with 16 points. C.J. Vick added 12 points for Quinnipiac (4-5), which has dropped three in a row. The Bulldogs shot 37 percent from the floor, including 9-of-26 from beyond the arc in the setback. \nMissouri 63, No. 12 Gonzaga 61 \nIn Columbia, Missouri, Jason Conley scored 16 points with a game-high 13 rebounds, and Missouri held on for a 63-61 victory over No. 12 Gonzaga at Mizzou Arena. \nLinas Kleiza added 11 points before fouling out, as the Tigers (7-5) rebounded from a loss to top-ranked Illinois to win for the fifth time in seven games. \nJ.P. Batista led Gonzaga (10-2) with a game-high 17 points and 10 rebounds. Adam Morrison added 12 points in the loss, Dereck Raivio scored 11 with five assists and Erroll Knight had 10 points. Bulldogs center Ronny Turiaf, playing on an injured ankle, was just 2-of-15 from the field for six points. He missed a pair of free throws in the final seconds that would have tied the game, and followed with a missed jumper on Gonzaga's final possession. \nNo. 14 Arizona 84, Richmond 71 \nIn Tucson, Arizona, Chris Rodgers tied a career high with 20 points to lead 14th-ranked Arizona to an 84-71 win over Richmond in the championship game of the Fiesta Bowl Classic at the McKale Center. \nIvan Radenovic added 16 points and nine rebounds for the Wildcats (10-2), who won their seventh in a row. Salim Stoudamire also netted 16 points in the victory. \nJamaal Scott scored 16 points to lead the Spiders (5-5), who have dropped five of their last seven. \nSt. John's 63, No. 17 NC State \nIn New York, Daryll Hill had 19 points to lead the St. John's Red Storm to a shocking 63-45 victory over the 17th-ranked North Carolina State Wolfpack in the ECAC Classic championship game at New York's Madison Square Garden. \nHill averaged 21 points in the two games and was named the tournament's Most Valuable Player. Eugene Lawrence added 10 points for the Red Storm (6-4), who scored the game's first eight points and did not trail thereafter. \nJulius Hodge came on late in the game and led the Wolfpack (10-2) with 19 points. Hodge, however, missed his first nine shots, and did not get his first field goal until his dunk with 11:13 to go. \nNo. 19 Louisville 78, \nEastern Kentucky 63 \nIn Louisville, Kentucky, Francisco Garcia scored a game-high 23 points to lead No. 19 Louisville to a 78-63 win over Eastern Kentucky in a non-conference matchup at Freedom Hall. \nNo. 21 Mississippi St. 71, \nVirginia Tech 65 \nIn New Orleans, Lawrence Roberts scored 25 points and grabbed 19 rebounds, as Mississippi State fought off the Virginia Tech Hokies, 71-65, at the Nokia Sugar Bowl Classic. \nMarcus Campbell added a dozen for the Bulldogs (12-2), who have won six straight games to end the non-conference portion of their schedule.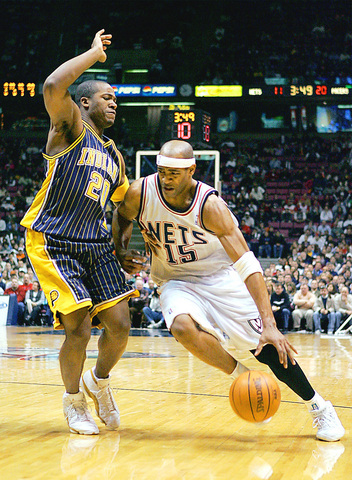 Vince Carter, right, of the Nets drives against Fred Jones of the Pacers during their game at Continental Airlines Arena in East Rutherford, New Jersey on Thursday. Indian defeated New Jersey 96-83 as Carter led the Nets in their losing effort with 25 points.
PHOTO: AP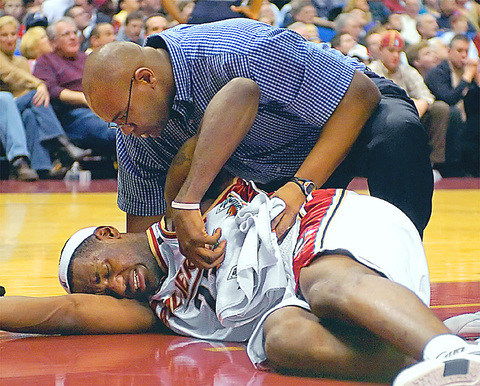 Cavaliers trainer Max Benton, top, attends to LeBron James during the second quarter of their game against the Rockets in Cleveland, Ohio on Wednesday. James was accidentally struck in the face by an elbow from Houston's Dikembe Mutombo.
PHOTO: AP
Comments will be moderated. Keep comments relevant to the article. Remarks containing abusive and obscene language, personal attacks of any kind or promotion will be removed and the user banned. Final decision will be at the discretion of the Taipei Times.