Arsenal fights to keep up with Chelsea this weekend
Chelsea and Arsenal may be the only true contenders for the Premier League title. After today, there could be only one. \nIf league-leading Chelsea beats the Gunners at Highbury, the Blues will move eight points ahead as the season nears the halfway mark. \nJose Mourinho's Chelsea suffered an embarrassing 2-1 loss this week at Porto -- Mourinho's former club -- in the Champions League. The Blues had already reached the second stage of the competition. \n"When there is nothing to play for, they [players] find it hard to be motivated," Mourinho said. \nThat won't be a problem this weekend. \nA victory would keep Chelsea on course for its first English title in 50 years, and further solidify the Blues as the favorites to win the Champions League. In that competition, Mourinho could become the first coach to win back-to-back titles with different teams. \n"At the end of the game, Chelsea will be the leader," Mourinho said Friday. "The question [is] will it be a two points difference, five points difference or eight points difference? And I tell you, eight points difference is a lot. If we win it's significant." \nArsenal eclipsed Manchester United last season as England's flagship team. Now the Gunners and French manager Arsene Wenger are playing in the Blues' shadow. \nAn Arsenal victory would close the gap to two points as the Gunners try to win consecutive league titles for the first time since taking three straight in 1933, 1934 and 1935. \nMost of the pressure is on Arsenal, which has slumped since a 2-0 loss to Man United on Oct. 24, which ended its record 49-game league unbeaten string. \n"This season is not finished yet that you can already say Chelsea is a better side than last year," Wenger said. "I still think there is a lot to go for. You judge the teams at the end of the season." \nArsenal's biggest problem is in goal. Will Wenger stick with Spaniard Manuel Almunia, who has played three straight games but made big mistakes in each one? Or will he go back to German Jens Lehmann, whose career has been filled with blunders at Highbury? \nWenger said Friday he has made his choice, but declined to reveal it. \n"At the end of the day you can be sure we will have a goalkeeper in goal on Sunday," he said. \nArsenal's other problem is in midfield, where captain Patrick Vieira is suspended and Edu and Gilberto Silva are injured. \nYoungsters Francesc Fabregas and Mathieu Flamini are expected to step in. \nDutch striker Arjen Robben has turned Chelsea from a defensive team to one that can score. He was a second-half substitute against Porto, but is expected to start at Highbury. \nThere are two other interesting showdowns this weekend. On Saturday, Liverpool goes to neighbor Everton in the Merseyside derby. \nThird-place Everton is the league's surprise, trailing Chelsea by only six points and leading Liverpool by nine. Liverpool is coming off a dramatic 3-1 win over Olympiakos to join Chelsea, Arsenal and Man U in the second round of the Champions League. \nOn Sunday, Birmingham City and Aston Villa meet at Villa Park in a Midlands Derby. \nIn other games Saturday: Crystal Palace vs. Blackburn; Manchester City vs. Tottenham; Newcastle vs. Portsmouth; Norwich vs. Bolton; Southampton vs. Middlesbrough; West Bromwich Albion vs. Charlton. On Monday, Fulham hosts Manchester United. \nMan United has crept up to fourth after a run of four straight league victories, but still trails Chelsea by nine.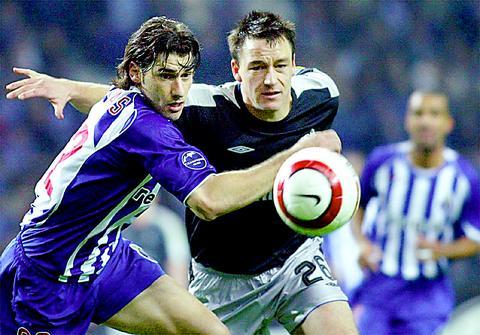 FC Porto player Seitaridis, left, of FC Porto, battles with John Terry of Chelsea, during their Champions League match at Dragao Stadium in Porto on Tuesday.
PHOTO: EPA
Comments will be moderated. Keep comments relevant to the article. Remarks containing abusive and obscene language, personal attacks of any kind or promotion will be removed and the user banned. Final decision will be at the discretion of the Taipei Times.