Colts run all over Tennessee Titans
NATIONAL FOOTBALL LEAGUE Indianapolis' Peyton Manning threw for 425 yards as he moved within four TD passes of Dan Marino's single-season record of 48
Peyton Manning threw three touchdown passes, Edgerrin James ran for two more scores and Indianapolis returned a blocked field goal for another TD as the Colts routed Tennessee 51-24 Sunday and moved closer to clinching the AFC South. \nIndianapolis (9-3) won its fifth straight by tying the NFL record for most consecutive 40-point games with four. Only two other teams have done it: the 2000 St. Louis Rams and the 1960 San Diego Chargers. \nThe Titans (4-8) have lost three of four, allowing their most points since a 52-25 loss to the Oakland Raiders on Sept. 29, 2002. \nTitans coach Jeff Fisher's strategy turned the game into a wild contest as he called three onside kicks in the first quarter, then attempted a fake punt in the third quarter. \nManning still threw for 317 yards in the first half, when receivers Brandon Stokley and Marvin Harrison each topped 100 yards. Manning finished 25-for-33 for 425 yards with two interceptions as he moved within four TD passes of Dan Marino's single-season record (48). \nSteelers 17, Jaguars 16 \nIn Jacksonville, Florida, rookie quarterback Ben Roethlisberger extended both his and Pittsburgh's winning streak to 10 games by engineering a last-minute drive to set up a 37-yard field goal by Jeff Reed with 18 seconds left. \nThe drive, the kind pulled off by the best quarterbacks, covered 56 yards in six plays after Josh Scobee made a 36-yard field goal with 1:55 left to give the Jaguars the lead. \nThe win by the Steelers (10-1) was a testament to coach Bill Cowher's clock management. He used all three of his timeouts before the 2-minute warning as Jacksonville was driving for the go-ahead field goal, preserving plenty of time for his offense. \nRoethlisberger finished 14-of-17 for 221 yards and two touchdowns. \nJacksonville (6-6) had one last shot after a 19-yard completion from Byron Leftwich to Jimmy Smith, which gave Scobee a shot at a 60-yarder. It fell just short and wide right. \nPatriots 42, Browns 15 \nIn Cleveland, Bethel Johnson returned the opening kickoff 93 yards for a touchdown and Corey Dillon rushed for 98 yards and two TDs before halftime. Randall Gay ran in a fumble 41 yards for a TD early in the second half as the Patriots (11-1) continued their best start in franchise history and won for the 26th time in 27 regular-season games. \nDillon, who bruised his leg in the first half, carried just once in the second half and finished with 100 yards -- his seventh 100-yard game this season. \nBuccaneers 27, Falcons 0 \nIn Tampa, Florida, making Michael Vick look ordinary for much of the day, the Bucs (5-7) kept the first-place Falcons (9-3) from clinching the NFC South. \nSimeon Rice became the 22nd player in league history to reach 100 sacks, getting Vick on the ground twice and forcing a fumble to set up a touchdown. Rice boosted his career total to 101 in nine seasons. \nDerrick Brooks also made it a miserable day for the Atlanta quarterback, tipping an ill-advised pass that Dwight Smith intercepted in the end zone and sacking Vick once to force a fumble that led to a field goal. \nBengals 27, Ravens 26 \nIn Baltimore, Carson Palmer capped his finest day in the NFL with an appropriate ending to an improbable comeback. \nDown by 17 points entering the fourth quarter, the Bengals pierced the proud Baltimore defense for 24 points over the final 15 minutes. Shayne Graham kicked a 24-yard field goal as time expired, giving the Bengals their first win in Baltimore (7-5) in eight tries since 1996. \nPalmer went 29-for-36 for a career-high 382 yards. \nBears 24, Vikings 14 \nIn Chicago, Chad Hutchinson, who was surfing in California a little more than two months ago, made his first Chicago start a memorable one, throwing three TD passes. Since the Bears (5-7) signed Hutchinson in September following a season-ending knee injury to Rex Grossman, he has spent most of time as a third-stringer. \nIn three previous games, the offense had produced just one touchdown. \nMinnesota (7-5) saw its playoff chances hurt for the second straight year by a late-season loss to the Bears. \nJets 29, Texans 7 \nIn East Rutherford, New Jersey, while Chad Pennington's return from a strained right rotator cuff was far from perfect, Curtis Martin was stellar yet again. \nPennington, back after missing three games, directed three second-half touchdown drives and Martin added his seventh 100-yard game of the season to help the Jets (9-3) stay in the thick of the AFC playoff race. \nBills 42, Dolphins 32 \nIn Miami, in a shootout worthy of Dan Marino and Jim Kelly, Drew Bledsoe threw four touchdown passes, and the Bills forced seven turnovers. \nThe Bills (6-6) have scored 117 points in the past three games, all wins, and they're in playoff contention despite an 0-4 start. They completed a season sweep of the Dolphins (2-10), who fell to 0-8 against AFC opponents. \nRams 16, 49ers 6 \nIn St. Louis, Steven Jackson ran for 119 yards on 26 carries, his first career 100-yard game, to help St. Louis compensate for Marc Bulger's shoulder injury. Bulger had taken every snap this season before leaving with a sprained right shoulder after a sack by Bryant Young late in the first quarter. His replacement, 38-year-old Chris Chandler, threw his first touchdown pass in more than a year. \nThe Rams (6-6) added three field goals from Jeff Wilkins, two from 52 yards. \nPanthers 32, Saints 21 \nIn New Orleans, John Kasay kept the Carolina Panthers' late-run for a playoff berth on track with six field goals, a team record. It was the Panthers' fourth victory in a row and, in the weak NFC, their 5-7 record has them in the middle of the wild-card race. \nThe Saints (4-8) have lost three straight and seven of the last nine games. \nEagles 47, Packers 17 \nIn Philadelphia, Donovan McNabb threw a career-high five touchdown passes in the first half and finished with a team-record 464 yards passing. Brian Westbrook had 11 catches for 156 yards and three TDs and Terrell Owens caught eight passes for 161 yards and one score. McNabb set a team record by completing his first 14 passes and finished 32-of-43. \nRedskins 31, Giants 7 \nIn Landover, Maryland, the Redskins finally scored 20 points. The historic moment occurred with 41 seconds left in the first half, when tight end Robert Royal cradled Patrick Ramsey's 9-yard pass for Royal's first career touchdown. \nThe Redskins (4-8) broke a three-game losing streak and broke the 20-point barrier for the first time since Joe Gibbs returned as coach, ending their longest such drought since the 1930s. \nChiefs 34, Raiders 27 \nIn Oakland, California, Trent Green completed 14 of 15 passes after halftime for 229 of his 340 yards and hit Eddie Kennison for a tiebreaking 70-yard touchdown with 2:04 left. \nKennison's winning catch came at the 35-yard line, then he ran out of the grasp of rookie safety Stuart Schweigert. The Chiefs (4-8) scored on all four second-half possessions to end a four-game losing streak.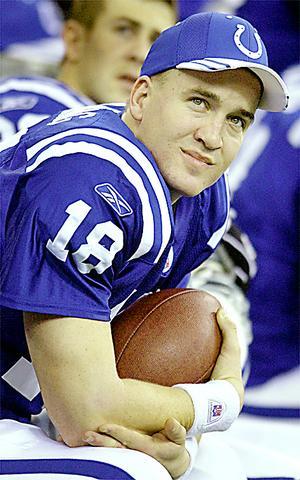 Colts quarterback Peyton Manning holds a football while on the bench during the second quarter as his team faces the Titnas in Indianapolis, Indiana on Sunday. Indianapolis won 51-24.
PHOTO: AP
Comments will be moderated. Keep comments relevant to the article. Remarks containing abusive and obscene language, personal attacks of any kind or promotion will be removed and the user banned. Final decision will be at the discretion of the Taipei Times.