Ruud denies foul play against Cole of Arsenal
CONTROVERSIAL KICK Ruud van Nistelrooy, who is facing a three-match ban, said he did not try to hurt Ashley Cole when he kicked him on the knee on Sunday
Ruud van Nistelrooy says he is innocent of charges he tried deliberately to hurt Arsenal full-back Ashley Cole during Manchester United's controversial 2-0 win at Old Trafford on Sunday. \nThe Holland international has been charged with serious foul play by the Football Association for kicking the England defender on the knee and could face a three-match ban. \nHowever, van Nistelrooy told The Sun: "We both just went for the ball. It was a 50-50 ball and in these situations two players can collide." \nUnder the FA's new fast-track disciplinary system, his case will be dealt with tomorrow. \nVan Nistelrooy's challenge, missed by referee Mike Riley, was branded "a disgrace" by BBC TV pundit and former Liverpool defender Alan Hansen, who claimed the forward's actions were "nasty and cynical." \nThey also brought a "cheat" jibe from Arsene Wenger which is thought to have played some part in a tunnel fracas that erupted after the game that ended Arsenal's 49-game unbeaten run. \n"We know how Ruud van Nistelrooy behaves," said Wenger. "He can only cheat people -- we know him very well." \nWenger has been asked by the FA to explain those comments while van Nistelrooy had to answer the charge for serious foul play by yesterday. \nVan Nistelrooy has however admitted to having doubts over his penalty which put United ahead. \nWayne Rooney went down after colliding with Sol Campbell but television replays later suggested there had been minimal contact. \nArsenal striker Jose Reyes has also hit out at Manchester United's tough tackling. \n"In all my sporting life I have never received so many kicks as in Manchester," Reyes said. \n"It was the hardest match I have played in England and the referee should have stopped the violence of the Manchester United players. \n"I received more blows in that match than I have ever done in the Spanish League and I finished on the ground covered in bruises." \nReyes also took a swipe at Rooney, accusing the England striker of diving to secure the penalty which helped van Nistelrooy put United ahead. \n"The referee made so many mistakes and didn't perform well," added Reyes. "The penalty should not have been given -- but now we all know what a good actor Wayne Rooney is in the penalty area." \nHowever, Reyes insists the Gunners will not sulk for too long and has vowed to gain revenge over United both in the return fixture at Highbury and in the race for the title. \n"I already have a big desire to play the return match in London. We want to give back the defeat to them and by more goals," he said. \n"Everybody is still OK. The record was nice, but losing it won't prove decisive for the title." \nMelville retires \nFormer Wales captain Andy Melville on Monday became the latest experienced international to announce his retirement from the national side. \nThe 35-year-old won his 65th and last cap in the 2006 World Cup qualifier 1-1 draw with Azerbaijan in September and admitted that with a new manager set to take over from Mark Hughes, who is now in charge of Blackburn Rovers, it was time to go. \n"I've always been very proud to play for my country, but I feel now is the right time to bow-out," said Melville, who scored three times for his country. \nThe West Ham central defender, who made his debut against the then West Germany in 1989, joins another former captain Gary Speed in retiring from the international scene following Wales' disappointing start to the qualifying campaign.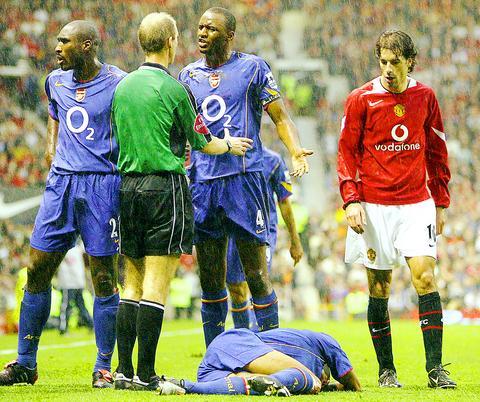 Arsenal's Ashley Cole lies injured on the ground as teammate Patrick Vieira, center, argues with referee Mike Riley after a controversial tackle by Manchester United's Ruud van Nistelrooy, right, during their English Premiership match at Old Trafford on Sunday.
PHOTO: AP
Comments will be moderated. Keep comments relevant to the article. Remarks containing abusive and obscene language, personal attacks of any kind or promotion will be removed and the user banned. Final decision will be at the discretion of the Taipei Times.