Cardinals slug way past Dodgers during Game 2
MAJOR LEAGUE BASEBALL St. Louis beat the Dodgers 8-3 at Busch Stadium to take a commanding 2-0 lead in their best-of-five-game National League division series
Even without hitting home runs, the St. Louis Cardinals' potent attack continued to pummel the Los Angeles Dodgers. \nSt. Louis whipped the Dodgers, 8-3, Thursday night at Busch Stadium to take a commanding 2-0 lead in their best-of-five-game series. Game 3 will be Saturday at Dodger Stadium, but unless the Dodgers find a way to contain St. Louis' offense, this series may end quickly. The Dodgers have lost eight consecutive playoff games, and have not won a postseason contest since 1988. \n"It's a formidable task for us," Dodgers manager Jim Tracy said. "But nothing has been easy for us. It's not going to be easy, that's for sure, but I'm not going to sit here and say it can't be done." \nThe Cardinals, who led the National League in runs, batting average and slugging percentage, have feasted on the Dodgers' pitching staff, getting production from several players. In winning Game 1, 8-3, the Cardinals hit five home runs to set a National League division series record. Thursday night, the Cardinals did not hit a home run, but they pounded out 11 hits, and methodically took control of the game. \nMeanwhile, the Dodgers squandered several scoring opportunities early, despite hitting three solo home runs in the first four innings. Shawn Green and Milton Bradley hit back-to-back homers in the fourth inning, tying the score at 3-3, and St. Louis starter Jason Marquis failed to finish that inning. But Steve Finley hit a fly ball with the bases loaded to end the Dodgers' fourth inning, after being ahead, 3-0, in the count against Cardinals relief pitcher Cal Eldred. \n"That was a very big turning point in the game," Tracy said. "If we can get the lead there, we put ourselves in a pretty good situation." \nLos Angeles stranded eight runners through the first six innings, as Eldred, Dan Haren and Ray King all made big pitches out of the St. Louis bullpen. Haren pitched two scoreless innings of relief for the victory. \nSt. Louis catcher Mike Matheny drove in four runs, including a two-out, two-run single in the seventh inning that put the Cardinals comfortably ahead, 8-3. The sixth, seventh and eighth hitters in the Cardinals' lineup were a combined 8 for 10 with five runs batted in. \n"The bottom part of their lineup did a lot of damage," Tracy said. "You can take no hitter for granted at any time." \nMatheny said, "It's nice to let some of the other guys know they don't have to carry us every night." \nWith the score tied at 3-3, St. Louis took command with a three-run fifth inning against Los Angeles starter Jeff Weaver, who was touched for eight hits and lasted just four and two-thirds innings. Weaver hit Larry Walker with a pitch to lead off the sixth inning, one of the many times Weaver went inside on batters. \nThe next batter, Albert Pujols, blistered a line drive that was too hot for second baseman Alex Cora to handle, and it skidded under his glove for a hit, with Walker stopping at second. After Weaver got Scott Rolen to fly out and Jim Edmonds to strike out, St. Louis continued its two-out hitting prowess. \nEdgar Renteria singled to center field to score Walker, giving the Cardinals a 4-3 lead. Then Weaver hit Reggie Sanders on the wrist, and he doubled over in pain. The fans booed, but Sanders remained in the game. That left the bases loaded for Matheny, who delivered a clutch single, scoring Pujols and Renteria, and the Cardinals had a three-run cushion. \nAgain demonstrating their ability to score in bunches, the Cardinals scored three runs in the second. Renteria led off with a flare to right. Bradley tried to make a diving catch, but he did not come that close to the ball, and it skidded past him, allowing Renteria to scamper to second base with a double. Sanders followed by deftly placing a bunt to the right side of the infield. Cora charged the ball and made a scoop toss to first base, but Green could not scoop it. Sanders reached with an infield single, and Renteria went to third base. \nWhen Matheny popped out to shortstop for the first out, it appeared Weaver might wiggle out of trouble. But then Weaver made a crucial mistake, making a wide pickoff throw to first base. \nThe ball eluded Green and trickled into foul territory. Renteria scored, Sanders went to second. The throwing error tied the score at 1-1. \nAfter Marquis fouled out, Tony Womack blistered a fly ball to right field. Bradley chased it to the warning track, but it sailed over his outstretched gloved. The ball caromed off the wall toward the infield, and Sanders scored easily. Womack's speed made it a standup triple that put St. Louis ahead, 2-1. Then Walker doubled just inside the first-base bag to score Womack, and the Dodgers faced another deficit. \nThe back-to-back homers by Green and Bradley in the fourth inning both came on 3-2 pitches by Marquis, and each was hit deep into the seats. But St. Louis' bullpen did the job in the middle innings, and the Dodgers had no answers for the St. Louis offense. \nBraves 4, Astros 2 \nRafael Furcal could be in jail. Instead, he was at Turner Field on Thursday sparking an Atlanta Braves team desperate to avoid another October meltdown. \nFurcal, who appeared in Cobb County court on Wednesday about violating his probation for a drunken-driving conviction, hit a two-run home run in the bottom of the 11th to lift the Braves to a 4-2 victory over the Houston Astros in Game 2 of their best-of-five National League division series. \nThe series is tied, 1-1. Game 3 will be Saturday in Minute Maid Park, where the Astros have won 18 consecutive games. \nFurcal was in court to answer charges that a drunken-driving arrest last month violated his probation from an incident in 2000. He was sentenced Wednesday to 21 days in jail and 28 days in a treatment center; Furcal could have been jailed immediately, but the judge said the sentence would begin after the postseason, allowing Furcal to play. \nIt was a break for the Braves, who have flopped annually in the postseason since they were swept in the 1999 World Series by the Yankees. \n"For me, when I come here, I focus on the field," Furcal said. "That's what I need to do. My mind is on the game. After the season it's different." \nFurcal sent a 1-2 pitch from reliever Dan Miceli over the right-field fence with two outs as the crowd announced at 40,075 -- 10,000 below capacity -- went delirious. \nFurcal delivered the winning runs, but the Braves would not have won without reliever John Smoltz, the only player remaining from the 1991 Atlanta team that started the streak of 13 consecutive division titles. Smoltz pitched three scoreless innings beginning in the eighth, his longest stint since September 2001. \nAntonio Alfonseca got the victory with a scoreless 11th. \nThe Braves had plenty of chances to avoid the need for late-inning drama, but stranded 10 runners after leaving 12 on base in Game 1, a 9-3 loss. The Braves had trouble dealing with the off-speed pitches of Houston's Roy Oswalt, the league's only 20-game winner. \nAtlanta smacked his high fastballs for singles, but the Braves were off-balance trying to time Oswalt's off-speed stuff and could not hit with power. \nOswalt shut out Atlanta through six innings, allowing six hits -- all singles -- and the Astros, who are hoping to win a postseason series for the first time, led, 2-0. \nThe Braves' Marcus Giles called Oswalt's off-speed pitch a Bugs Bunny curveball because it dives into a hole like the cartoon character escaping trouble. It is 20 to 25 mph slower than his best fastball, which is usually 94 or 95 mph. \nBraves starter Mike Hampton was nearly as effective as Oswalt. Hampton, a left-hander whose career was in shambles in Colorado before coming to the Braves in 2003, pitched six and a third innings and gave up only four hits before leaving with tightness in his left forearm. Still, he was trailing. \nHampton worked both sides of the plate with his sinker and cut fastball, but he made two mistakes. Both were hit for home runs. Jeff Bagwell homered in the first and Raul Chavez in the third. \nChavez had two home runs in 278 career times at bat and no homers in 162 at-bats this season. \nThe home runs gave Houston six in the series. Atlanta's staff, which led baseball with a 3.74 earned run average, was second in the major leagues in slugging percentage allowed (.400) but has not been able to keep the ball in the park against Houston. \nAtlanta, meanwhile, was struggling to score against Oswalt. The Braves left seven runners on base through six innings. \nDown by 2-0, Atlanta finally broke through against Oswalt in the seventh when pinch-hitter Dwayne Wise doubled down the right-field line and scored on Furcal's single to make it 2-1. \nThe game took a controversial turn when Phil Garner, the Astros' manager, came out of the dugout and said the phone to the Houston bullpen was not working. The Braves then played the game under protest, contending that Garner held the game up so he could get reliever Brad Lidge time to warm up to pitch. \nGarner did go to Lidge, his closer, and it was the first time this season that Lidge pitched as early as the seventh inning. With a day off Friday and a chance to get a 2-0 lead in the series, Garner had a chance to use Lidge two or three innings and give him two days to recover. \nLidge, however, could not close out the Braves. He got out of a jam in the seventh on a base-running blunder by Furcal, who was thrown out at the plate when he tried to score from third on a pitch that bounced away from Chavez, the catcher. \nBut the Braves tied the score in the eighth against Lidge. \nAfter Chipper Jones walked and Johnny Estrada singled, the rookie Adam LaRoche doubled off the left-center-field wall to score Jones. \nIt stayed tied until Furcal's late heroics. \nSammy Sosa was fined US$87,400 -- one day's salary -- for arriving late and leaving early at the Cubs' regular-season finale at Wrigley Field. The slugger's agent said on Thursday that Sosa most likely will file a grievance. \nSosa arrived 70 minutes before Sunday's first pitch, and he apparently left 15 minutes after the game started without putting on his uniform, according to security cameras in the team's parking lot at Wrigley Field. Sosa told the Chicago Sun-Times he was in the clubhouse until the seventh inning. \nAfter hearing that manager Dusty Baker told reporters he wanted Sosa to be in top shape next season, an angry Sosa told the newspaper he was tired of Baker blaming him for the Cubs' failures. \n"It's certainly inexcusable for him not be at the ballpark and not dressed with his teammates," general manager Jim Hendry said. \nSosa's agent, Adam Katz, called the fine too steep. Katz acknowledged Sosa made a mistake by not being in uniform but the entire matter has been overblown. \n"I think, on balance, with all the surrounding issues, the fine is severe," he said. "Sammy is a baseball player who delivers everything he has." \n"He is emotionally, mentally and physically prepared and a warrior inside the lines," Katz added. "He definitely overreacted by not being in uniform and it was a mistake and he recognizes it." \nThe episode follows an injury-plagued season in which Sosa batted just .253 with 35 homers and 85 RBIs, leading to speculation the Cubs will try to trade him. \nSosa is to make US$17 million next season and the club has an US$18 million option for 2006 with a US$4.5 million buyout. If Sosa is traded, his 2006 contract becomes guaranteed and a 2007 club option is added at US$19 million with a US$4.5 million buyout. \nFrank Thomas on the mend \nThe Chicago White Sox are optimistic Frank Thomas' latest surgery will clear up chronic problems with his feet, but said the star slugger faces a long, slow rehabilitation. \nThomas had a bone graft and two screws inserted in his left ankle on Wednesday. He'll be in a cast for at least eight weeks and is expected to be out up to six months, meaning he could miss the start of spring training. \n"If all goes well, he might be a little bit behind. But I don't think he'll be that far behind," White Sox trainer Herm Schneider said. \nBut the two-time MVP's recovery won't be rushed, Schneider said. Thomas was a "front-foot" hitter, meaning most of the pressure was on his left foot when he swings, and doctors and the White Sox want to make sure the ankle is fully healed before he plays on it. \nThomas first noticed his ankle was hurting in June, but continued to play on it. By the time he went on the disabled list on July 10, he had a stress fracture. \nDoctors put Thomas in a cast in hopes the bone would heal on its own, but it didn't. Finally, doctors decided surgery was the best remedy. \n"Poor Frank. It's probably been miserable for him having to deal with this and not seeing a whole lot of results," Schneider said. "It's been like watching paint dry for him." \nThomas was leading the American League in on-base percentage (.434) and walks (64) when he went on the DL. He hit .271 with 18 home runs and 49 RBIs in 74 games. \nThomas and Barry Bonds are the only active players with a .300 career average, 400 home runs, 1,000 RBIs, 1,000 runs and 1,000 walks. \nIchiro Suzuki is too humble \nJapanese baseball star Ichiro Suzuki, who last week broke a US major league record for hits in one season, has turned down a government offer to decorate him as a national hero, a government spokesman said Friday. \nIt was the second time that 30-year-old Suzuki turned down the so-called People's Honour Award from the government of Prime Minister Junichiro Koizumi, a reputed baseball fan whose style is widely labelled as populist. \nIn 2001, the Seattle Mariners outfielder did the same thing after he became the American League's most valuable player in his first year in US Major League Baseball, saying he was too young for the award. \n"I am still in the process of developing," Chief Cabinet Secretary Hiroyuki Hosoda quoted Suzuki as telling the government through his agent. "If I am decorated by the state at this stage, it is feared to lower my motivation." \n"He [Suzuki] seems to be strongly determined to make a further leap forward. We don't take it to mean that he would not accept in the future," Hosoda said. \nThe first recipient of the award was Taiwanese-born baseball home-run king Sadaharu Oh.
Braves pitcher Mike Hampton throws against the Astros during the first inning of Game 2 in their National League Division series at Turner Field in Atlanta, Thursday.
PHOTO: AP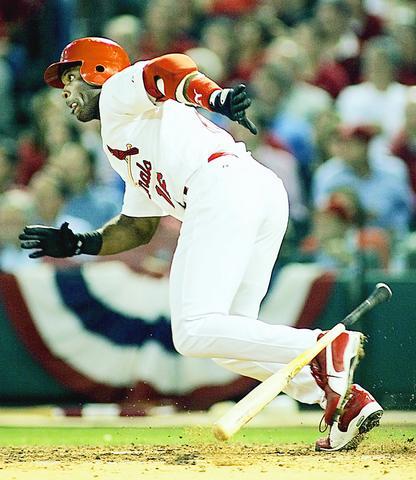 Reggie Sanders of the Cardinals gets a base hit in the seventh inning against the Dodgers during Game 2 of their divisional series at Busch Stadium in St. Louis, Thursday.
PHOTO: AP
Comments will be moderated. Keep comments relevant to the article. Remarks containing abusive and obscene language, personal attacks of any kind or promotion will be removed and the user banned. Final decision will be at the discretion of the Taipei Times.