Double plays save Minnesota Twins
BASEBALL PLAYOFFS Johan Santana, unbeaten in 16 starts since the All-Star break, allowed eight hits in seven innings, the most off him since May 23
American LeagueJohan Santana and the Twins escaped trouble with the help of a record-setting five double plays, Jacque Jones homered in his first start since the death of his father, and the Twins beat the Yankees 2-0 Tuesday to win their eighth straight opener in a postseason series. \n"I was able to throw the right pitch at the right time because I know my teammates can make some plays," Santana said. "Tonight we proved what the team, the Minnesota Twins, are all about." \nMinnesota's Soul Patrol outfield twice denied the Yankees with jumping catches -- left fielder Shannon Stewart saved one run and possibly two on Ruben Sierra's shot in the second, and center fielder Torii Hunter pulled in an eighth-inning drive by Alex Rodriguez at the top of the wall. \nHunter also threw out John Olerud at the plate in the second, completing one of the double plays by the Twins, who set a record for twin killings in a nine-inning postseason game. \nBrad Radke now starts for the AL Central champions today, trying to take a 2-0 lead in the best-of-five series, which shifts to the noisy Metrodome in Minneapolis starting Friday. \nNew York, which lost the first game of all three postseason series it played last year, is in familiar position: The Yankees have dropped the first-round opener in three of the last four seasons -- winning the series each time, but losing to Anaheim two years ago after leading 1-0. \n"We had many opportunities," Yankees manager Joe Torre said. "Santana probably didn't have his best stuff tonight, but when he needed to get a groundball, he got it." \nSantana, unbeaten in 16 starts since the All-Star break, allowed eight hits in seven innings, the most off him since May 23. Four of the Yankees' first six batters reached safely and 10 of the first 24, but Santana kept escaping. \nJuan Rincon pitched the eighth and Joe Nathan finished for the save with the Twins' only 1-2-3 inning of the game. New York, shut out for the second straight time in postseason play, went 0-for-6 with runners in scoring position. \nRed Sox 9, Angels 3 \nIn Anaheim, Curt Schilling pitched 6 2-3 effective innings, Manny Ramirez and Kevin Millar homered during a seven-run burst, and Boston beat Anaheim in Game 1 of the AL playoffs. \nPedro Martinez will pitch against Anaheim's Bartolo Colon in Game 2 on Wednesday before the best-of-five series moves to Boston. \nTwo years ago, the Angels lost the openers to the Yankees, Twins and Giants before bouncing back to win all three series en route to the championship. \nJust like the 2002 postseason, most of the fans at Angel Stadium wore red and made it noisy by banging ThunderStix. The volume level decreased significantly after the Red Sox's big fourth inning gave them an 8-0 lead, and not even stuffed Rally Monkeys could spur the Angels. \nThe seven runs were the most ever scored by the Red Sox in an inning in the postseason and the most ever allowed by the Angels. Five of the runs were unearned because of a throwing error by third baseman Chone Figgins. \nAn eight-run lead was more than enough for Schilling, who entered with a 5-1 record and a 1.66 ERA in 11 previous postseason appearances. \nHe wasn't at his best, allowing nine hits and three runs, two earned, while walking two and striking out four. But that was good enough. \nSchilling, who allowed at least one baserunner in every inning, was relieved by Alan Embree with a runner at second, two outs in the seventh and the Red Sox leading 8-3. Embree retired pinch hitter Adam Riggs on foul popup to end the inning. \nBoston went ahead for good off Jarrod Washburn in the first on a two-out double by Ramirez and a broken-bat single by David Ortiz. \nOrtiz walked to begin the fourth and Millar hit an 0-1 offspeed pitch into the left-field bullpen, making it 3-0. The Red Sox then loaded the bases with one out, and two runs scored when Figgins fielded Johnny Damon's grounder but was far off target with his throw home as he went for the force. \nScot Shields relieved and struck out Mark Bellhorn, but Ramirez capped the inning with a three-run homer over the left-center field fence. \nTroy Glaus, MVP of the 2002 World Series, hit Schilling's second pitch in the bottom half for a long home run. \nDarin Erstad added a solo homer in the seventh, and the Angels got another run on Schilling's throwing error and an RBI double by Glaus. Schilling grabbed at his right ankle after watching his throw to first bounce down the right-field line, and stayed in for one more batter. \nNational League \nIn St. Louis, Larry Walker homered twice as St. Louis tied a postseason record by hitting five home runs, overwhelming Odalis Perez and Los Angeles in a blowout in the opener of their National League playoff series. \nAlbert Pujols, Jim Edmonds and Mike Matheny also connected. Add in a strong six-inning performance from Woody Williams and the Cardinals looked every bit as dominating as they did in leading the majors with 105 wins. \nThe Dodgers, who set a franchise record with 53 come-from-behind victories, fell so far behind they couldn't recover with a huge rally. \nLos Angeles still hasn't won a postseason game since it beat the Oakland Athletics managed by Tony La Russa in the 1988 World Series. The Dodgers were swept in the first round by Atlanta in 1996 and Cincinnati in 1995. \nGame 2 of the best-of-five series is Thursday at Busch Stadium, where the Cardinals also swept the Dodgers in a three-game series in early September. Jason Marquis pitches for St. Louis against Jeff Weaver. \nThe Cardinals clinched the NL Central on Sept. 18 before ending the season on cruise control, going 8-7 while La Russa seldom used his regular lineup. The finish featured the team's only four-game losing streak of the year, causing some consternation among its fans. \nWhen they again got to play a game that mattered, they pulled away quickly, hammering Perez for three homers in 2 2-3 innings. \nMatheny connected off Elmer Dessens in the fourth to make it 7-0, giving the Cardinals a chance to cruise a bit again. After the Dodgers cut the deficit to 7-2, Walker homered again off Giovanni Carrara in the seventh. \nRafael Furcal's hearing on whether to revoke his probation was reset for Wednesday morning, hours before the Atlanta Braves open their first-round playoff series with the Houston Astros. \nThe shortstop's hearing was originally set for Friday. The Braves travel to Houston on Friday, with Game 3 of the best-of-five series to be held the following day. \nThe Cobb County Solicitor's Office released a statement Tuesday saying the probation revocation hearing had been rescheduled for Wednesday at 9am. Game 1 of the division series is scheduled for 4:09pm. \nFurcal was arrested Sept. 10 on drunken driving charges, his second DUI arrest in four years. He was on probation in Cobb County for a June 2000 arrest on similar charges. \nGUILLEN STILL GONE \nThe Anaheim Angels managed to wrap up the AL West title without Jose Guillen's help. They're confident they'll be just as successful in the playoffs without their enigmatic left fielder. \nGuillen was suspended for the final eight games of the regular season and penalized two days' pay because of a tantrum he threw in the dugout and clubhouse after being removed for a pinch-runner on Sept. 25. He was left off Anaheim's roster for its playoff series against Boston. \n"I've been saying from day one that we have a team, and we're supposed to make it work -- regardless of what happens," teammate Darin Erstad said. "The front office makes moves during the season, and whatever happens, happens. And this situation is no different. We have to make it work." \nThe Red Sox are glad they don't have to face Guillen, who had 27 home runs and 104 RBIs this season, both career highs, and batted .327 with runners in scoring position -- the eighth-best mark in the AL. The Angels were 20-6 when he homered. \n"That's going to hurt them a lot," Boston slugger David Ortiz said. "Guillen is another player who you want to have in the lineup. I mean, if you're talking about winning a World Series -- I might punish him next year, or something like that. But you don't get that many opportunities to win a World Series. I don't know what he did, but it seems like what he did was really bad." \nTHOMSON UPDATE \nThe Braves are confident that John Thomson will be able to start Game 3 despite a strained oblique muscle. Thomson (14-8, 3.72) threw in the bullpen Tuesday. \n"He didn't throw 100 percent," manager Bobby Cox said. "I would say he threw 75 percent. I think in a couple of more days, he'll be able to start. Right now, unless he has a bad night, wakes up and is really sore, he'll be starting Game 3." \nThomson was initially scheduled to start Game 2, but he hurt his left side in his final start of the regular season. \nPETTITTE SITS \nWhen Houston pitcher Andy Pettitte underwent season-ending elbow surgery in late August, the Astros appeared to be out of the playoff race. \nThen, by winning 36 of their final 46 games, they managed to claim the wild card. \nSo, would Pettitte have put off surgery if he had known his team would make the playoffs? \n"I was past the point of no return," Pettitte said. "I tried, but I wouldn't have been able to help the team. All the things I had to do just to get on the field to pitch, I exhausted every option I had."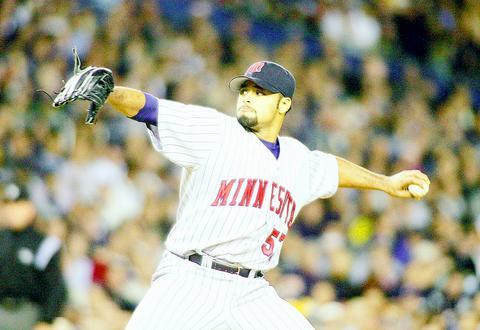 Starting pitcher Johan Santana of Venezuela with the Twins pitches against the Yankees during the first inning of Game 1 of the American League Division series at Yankee Stadium in New York, Tuesday.
PHOTO: AFP
Comments will be moderated. Keep comments relevant to the article. Remarks containing abusive and obscene language, personal attacks of any kind or promotion will be removed and the user banned. Final decision will be at the discretion of the Taipei Times.