Arsenal glides past Charlton in shutout
EUROPEAN FOOTBALL The Gunners blanked Charlton 4-0 following a pair of goals by Thierry Henry and one each by strikers Freddie Ljungberg and Jose Antonio Reyes
Thierry Henry scored twice Saturday as Arsenal easily beat Charlton 4-0 to extend its unbeaten Premier League streak to 48 matches and bounce back from alleged team disunity. \nFreddie Ljungberg and Jose Antonio Reyes added the other goals at Highbury. \nThe display was a marked turnaround from the Arsenal side that drew 1-1 at Norway's Rosenborg in the Champions League on Wednesday. \nAfter that match, captain Patrick Vieira and defender Lauren confronted each other on the team bus -- causing police to be called. Both started Saturday. \nArsenal manager Arsene Wenger had dismissed the scuffle as a "minor incident" and said it showed the team cared about its form. \n"Overall we played collectively well with a great spirit after there was a question mark over the unity of our spirit in the camp, and they gave the right response on the pitch," Wenger said. \nOlof Mellberg scored an 80th-minute equalizer for Villa in a seesaw match. Juan Pablo Angel took the lead for Villa, Barry Ferguson equalized before Brett Emerton put Blackburn ahead again. \nIt was a similar scene at Norwich. Portsmouth went ahead twice, through Aiyegbeni Yakubu and Patrik Berger, but the Canaries came back each time through Darren Huckerby and Simon Charlton. \nTottenham ended Everton's seven-match unbeaten run. French defender Noe Pamarot headed in the goal in the 53rd minute after Everton had dominated the match. \nManchester City wasted numerous chances to score as Southampton held it to a 0-0 draw. \nWest Brom became the first promoted team to win a match this season. \nSpanish League \nItaly striker Marco Di Vaio scored his fifth goal of the season as Valencia drew 1-1 with Real Betis and moved a point clear in the Spanish league. \nThe draw at Betis' Manuel Ruiz de Lopera Stadium maintained the defending champion's unbeaten start through six matches, although it gave FC Barcelona the chance to go top if it beats Numancia today. \nIn Saturday's late game, Atletico Madrid missed an opportunity to move into third place after losing to host Real Sociedad 1-0. \nStriker Darko Kovacevic scored just before halftime to give Sociedad its first victory of the season, which lifted it off the bottom of the standings. \nAtletico, which hasn't won a league visit to Sociedad since 1991, had an unhappy time again on its way to its second defeat of the season. \nKovacevic gave the Basque team its first three points when he headed home from a cross by former Russian international Valery Karpin in the 41st for his first goal this season. \nBundesliga \nMichael Ballack scored a goal and sent tempers flaring by breaking an opponent's nose as Bayern beat Werder Bremen 2-1 in the seventh round of league action. \nWhile most of the attention centered on the showdown between two of the league's best teams, unheralded VfL Wolfsburg edged Moenchengladbach to remain top of the table. \nArgentine midfielder Andres D'Allesandro scored in the 13th minute and Stefan Schnoor in the 43rd as the club, owned by Volkswagen, ran its record to 6-1-0 to move four points clear at the top of the table. \nBallack accidentally elbowed defender Frank Fahrenhorst in the nose and sent him to the hospital in the second minute of the heated Bayern-Bremen match. \nWith 42,100 spectators booing the Bayern star at every chance afterwards, the match fast became physical. Several scuffles erupted and five yellow players were booked in the first half hour. \nFrench League \nVictor Agali scored three goals within seven minutes Saturday as Nice mounted an incredible comeback to beat French first division leader Monaco 4-3. \nMarama Vahiura netted the fourth goal for the visitors in the 82nd minute. \nMonaco was leading 3-0 after two strikes from Emmanuel Adebayor and one from Javier Saviola. Coach Didier Deschamps' team looked all set to go four points clear at the top until Agali replied with goals in the 67th, 72nd and 74th minutes. \nMarseille climbed up to fourth place with 16 points as Habib Bamogo and Sylvain N'diaye scored in a 2-0 win at Istres. \nDutch League \nDaMarcus Beasley of the US scored the breakaway goal Saturday as PSV Eindhoven brushed aside FC Groningen 3-0 to stretch its lead in the Dutch premiership. \nPSV has 17 points from seven games, five better than second-place Ajax, which plays Sunday. \nNAC Breda outplayed De Graafschap Doetinchem 3-2; FC Twente Enschede went down by the same score at Roda JC Kerkrade; and Willem II Tilburg got a first-half hat trick, including two penalties, from Martijn Reuser to beat Vitesse Arnhem 3-2. \nItalian League \nFormer Chelsea star Gianfranco Zola converted a penalty and fed Antonio Langella for a late winner Saturday as Cagliari downed Brescia 2-1 in Serie A and vaulted one point short of leader Juventus. \nCagliari's accession to a second-place tie with Chievo Verona in the standings, ahead of Sunday's fifth-round matches, underlined the impressive start of some underdog provincial teams. \nMessina, a Serie A newcomer as well as Cagliari, is two points behind La Juve in a tie with Lecce, which suffered its first season loss, 2-1, at Chievo in a late match. \nToday, struggling AS Roma faces Inter Milan at Stadio Olimpic.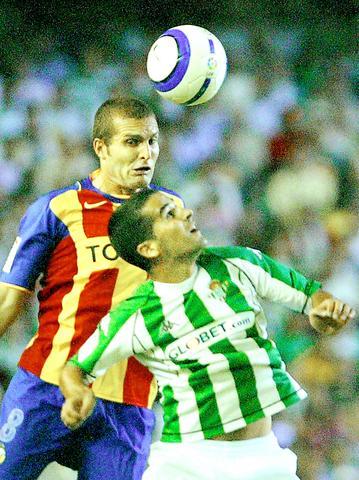 Betis's Fernando, right, jumps for the ball with Valencia's Baraja during their match at the Ruiz de Lopera Stadium in Seville.
PHOTO: AFP
Comments will be moderated. Keep comments relevant to the article. Remarks containing abusive and obscene language, personal attacks of any kind or promotion will be removed and the user banned. Final decision will be at the discretion of the Taipei Times.