Torri Edwards loses her doping appeal
NO GO An attempt by the American sprinter to have a two-year suspension was not accepted. US swimmer Michael Phelps won a gold medal in the 200 butterfly
US sprinter Torri Edwards lost her appeal to overturn a two-year suspension for taking a banned stimulant Tuesday, while a drugs shadow still hangs over the host nation, with sprinters Kostas Kenteris and Katerina Thanou leaving an Athens hospital four days after a motorcycle crash that followed a missed test. \nEdwards had her two-year drug suspension for taking the banned stimulant nikethamide upheld by the Court of Arbitration for Sport. The ruling is final. \nIn the competition arena, Michael Phelps won his second individual gold medal in the 200m butterfly and helped the US win a thrilling 4x200m relay over Australia. Ukraine's Yana Klochkova, meanwhile won back-to-back 200m individual medley golds. \nRomania took advantage of America's minor mistakes to defend its women's gymnastics team gold medal, Mariel Zagunis won America's first fencing gold in 100 years in the women's saber and top-seeded Roger Federer lost in the second round of the men's tennis. \nChina didn't win Tuesday, but still leads the medals table after 50 events with 10 golds, six silver and two bronze. The US is second, followed by Japan and Australia -- all with six golds. \nEdwards had been considered a medal contender in the 100m and 200m. She inherited the world championship in the 100m when Kelli White forfeited that crown because of drug use. \nThe future of Kenteris, the defending 200m champion and Thanou, who won 100m silver in Sydney, is still uncertain. The pair -- both suspended by the Greek Olympic Commitee -- were scheduled to appear before an International Olympic Committee panel Wednesday and faces suspension from the games. \n"I am suffering a great injustice and I want to say I never used banned substances," said Kenteris, whose coach Christos Tsekos is also suspended. \nIn the pool, Phelps held off Takashi Yamamoto to win the 200M butterfly in 1 minute, 54.01 seconds. The hard-charging Japanese swimmer took silver (1:54.56), while Britain's Stephen Parry won bronze (1:55.22). \nA short time later, Phelps helped win the men's 4x200m freestyle relay with a US-record time of 7:07.33, with Klete Keller holding off fast-finishing Australian Ian Thorpe. Italy won bronze. \nPhelps' quest to better Mark Spitz's 1972 haul of seven gold medals ended Monday when he finished third in the 200m butterfly to Thorpe. Phelps, 19, also won gold in the 400 IM and bronze in the men's 4x100m relay. \nRomanian Camelia Alina Potec won the women's 200m freestyle in 1:58.03, ahead of Italy's Federica Pellegrini and Frenchwoman Solenne Figues de Saint Marie. Klochkova, who also won the 400 IM on Saturday, edged out American Amanda Beard and Zimbabwe's Kirsty Coventry. \nIn gymnastics, the world champion US team had errors on every event, costing them valuable fractions of points. They finished with 113.584, behind the emotional Romanians. Russia won the bronze. \n"I was certain this competition was going to be very tough, but we didn't let the chance pass us by," said Romanian Oana Ban. "This was our team goal from the very beginning." \nSeveral big names lost in the tennis -- Federer was ousted by low-ranked Czech Tomas Berdych, 6-4, 5-7, 5-7, Juan Carlos Ferrero wasted a match point to let America's Mardy Fish win 4-6, 7-6 (5), 6-4, and Russia's Marat Safin lost to Feliciano Lopez of Spain 7-6 (4), 6-3. Second-seeded Andy Roddick recovered to beat Germany's Tommy Haas 4-6, 6-3, 9-7. \nDefending women's champion Venus Williams reached the third round with a 6-0, 6-0 win over Maja Matevzic of Slovenia, with top-seeded Belgian Justine Henin-Hardenne, Russians Anastasia Myskina and Sveltana Kuznetsova and Japan's Ai Sugiyama also advancing. \nIn women's soccer, World Cup runner-up Sweden scored two goals in four minutes for a turnaround 2-1 victory over Nigeria. Australia drew 1-1 with United States and Greece was eliminated as Cristiane scored a hattrick in Brazil's 7-0 rout. China is also out of the tournament after Germany beat Mexico 2-0. The quarterfinals are US vs. Japan, Australia vs. Sweden, Germany vs. Nigeria and Mexico vs. Brazil. \nIn the men's competition, South Korea recovered from 3-0 down to draw 3-3 with Mali as both teams reached the quarterfinals. Mexico beat Greece 3-2 but was eliminated because of goal difference. Australia also reached the quarters despite a 1-0 loss to Argentina, who had already qualified. Tunisia beat eliminated Serbia-Montenegro 3-2 but also went out. Portugal, Italy and Ghana have the chance to join Iraq in the last 16 on Wednesday. \nRussia won its third shooting gold with Mikhail Nestruev beating South Korean Jin Jong-oh. Kim Jong-su took bronze to win North Korea's first Olympic medal in Athens. \nSheikh Ahmed Al Maktoum, won the UAE's first-ever Olympic gold in men's double trap shooting, Greece's Ilias Iliadis took judo gold in the 81kg and Japan notched up its fourth judo gold through Ayumi Tanimoto in the 63kg. \nAmerican Mariel Zagunis won the saber competition Tuesday while Marcel Fischer of Switzerland took gold in the men's epee at the Olympic fencing competition. \nZagunis beat Tan Xue of China 15-9 as the US took its first fencing medals in 20 years and its first gold in a century. American Sada Jacobson won the bronze, beating Catalina Gheorghitoaia of Romania 15-7. \n"I don't even know what to say," Zagunis said. "I'm so happy right now." \nFischer beat Wang Lei of China 15-9 in the gold medal final while Pavel Kolobkov of Russia won bronze with a 15-8 win over Eric Boisse of France. \nThe US had never won a medal in women's fencing. The last American medal in the sport was in Los Angeles in 1984, when Peter Westbrook won the bronze in men's saber. The last US gold came in 1904 when Albertson Van Zo Post won the single sticks event. \nTan beat Jacobson 15-12 in one semifinal, and Zagunis beat Gheorghitoaia 15-10 in the other. \nWomen's saber is the newest of fencing's six disciplines and is making its first appearance in the Olympics. The first world championship in women's saber was held in 1999. \nThe 49er made its colorful entrance into the Olympic sailing regatta Tuesday and a Norwegian crew was leading after the first race. \nWith the Saronic Gulf suddenly tame, Christoffer Sundby and Frode Bovim of Norway won the first race, followed by crews from Brazil and Spain. The Polish team that crossed the line first was later placed last because of an on-course race infraction. \nThe high-performance skiff was a big hit in its Olympic debut in its home waters in Sydney in 2000, and it should be again, as long as the wind isn't as light and patchy as it was Tuesday. \nThe 49ers are fast and easily identifiable on downwind legs after they hoist their asymmetrical spinnakers imprinted with their country's flag. \nAs the 49ers rounded the first mark, the red-and-white Swiss spinnaker popped open, followed by the blue-and-yellow chute aboard Ukraine's boat and then the Union Jack. \nClay Stanley led an all-around effort with 21 points Tuesday as the US swept the Netherlands 26-24, 25-20, 25-18. \n"We finally got one," outside hitter Kevin Barnett yelled as he left the floor, referring to his team's first win at the Summer Games since 1996. \nThe Americans ended a nine-match Olympic losing streak with very few errors, strong defense and excellent serving. Reid Priddy added nine kills. \nIn other matches Argentina edged Tunisia 3-2, Serbia-Montenegro swept France 3-0, Greece downed Poland 3-1 and Russia blanked Australia 3-0. \nDoug Beal, who guided the US team to its first gold medal in 1984 and returned to coach again in 2000, earned his first Olympic win since Los Angeles. \nDejan Savic scored the winning goal to break a deadlock in the final quarter as Serbia-Montenegro edged Sydney 2000 silver medalist Russia 4-3 in Olympic water polo. \nGreece upset Spain 8-5 with the "sirtaki" tune blaring on each of the home goals and thousands of Greek fans chanting "Hellas, Hellas, Hellas." \nSpain went behind 5-1 late in the second period. \n"We had lost the game from the beginning," said Spain coach Juan Jane. Anastasios Schizas scored twice for the Greeks, who'd lost to Germany in the second round. \nThe Germans moved to 2-0 with Marc Politze scoring five goals in a 13-3 win over Egypt, while Hungary and the US were also 2-0 going into a head-to-head on Thursday. \nUS captain Wolf Wigo contributed four goals in a 9-6 win over Kazakhstan that ended with two players expelled for fighting. Tamas Kasas and Peter Biros scored three goals apiece as world and Olympic champion Hungarians beat Croatia 10-8. \nFrancesco Postiglione scored three times for No. 2-ranked Italy in an 8-4 win over Australia. \nIlias Iliadis of Greece thrilled the home crowd Tuesday, beating Roman Gontyuk of Ukraine to win the gold medal in the 81kg class. \nJapan's Ayumi Tanimoto beat Claudia Heill of Austria to win the 63-kilogram division. Japan has won four gold medals and a silver in eight judo events this year. \nDmitri Nossov of Russia and Flavio Canto of Brazil shared the bronze in the men's competition, and Driulys Gonzalez Morales of Cuba and Urska Zolnir of Slovenia did so in the women's. \nFlorian Wanner of Germany lost to Gontyuk in the quarterfinals. Sergei Aschwanden of Switzerland lost to Argentina's Ariel Sganga.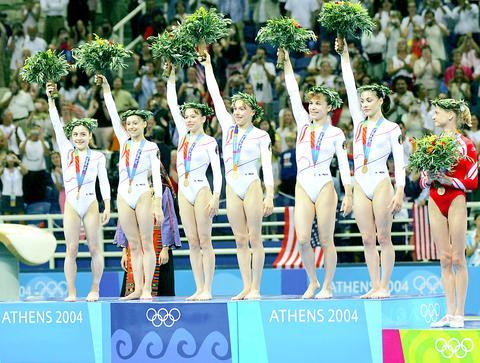 Romanian gymnasts, from left, Oana Ban, Nicoleta Daniela Sofronie, Alexandra Georgiana Eremia, Monica Rosu, Silvia Stroescu and Catalina Ponor celebrate on the podium with their medals after the artistic gymnastics women's team final. Romania took the gold ahead of the US and Russia. The world champion US team finished second after committing errors during every event, costing them valuable points amid tight competition.
PHOTO: REUTERS
Mariel Zagunis of the US just after she won the gold medal in the Women's Individual Saber competition Helliniko Hall in Athens, Tuesday.
PHOTO: AP
Comments will be moderated. Keep comments relevant to the article. Remarks containing abusive and obscene language, personal attacks of any kind or promotion will be removed and the user banned. Final decision will be at the discretion of the Taipei Times.