Red Sox edge past Toronto Blue Jays
MAJOR LEAGUE BASEBALL Orlando Cabrera, just 13-for-65 since he was acquired July 31, hit a drive off the left-field scoreboard in the ninth to score the winning run
Orlando Cabrera hit a run-scoring double in the ninth inning on reliever Justin Speier's second pitch of the game, giving the Boston Red Sox a 5-4 win over the Toronto Blue Jays on Tuesday night. \nPinch-hitter Dave Roberts drew a leadoff walk and Johnny Damon hit into a forceout off Kevin Frederick (0-2). Cabrera, just 13-for-65 since he was acquired July 31, hit a drive off the left-field scoreboard. The ball bounded high in the air as Damon came around and slid in ahead of Kevin Cash's tag. \nKeith Foulke (3-3) pitched a perfect ninth. The Red Sox (66-52), who got home runs from Damon and Jason Varitek, are 8-3 in their last 11 games. Eric Hinske and Vernon Wells homered for the Blue Jays, who have lost 12 of 14. \nAthletics 11, Orioles 0 \nIn Baltimore, Tim Hudson (8-4) pitched a five-hitter, struck out four and walked none in his first victory since June 11, and Scott Hatteberg's second grand slam of the season highlighted a four-homer attack. \nJermaine Dye, Eric Byrnes and Adam Melhuse also homered for the A's, who have outscored Baltimore 14-1 in winning the first two games of the three-game set. \nRodrigo Lopez (10-8) gave up three runs, eight hits and three walks in 5 1-3 innings. \nDevil Rays 8, Angels 3 \nIn St. Petersburg, Florida, B.J. Upton became the first teenager to homer in a major league game since Pittsburgh's Aramis Ramirez on June 16, 1998, helping Tampa Bay stop a six-game losing streak. \nThe 19-year-old Upton, the No. 2 overall pick in the 2002 amateur draft, homered in the third on his 39th career at-bat with an opposite-field shot to right off Kelvim Escobar (7-9). He added an RBI double in a three-run eighth. \nToby Hall hit a go-ahead two-run double in the fifth. Dewon Brazelton (5-4) gave up three runs and eight hits in 5 1-3 innings to improve to 5-1 at home this season. \nTwins 8, Yankees 2 \nIn Minneapolis, Brad Radke (8-6) allowed one run and six hits in seven innings to improve to 4-9 against New York, and Corey Koskie drove in three runs as Minnesota ended a 13-game regular-season losing streak against the Yankees that dated to 2001. \nKoskie and Justin Morneau each homered for Minnesota. The Twins, whose AL Central lead had been cut to one game Saturday, boosted it to 3 1/2 games over second-place Cleveland. \nJavier Vazquez (13-7) gave up nine hits, tying a season high, and six runs in 6 2-3 innings. He allowed two homers, raising his season total to 26, fourth in the American League, one behind teammate Esteban Loaiza. \nRangers 16, Indians 4 \nIn Arlington, Texas, Mark Teixeira became the second player in Rangers history to hit for the cycle, the first since Oddibe McDowell on July 23, 1985, against the Indians at Arlington Stadium. \nTeixeira went 4-for-5 and drove in a career-high seven runs as the Rangers stretched their winning streak to five games and remained tied with Boston for the wild-card lead. He hit a two-run double in the third, a three-run homer in the fourth, a two-run triple in the fifth and a leadoff single in the seventh. \nScott Erickson (1-2) won for the first time since Aug. 7, 2002, while with Baltimore. He allowed one run and three hits in six innings, and Doug Brocail finished for his first save since July 7, 1999, with Detroit. \nCliff Lee (10-5) allowed a career-high eight runs and seven hits in 3 1-3 innings. Texas is 7-1 against Cleveland this year. \nMariners 16, Royals 3 \nIn Kansas City, Missouri, Ichiro Suzuki went 4-for-4 and drove in a career-high five runs, leading off the game with a home run for the second straight day. \nBret Boone hit two home runs and four RBIs, and Raul Ibanez had a career-high five hits and scored four runs for Seattle, which set season highs for runs and hits (20). \nRookie Bobby Madritsch (3-0) allowed one run and five hits in seven innings, and became only the fourth Mariners pitcher to begin his career with three wins. Darrell May (9-13) allowed nine runs and nine hits in two-plus innings. \nVictor Santos pitched well into the seventh inning and won for the first time in a month, leading the Milwaukee Brewers over the Chicago Cubs 3-1 Tuesday night. \nSantos improved to 3-1 against the Cubs this season. He had lost five straight decisions since beating Chicago on July 16. \nBill Hall hit a two-run triple for last-place Milwaukee, which was helped by Nomar Garciaparra's error. \nSammy Sosa hit his 26th homer, but later struck out against Santos with the bases loaded. Dan Kolb pitched the ninth for his 34th save in 37 chances. \nCarlos Zambrano (11-7) lost for the first time in four starts. \nAstros 5, Phillies 0 \nIn Philadelphia, Roy Oswalt and two relievers combined on a five-hitter, and Raul Chavez hit a three-run double in the Houston Astros' victory over free-falling Philadelphia. \nOswalt (13-8) allowed five hits, struck out seven and walked two in 7 2-3 innings to win his fifth straight decision. Mike Gallo got one out in the eighth, and Dan Miceli pitched a perfect ninth for the Astros' third win in nine games. \nThe Phillies fell to 1-7 on their current homestand. At 59-60, Philadelphia is under .500 for the first time since May 7. \nRandy Wolf (5-8) took the loss. \nCardinals 7, Reds 2 \nIn St. Louis, Tony Womack scored the go-ahead run on a bases-loaded walk from Danny Graves in the eighth inning and Larry Walker hit the next pitch for a grand slam to lead the Cardinals over the Reds. \nThe NL Central leaders are 13-2 against the Reds this season and will try to complete a three-game sweep Wednesday. St. Louis opened a 15-game lead over second-place Chicago _ the Cardinals' largest advantage since winning the 1968 pennant. \nCincinnati led 2-1 in the eighth when Joe Valentine hit Scott Rolen with a pitch leading off, Edgar Renteria grounded out and Jim Edmonds greeted Graves (1-5) with an RBI single. After Reggie Sanders was walked intentionally, pinch-hitter Marlon Anderson loaded the bases with a single. One out later, Womack walked on five pitches and Walker followed with his sixth career slam. \nCal Eldred (3-0) gave up one hit and struck out two in a scoreless eighth. \nRockies 6, Mets 4 \nIn Denver, Jason Jennings overcame a slow start to pitch seven solid innings and Matt Holliday drove in the go-ahead run with a solo homer off Dan Wheeler (3-1) in the sixth for the Rockies. \nJennings added two hits and drove in a run, Aaron Miles had three hits and two RBIs, and Vinny Castilla eclipsed the 100-RBI mark to help the Rockies end a seven-game losing streak to the Mets. \nShawn Chacon pitched the ninth to become the third Colorado pitcher to save 30 games in a season. Richard Hidalgo had two doubles and three RBIs, but the Mets couldn't overcome the early loss of starter Victor Zambrano to a sore elbow. \nDodgers 6, Marlins 1 \nIn Los Angeles, Wilson Alvarez won his fourth straight decision, and Steve Finley and Adrian Beltre each homered and drove in a pair of runs to lead the Dodgers. \nAlvarez (7-3), facing A.J. Burnett (3-6) in a matchup of pitchers who have thrown no-hitters, allowed an unearned run and six hits in seven innings while striking out six and walking one. \nBurnett allowed three runs, four hits and two walks over six innings and struck out nine. He's 0-6 in seven road starts this season and 0-8 in 11 road outings since beating Montreal on July 27, 2002. \nGiants 5, Expos 4 \nIn San Francisco, J.T. Snow singled in the winning run with one out in the ninth to lead the Giants to their sixth straight victory. \nBarry Bonds homered twice and Jason Schmidt pitched eight strong innings, but his bullpen blew his chance to become the majors' first 16-game winner. The Giants maintained their lead in the NL wild-card race. \nSnow singled to right off Luis Ayala (4-9) and right fielder Juan Rivera tried to throw out pinch-runner Ricky Ledee at the plate, but the ball sailed into the stands behind home plate. \nPadres 11, Braves 6 \nIn San Diego, Jake Peavy struck out nine in seven innings and Freddy Guzman got a hit, scored a run and had an RBI in his major league debut for the Padres. \nPeavy (9-3) allowed just two hits -- a second-inning single by Andruw Jones and a fourth-inning home run by Chipper Jones that extended his streak of games with home runs to five. He walked none and retired his final 10 batters.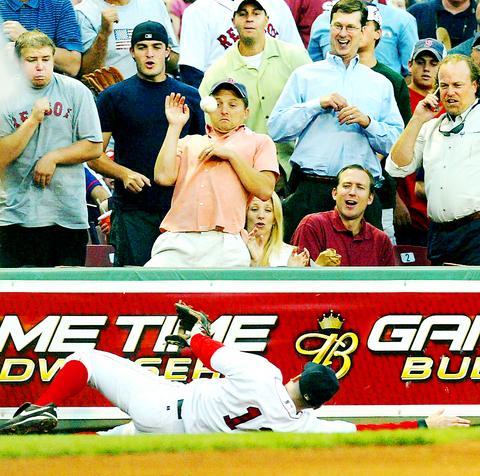 Fans at Fenway Park in Boston react as Red Sox third baseman Bill Mueller slides, but can't reach a foul ball off the bat of the Blue Jays' Frank Catalantotto during the first inning, Tuesday. Boston, who got home runs from Damon and Jason Varitek, won 5-4.
PHOTO: AP
Comments will be moderated. Keep comments relevant to the article. Remarks containing abusive and obscene language, personal attacks of any kind or promotion will be removed and the user banned. Final decision will be at the discretion of the Taipei Times.