Mauresmo overcomes Likhovtseva
Tournament favorite Amelie Mauresmo spoke all week of building to a "crescendo" and she certainly finished the Rogers Cup with a flourish on Sunday. \nMauresmo took only 51 minutes to defeat Elena Likhovtseva of Russia 6-1, 6-0 to win the US$1.3 million event for the second time in three years. \n"I felt I was getting stronger with each match and there's no doubt this was the best of all," Mauresmo said. \n"She might have been tired, but I felt that I also played an almost perfect match." \nHer third title of the year also moved her to No. 2 in the WTA Tour rankings -- the highest by a player from France. \nFrance's Nathalie Tauziat and Mary Pierce have been as high as No. 3, and Mauresmo has her sights on passing injured No. 1 Justine Henin-Hardenne of Belgium. \n"It's a great achievement but I want to get to that final spot -- the No. 1 ranking," she said. "That's been my goal for two or three years now. \n"It shows I'm on the right track. A lot of work has gone into that -- a lot of hours on and off the court. I'm getting closer." \nAlthough Mauresmo has 13 career tournament victories, she is still seeking a first win at a Grand Slam event. \nIt was Likhovtseva first final in a Tier 1 tournament. \nAndre Agassi ended a 16-month title drought when he beat Lleyton Hewitt 6-3, 3-6, 6-2 in the final of the Cincinnati Masters. \n"This certainly gives me a new life," 11th-seeded Agassi said. "I came into this week with a lot of questions. So for me to end up winning was beyond what I could have expected." \nAgassi, who knocked out defending champion Andy Roddick on Saturday, completed his 59th career victory -- the most of any active player -- when 10th-seeded Hewitt double-faulted on match point. \n"It's been a tough 24 hours, but my body held up great," said the 34-year-old Agassi. \nHis first title since April 2003 eased some of the frustration that had been building since Agassi had to skip Wimbledon because of an inflamed hip. \nThe win evened his record against Hewitt at 4-4. In their last match, Agassi beat Hewitt in three sets in the quarterfinals of the 2002 US Open. \nThird-seeded Alicia Molik of Australia trounced unseeded Tatiana Perebiynis of Ukraine 6-1, 6-1 in the Nordic Light Open final and won her second career title. \nMolik took only 45 minutes to complete the tournament without dropping a set. She won at Hobart, Australia in January 2003. \n"This was as fun as last time," Molik said. "It was great that so many people came out today, it's probably also good for women's tennis in Sweden." \nPerebiynis had not dropped a set en route to her first career final. \nAfter receiving the winner's trophy from Bjorn Borg, Molik returned to Olympic Stadium and teamed with Austrian veteran Barbara Schett to defeat Emmanuelle Gagliardi of Switzerland and Anna-Lena Groenefeld of Germany 6-3, 6-3 in the doubles final. Molik and Schett partnered for the first time, and it was Molik's first career doubles title, and Schett's 10th.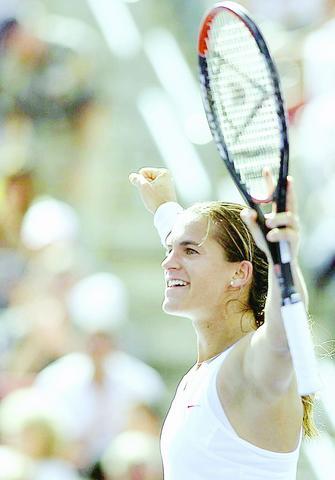 Amelie Mauresmo celebrates her victory over Elena Likhovtseva during their finals match at the Rogers Cup In Montreal, Canada. Mauresmo won 6-1, 6-0.
PHOTO: AFP
Comments will be moderated. Keep comments relevant to the article. Remarks containing abusive and obscene language, personal attacks of any kind or promotion will be removed and the user banned. Final decision will be at the discretion of the Taipei Times.