Rod Pampling wins The International
PRO GOLF TOUR The Australian slipped in a 6.3m eagle putt from the fringe on the 17th hole to move past Alex Cejka and win his first PGA event as Chris DiMarco faded
Holeouts, eagles and strings of birdies typically decide The International. \nNot this year. With the winds swirling and the pins tucked, Australian Rod Pampling pulled off just enough good shots to win his first PGA Tour event. \nPampling curled in a 6.3m eagle putt from the fringe on the 17th hole to move past Alex Cejka and win The International on Sunday. \n"It was just a matter of hanging in there," said Pampling, the sixth first-time winner on the PGA Tour this year. \nThe difference, as usual, was the 448m, 17th hole. \nPampling stepped to the tee trailing Cejka by three points in the tournament's modified Stableford scoring system. After a big drive, Pampling hit a 7-iron onto the fringe just right of the flag. He then curled in the putt, pumping his fist as it dropped for five points. \nPampling closed with a par to finish with 31 points, taking home the US$900,000 first-place check and some momentum heading into the PGA Championship at Whistling Straits. \nNot bad for a player best known for leading the first round of the 1999 British Open at Carnoustie and missing the cut the next day. \n"I just keep myself in the present," said Pampling, who won an Australasian event in 1999 for his only other professional victory. "I knew I could celebrate after I had finished my job." \nTom Pernice was third with 27 points, and Duffy Waldorf had 26 to finish fourth. \nChris DiMarco had a commanding nine-point lead after scoring 31 points the first two rounds, only to see it slip away with eight bogeys in a third round that dropped him into a tie with Pampling. \nDiMarco's collapse left 17 players within 10 points of the lead -- two eagles in this format -- and gave every one of the 44 players who made the cut a chance heading into a potentially wild final round. \nThere was plenty of wildness, but not the kind that normally comes in a format that awards players up to 8 points for a double eagle. With the course playing to a stroke average of 74 -- the fifth-highest final round on the PGA Tour this year -- The International's typical soundtrack of cheers and roars was replaced by groans and moans. \nMeg Mallon stood over the decisive putt and had to steady herself. \nThen the US Women's Open champion rolled the 3m birdie putt into the middle of the cup on the final hole to touch off a wild celebration, beating Karen Stupples and defending champion Pak Se-ri by a shot Sunday at the Jamie Farr Owens Corning Classic. \n"I was set over that putt and I was thinking, `I've won the US Open. I don't get nervous.' But I'll tell you what, I was nervous," Mallon said after closing with a 3-under 68 for a 7-under 277. "My hands were shaking, I was breathing hard. But that's exactly what you play for. For all that was going on, it's all about controlling your nerves." \nMallon's third victory of the year, worth US$165,000, was the 18th of her career. \nStupples and Pak narrowly missed birdie putts at the 18th that would have forced a playoff. \nRachel Teske had a 68 and finished fourth at 279, and Lorie Kane closed with a 70 for a 280 total. \nPak, who won the Farr in 1998-1999, 2001 and 2003, was trying to match Mickey Wright run of winning an event five times. She won the Sea Island Open in 1957-1958, 1960-1961 and 1963. \nTom Kite made three birdies over the final seven holes in a 3-under 69 for a one-stroke victory at the 3M Championship and his first Champions Tour victory in 21 months on Sunday. \nOne week after losing the lead on the final four holes at the US Senior Open, Kite moved ahead at No. 13 and secured the win by rolling a 60-foot eagle putt within 45cm and tapping in for birdie at No. 18. He finished at 13-under 203, one stroke ahead of Craig Stadler, who missed a 9m eagle putt on the final hole at the TPC of the Twin Cities. \nThird-round leader Tom Purtzer, Larry Nelson and Vicente Fernandez tied for third at 10 under. Nelson made six birdies between the second and 12th hole and closed with a 6-under 66. \nSammy Rachels, Bruce Lietzke and David Eger tied for sixth at 9 under. \nStadler, trying to become the 50-and-over circuit's first three-time winner this year, started the final round three strokes back. He eagled the par-5 third to move within one stroke and made eight consecutive pars on the back nine. \nAnnika Sorenstam made two eagles in a course-record 8-under-par 64 for a two-stroke victory on Sunday at the HP Open -- a short drive from where the Hall of Fame golfer grew up. \nSorenstam won the event for the fourth time. She was two shots behind entering the final round and finished at 13-under 275 on the tough lakeside layout in Ullna. \n"I was clearly disappointed how I played during the first two days," said Sorenstam, who last played the course as an amateur 15 years ago. \n"I wanted to show what I can, especially in front of the home fans." \nHer performance in the Ladies European Tour event followed a 13th-place showing at the British Open a week ago. The Swede has 69 titles worldwide, including seven majors. \nCountrywoman Carin Koch, who shared the lead with Becky Morgan of Wales entering Sunday, closed with a 68 and for a 277. Morgan (70) was at 279 and Scotland's Janice Moodie (68) was at 280. \nSorenstam's first eagle came on the long fourth hole, where she nearly missed a double-eagle. Sorenstam then eagled the 12th, another par 5. \n"It was really satisfying to play at least well on the final day when I really needed to," Sorenstam said. "It feels really special." \nSorenstam bettered the previous course record by three shots. Swedish amateur Louise Stahle shot a 67 in the opening round and former US Open champion Liselotte Neumann of Sweden matched it on Saturday. Neumann (71) finished at 286 and Stahle (73) at 287. \nUllna, one of Sweden's best courses, hosted five men's European Tour events in the 1980s. Tiger Woods played the SAS Invitational Match Play at Ullna four years ago and lost to Jesper Parnevik of Sweden. The world's top women returned there for the first time since 1982. \nEngland's David Lynn overcame a four-stroke deficit with a final-round, 4-under-par 66, birdieing No. 18 for a three-shot victory in the KLM Dutch Open and his first win in 7 1/2 years on the PGA European Tour. \nLynn had entered the final day three strokes behind Australia's Richard Green, and fell another stroke back when Green birdied the opening hole. \nBut the 30-year-old Englishman recovered with a bogey-free, 3-under 32 on the front nine, and except for a lone slip on the par-4 11th, closed with birdies at Nos. 14 and 18 -- the final one despite driving into the high grass -- for a 16-under 264. \n"I feel absolutely awesome," Lynn said. "I had to pull myself together, which I did because I had to finish the job off." \nLynn, who had one victory on the developmental European Challenge Tour in 1997, had twice previously finished second on the main tour, the last time in the 2001 Moroccan Open.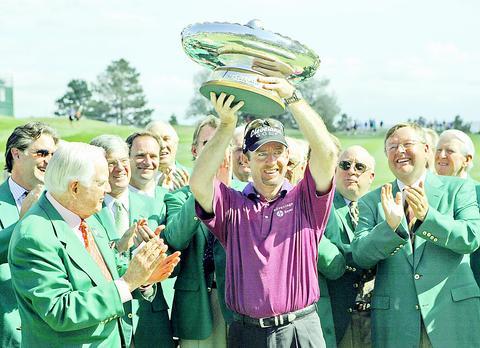 Jack Vickers, left, and other committee members look on as Rob Pampling holds the trophy after winning The International at Castle Pines in Castle Rock, Colorado, Sunday.
PHOTO: AP
Comments will be moderated. Keep comments relevant to the article. Remarks containing abusive and obscene language, personal attacks of any kind or promotion will be removed and the user banned. Final decision will be at the discretion of the Taipei Times.