Stupples leads in British Open
PRO GOLF TOUR With Annika Sorenstam long gone from the course after her breakfast-time round, Stupples was cheered on by the increasing galleries
Annika Sorenstam went out early and shot a 4-under 68 to set the mark for the Women's British Open.
It took the rest of the field five hours to beat it. And Karen Stupples left them way behind.
The Englishwoman who won the opening tournament of the LPGA Tour in March shot a 65 to take the first round lead at Sunningdale on Thursday. She had seven birdies and no bogeys.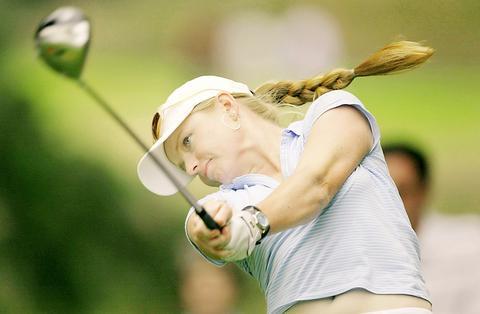 Austraila's Nadine Taylor tees off from the 17th during her first round at the Women's British Open golf tournament at Sunningdale, England, Thursday.
PHOTO: AP
"It was great to see the progress, looking at the numbers -- one, two three and so on up to seven. That was pretty good,'' said Stupples, whose success at the Welch's/Fry's Championship at Tucson, Arizona in March came after a single third place finish in five years on the tour.
"And looking at who else was out there, where they were at, how they were doing. I think it's always good to look."
Pak Se-ri, winner of this championship on the same course three years ago, was laboring to a 1-over 73. Sherri Steinhauer, who won it twice before it became a major, also made 73. Meg Mallon, US Women's Open winner three weeks ago, managed only a 75 and seven-time major winner Juli Inkster had a 71.
Stupples was cheered on by the increasing galleries in the afternoon.
"I always want to play well when I come home," she said. "It was fantastic to do it in front of a home crowd."
The English fans had hoped to see Laura Davies put in a strong challenge to defending champion Sorenstam and she birdied the first two holes on the way to a 2-under 70. But Stupples, who faded to fourth after taking the halfway lead in last week's Evan Masters in France, dragged the galleries away from the regular hometown favorite.
Going into Friday's second round, she held a two stroke lead over Jung Leon Lee of South Korea with Sorenstam, Scotland's Catriona Matthew, Finland's Minea Blomqvist, Germany's Bettina Hauert and American Natalie Gulbis a further shot back.
Sorenstam, who won the LPGA Championship for the second time in a row last month and placed second to Mallon at the US Women's Open on July 4, was pleased with her best opening round at the British Open.
"The conditions were great -- not a breath of air," she said. "The greens were pure and they were really good scoring conditions."
The Swedish star has a chance this week to win all four major championships twice in a row, a feat accomplished only by Mickey Wright (1958-1959 US Open, 1960-1961 LPGA Championship, 1961-1962 Titleholders and 1962-1963 Western Open). Sorenstam also won the US Open in 1995-1996 and the Nabisco Championship in 2001-2002.
Vijay Singh and Olin Brown might just start a trend.
They both switched putters recently, and had the best two scores Thursday.
Singh shot a 9-under 63 to take the first-round lead, one shot ahead of Brown and four in front of Tiger Woods.
Singh went back to a standard putter, after using a long one for 2 1/2 years, and the change seemed to work.
"I'm a great chipper and a good bunker player, but if you keep missing [short putts], that kind of eats into your game," he said. "And you put so much pressure into going for the flags that whenever you make a mistake, it's a bogey."
The 1997 Buick Open champion from Fiji had eight straight 3s -- five birdies, an eagle and two pars -- between Nos. 8-15 at Warwick Hills.
"I've never made so many 3s in my life, but on a par-3 golf course," joked Singh, who fell two shots short of the tournament record.
Browne said he changed his putter, another standard version, last week at the US Bank Championship in Milwaukee and came away with a season-best finish: a tie for fourth.
"Sometimes a change is good just for the sake of change, you know what I mean?" he asked. "As opposed to beating your head against the wall in the same spot all the time, move to different spot."
Browne's 64 matched his low round of the year. He has just two top-10 finishes in 19 events this year.
Mike Grob started Friday's second round at 7 under, two shots behind Singh.
Defending champion Jim Furyk was another stroke back, tied for fourth with four others.
Among the group of seven players tied for ninth with Woods was Briny Baird. He aced the 177m 3rd, the same hole where his father, Butch, in 1962 had the Buick Open's first hole-in-one.
Woods got off to a slow start with only one birdie through eight holes before closing with four birdies in an eight-hole stretch.
He had to scramble at times early, once crouching with a tree branch on his back just to save par on a 306m par 4, but his bogey-free day kept him near the leaders.
"It feels like making a bogey there because it's drivable," Woods said. "I can launch it there with my driver if I just hit it straight.
"I had to scramble for par, but it was also nice to keep the round going."
Warwick Hills, a relatively short course with wide fairways and receptive greens, always is one of the easiest courses on the PGA Tour. It was even more vulnerable Thursday after rains soaked the course earlier in the week, allowing players to be even more aggressive.
"It was probably as easy as we've ever seen it here," said Woods, making his sixth appearance in eight years. "The greens are so soft, you can back up 5-irons and 6-irons into par 3s. That's usually not the case here."
The average winning score the past five years has been 20 under.
Furyk won last year at 21-under 267 -- two shots ahead of Woods, the 2002 champion -- about two months after winning the US Open. He has a shot at being the Buick Open's first back-to-back winner since Tony Lema in 1965.
Furyk, playing in his fourth tournament since having wrist surgery in March, had his best round since shooting three 64s last year. It was his 22nd straight sub-par round at Warwick Hills, dating to 1997.
Peter Jacobsen, still rehabbing from arthroscopic hip surgery, shot a 6-under 65 to take the first-round lead.
Craig Stadler had a bogey-free round and was second at 5 under. St. Louis area native Jay Haas birdied the final two holes to cap a 67.
Seven players 68s, including Gil Morgan, the leading money-winner on the Champions Tour. Tom Kite was among a group of 10 at 69.
Jacobsen, at 50 a Champions Tour rookie, had to withdraw from his past two events because of continuing pain from the hip surgery in April. Weeks on crutches caused his leg muscles to atrophy.
"Hitting the ball is no problem," Jacobsen said. "Walking 18 holes is the difficult part for me."
And it's a long walk. Bellerive Country Club, at 7,117 yards, is the longest course in the 25-year history of the Senior Open.
Annika Sorenstam and Tiger Woods, golf's top-ranked players, will meet in the Skins Game Nov. 27-28.
They will be joined by defending champion Fred Couples and Adam Scott on , at the Trilogy Golf Club in La Quinta, California.
"I think it will be a fun event. That's the whole idea, to have fun and promote golf," Woods said on Thursday after shooting a 5-under 67 in the first round of the Buick Open. "Hopefully, I'll get a skin so I don't get shut out."
Last year, Sorenstam earned US$225,000 and finished second in the Skins Game to Couples, beating Phil Mickelson and Mark O'Meara. She was the first-day leader after making an eagle at the par-5 9th, holing a 39-yard shot out of the bunker.
"She deserves to be in it for what she's done in her career, and the game of golf," Woods said.
Sorenstam, a six-time LPGA player of the year and member of the World Golf Hall of Fame.
The Skins Game is sponsored by Merrill Lynch.
Comments will be moderated. Keep comments relevant to the article. Remarks containing abusive and obscene language, personal attacks of any kind or promotion will be removed and the user banned. Final decision will be at the discretion of the Taipei Times.