Brazil takes Copa America final
Goalkeeper Julio Cesar blocked Andres D'Alessandro's shot and Gabriel Heinze missed over the crossbar as Brazil overcame Argentina 4-2 on penalties in the Copa America final on Sunday.
The archrivals played to a thrilling 2-2 draw in regulation in a near-capacity National Stadium.
Cesar, who also blocked a shot in the shootout against Uruguay in the semifinals, dove to his right to stop D'Alessandro's opening attempt for Argentina. Defender Heinze then missed the second shot. Brazil, however, made all of its penalty kicks, capped by defender Juan's for their seventh Copa title, and first against Argentina in the finals.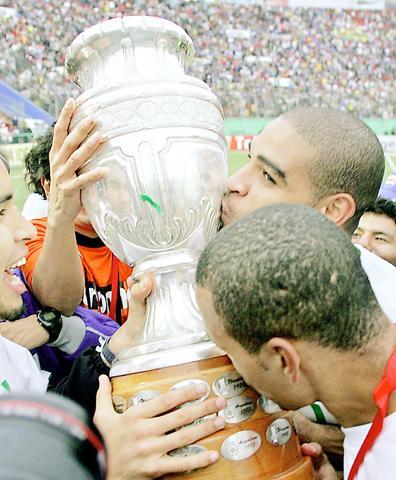 Adriano Ribeiro of Brazil kisses the Copa America 2004 trophy after defeating Argentina in the final match at the Nacional stadium in Lima, Peru, Sunday.
PHOTO: AFP
"We never thought it would be easy," Brazil coach Carlos Alberto Parreira said. "Argentina came with all these experienced players, but our team proved they are capable of overcoming any difficulties."
Adriano, Edu, Diego and Juan all scored for the world champions, while only Cristian Gonzalez and Juan Pablo Sorin netted for Argentina, which missed a grand chance to win a record 15th Copa title.
"There are things that can't be explained in soccer," Argentina midfielder Javier Zanetti said. "That's what happened against Brazil, we can't explain what went wrong."
Brazil had to equalize in injury time of each half, the last time in the third minute of second-half injury time by Adriano, the tournament's top scorer with seven goals.
"I can't explain how I'm feeling right now," Adriano said. "This is definitely the greatest moment in my career."
Argentina had only gone ahead in the 87th minute, when replacement striker Cesar Delgado's powerful shot appeared to have deservedly won it for the dominant Albiceleste.
Adriano's equalizer began a squabble between both teams on the field when Argentina players took exception to taunts from Brazil's bench. Referee Carlos Amarilla requested riot police to separate the sides and prepare for the shootout.
"They shouldn't have celebrated ahead of time," Parreira said of Argentina. "It's one thing to slow the game down, but you can get in trouble when you start fooling around with the ball before it's all over."
Argentina's patient craft allowed it to control possession and pin Brazil in its half for long stretches, but the Brazilians' explosive counterattacks helped rivet 40,000 spectators to their seats.
Brazil's third title in four Copas capped an unexpectedly successful campaign by a second-string side. Parreira rested his major stars for World Cup qualifying.
Comments will be moderated. Keep comments relevant to the article. Remarks containing abusive and obscene language, personal attacks of any kind or promotion will be removed and the user banned. Final decision will be at the discretion of the Taipei Times.