Ishii turns up the heat
MAJOR LEAGUE BASEBALL Dodgers starting pitcher Kazuhisa Ishii of Japan only allowed the Diamondbacks to get one hit -- retiring the first 12 batters for the win
Kazuhisa Ishii pitched his first career one-hitter, Alex Cora capped a six-run first inning with a three-run homer and the Los Angeles Dodgers routed the Arizona Diamondbacks 11-0 for their fifth straight victory.
Ishii (10-4) retired his first 12 batters before giving up a leadoff walk in the fifth to Luis Gonzalez and a line single by Shea Hillenbrand.
Both runners advanced on a two-out wild pitch, but Juan Brito grounded out to third.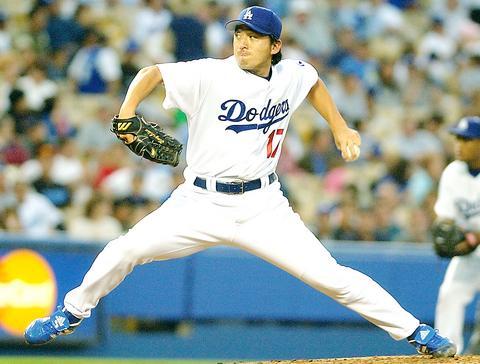 Dodgers pitcher Kazuhisa Ishii works in the fourth inning against the Diamondbacks at Dodger Stadium in Los Angeles on Wednesday. The Dodgers won the game 11-0.
PHOTO: AP
No one else reached base against Ishii, who went the distance for the second time in 72 starts, recording his second shutout and improving his career record against Arizona to 6-1. Three of his wins this season have come against the Diamondbacks.
Ishii, who has not allowed an earned run in six of his 10 career starts against the Diamondbacks, struck out five and walked one. He was coming off his shortest outing of the season, a 7-3 loss at Anaheim in which he gave up seven runs over three innings.
Ishii's other shutout was a four-hit, 9-0 victory over San Francisco on April 25 at Dodger Stadium.
The one-hitter was the second against Arizona this season, the other coming June 25 at Detroit on a combined effort by Jason Johnson and Ugueth Urbina. The Dodgers had one other one-hitter this year, when Wilson Alvarez and Guillermo Mota teamed up for a 4-0 win at Pittsburgh on May 7.
Jayson Werth and Jason Grabowski hit consecutive homers in the fifth inning and Shawn Green had a pair of RBI singles, helping the Dodgers complete their first three-game sweep of the Diamondbacks since September 2000.
Arizona has lost 16 of 18 and nine straight on the road, one short of the team record that was set last season. Knuckleballer Steve Sparks walked two batters in the first with two outs after not walking a batter in his last two starts -- a span of 9 1-3 innings. Both batters scored as the Dodgers batted around.
Green followed a walk to Adrian Beltre with an opposite-field RBI single that drove in Paul Lo Duca. Grabowski followed a walk to Werth with a two-run single, and Cora capped the rally with a drive into the right-field pavilion for his career-high sixth home run.
Sparks (3-5) pitched 4 1-3 innings and allowed nine runs on eight hits, including a two-run homer by Werth that chased the right-hander. Stephen Randolph came in and gave up Grabowski's sixth home run for a 10-0 cushion.
Braves 14, Expos 2
In San Juan, Puerto Rico, Jaret Wright pitched six solid innings, Andruw Jones homered twice and drove in five runs to help Atlanta defeat Montreal.
Both Jones and J.D. Drew went 4-for-4 and homered in the sixth inning as the Braves swept the three-game series and won for the 10th time in 13 games.
Charles Thomas, Adam LaRoche and Rafael Furcal also went deep as part of Atlanta's 17-hit attack. Wright (6-5) gave up six hits and allowed a run.
Livan Hernandez (6-8) worked two-plus innings and allowed six runs on eight hits.
Brewers 4, Cubs 0
In Milwaukee, Doug Davis pitched eight innings and Geoff Jenkins hit a two-run homer as Milwaukee completed a rare three-game sweep of Chicago.
Davis (9-6) struck out a career-high nine and allowed just four hits and two walks. All-Star Carlos Zambrano (9-4) allowed four runs on eight hits and four walks in 5 2-3 innings.
Cardinals 4, Reds 2
In St. Louis, All-Star shortstop Barry Larkin's second error of the season led to the go-ahead run, and Reggie Sanders' seventh-inning single was decisive for St. Louis, which defeated Cincinnati.
Jim Edmonds homered to help the Cardinals sweep the three-game series and reach 6-0 on their homestand.
Mets 10, Phillies 1
In Philadelphia, Mike Cameron homered twice and Steve Trachsel pitched seven solid innings as New York who defeated Philadelphia.
Kaz Matsui had four hits, Cameron had three RBIs and Cliff Floyd and Ty Wigginton also homered among a season-high 18 hits for New York, which has won five of six games at Citizens Bank Park.
Giants 8, Rockies 4
In San Francisco, Barry Bonds hit his 681st homer as San Francisco snapped a four-game losing streak to beat Colorado.
The Detroit Tigers beat up New York pitching for the second day in a row and won a series at Yankee Stadium for the first time since 1996.
Carlos Guillen had three hits, including a three-run homer, and the Tigers pounded rookie Brad Halsey in a 10-8 victory Wednesday. Detroit won 9-1 Tuesday, and took two of three.
"I'm not going to judge us on this small sample," New York general manager Brian Cashman said. "The last few days is just a bad stretch, that's all."
Halsey (1-2) gave up seven runs and nine hits in 4 1-3 innings for New York, which has allowed 49 runs in its last six games. The Yankees were swept by the Mets last weekend.
"The thinness of our starting rotation is still a concern," Yankees manager Joe Torre said.
The Tigers won after Ivan Rodriguez and manager Alan Trammell were ejected in the first inning for arguing after the All-Star catcher was called out on strikes by Angel Hernandez.
Detroit won its first series at Yankee Stadium since taking since taking three of four from July 10-13, 1996. Jeremy Bonderman (6-6) won despite allowing six runs on seven hits in 6 2-3 innings.
Alex Rodriguez had a three-run homer for New York.
Red Sox 11, Athletics 3
In Boston, Pedro Martinez pitched seven strong innings as Boston pounded Oakland once more to win.
Nomar Garciaparra, Manny Ramirez and Mark Bellhorn homered for the Red Sox. Boston has scored 22 runs on 32 hits in the first two games of the series.
Martinez (9-3) allowed one earned run on five hits and a walk, striking out seven. Oakland's Mark Redman (6-6) allowed six earned runs on nine hits in 2 2-3 innings.
Angels 12, White Sox 0
In Chicago, Jarrod Washburn pitched a four-hitter for his first career shutout, and Jose Guillen homered twice and tied a career high with five RBIs for Anaheim, which defeated Chicago.
Angels catcher Bengie Molina -- one of the slowest players in the majors -- grounded into a 5-4-3 triple play.
Washburn (9-4) struck out six and walked two in his fifth complete game and first in 2004. Scott Schoeneweis (5-7) gave up six runs in five innings and lost his fifth straight decision.
Twins 12, Royals 0
In Minneapolis, Kyle Lohse pitched Minnesota's team-record third straight complete-game shutout, leading the Twins over hapless Kansas City.
The six-hitter by Lohse (3-6) came after Brad Radke's four-hitter and Johan Santana's three-hitter to start the series. The Royals, who lost their eighth straight game and 13th in 14, have one run in their last 37 innings.
Yankees outfielder Hideki Matsui and Philadelphia's Bobby Abreu earned the final spots on the All-Star teams in Internet fan voting.
Matsui became the seventh member of the Yankees to make the 32-man AL squad in Internet voting that ended Wednesday. He has been an All-Star in both of his seasons since leaving Japan.
Matsui is batting .282 with 16 home runs and 54 RBIs.
"To be chosen as part of the All-Star game is one of the great achievements you can have as a player," Matsui said through a translator.
Abreu made the All-Star team for the first time. The right fielder is batting .297 with 17 homers and 57 RBIs.
"It's the best thing to happen to me so far," said Abreu, the first Phillies outfielder to go to the All-Star game since Lenny Dykstra in 1995.
Matsui beat out Minnesota's Lew Ford, Cleveland's Travis Hafner, and Frank Thomas and Paul Konerko of the White Sox for the last spot.
Matsui joined New York teammates Gary Sheffield, Jason Giambi, Derek Jeter, Alex Rodriguez, Mariano Rivera and Tom Gordon on the AL team. Jeter, Giambi and Rodriguez were elected by fans to starting infield spots.
Comments will be moderated. Keep comments relevant to the article. Remarks containing abusive and obscene language, personal attacks of any kind or promotion will be removed and the user banned. Final decision will be at the discretion of the Taipei Times.